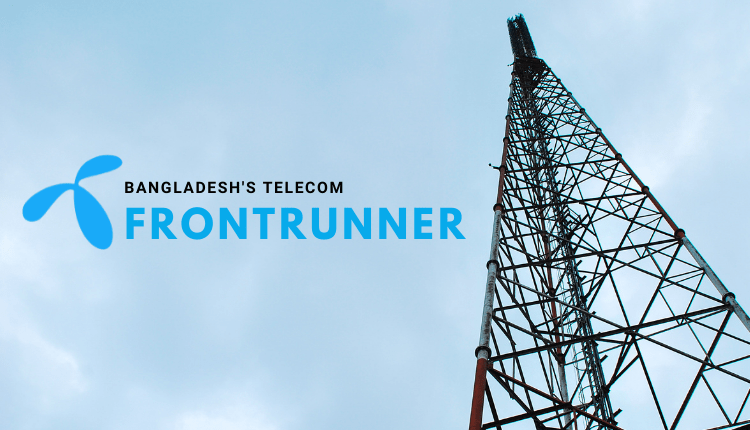 Grameenphone: Bangladesh's Telecom Royalty

9

min read
Anyone who has been in the vicinity of a cellphone since the late '90s is surely familiar with Grameenphone. We bet, almost everyone is aware of the iconic blue and white logo. From its premium telecom services to its heart-wrenching and emotional TVCs, it is firmly placed in the hearts of Bangladeshis. Today, we are going to explore the incredible journey of Grameenphone and how it maintains its spot as the top telecom brand.
A Visionary's Dream
The birth of Grameenphone is deeply relevant to Mr. Iqbal Quadir. An investment banker in New York, he was able to comprehend the cellphone boom of 1993. Therefore, he immediately worked towards starting a telecom company in Bangladesh with the help of Norwegian organizations. He was able to create Grameenphone with the help of Telenor and Dr. Muhammad Yunus.
From A Dream to A Revolution
Grameenphone was quick to capitalize on the necessity of progress for telecom. Soon enough, they were providing Wireless Application Protocol (WAP) that allowed mobile users to access the internet for the first time. The brand was receiving subscribers at a rapid pace, with the amount exceeding 1 million by 2004. Global investors were taking notice of these developments and provided them with funds for network expansion.
Although Grameenphone was progressing smoothly, not all of its innovations were successful. Among the more positive ones, the most noteworthy is the electronic recharge system, which is now a norm for many. On the other hand, Djuice is one of their more failed ventures. Despite having mass popularity from the youth, the brand canceled it in 2005. Grameenphone was untouchable even though the market was filled with competitors like Banglalink and Warid at that time. The brand had learned to stay ahead of the pace through continuous innovations like Edge and Voice SMS. Their peers simply weren't able to keep up with them due to their constant increase in services. With their subscribers and profits consistently hitting high numbers, they went public in 2007.
Grameenphone also happens to be the first telecom brand that tried to expand device compatibility in the late 2000s. Introducing an edge-enabled modem allowed consumers to access the internet through laptops anywhere and anytime. The brand created history in 2009 by receiving an IPO authorization of BDT 486.08 crore, the highest of that time. Once the brand had entered the stock market, its profits received a significant boost. Their profits skyrocketed to BDT 1,496.81 crore, an amount that was massively higher than last year's.
Read More: Grameenphone- Network That Empowers People to Stay Connected and Inspire
Stake to The Throne
The term "goodwill" can sum up Grameenphone's consistency in remaining the top player in the telecom market to one word; goodwill. Although the current market is full of competitors, they have wonderfully utilized their first-movers advantage. Their consistent service quality makes them a dependable brand to the Gen X of Bangladesh. Moreover, they also have one of the most robust mobile networks in the nation. Having received multiple accolades and awards for their performance, it is largely deemed trustworthy. Furthermore, they have various packages for talk-time and internet, ensuring that there's something for everyone.
Read More: Grameenphone honored with an organizational award at Asian Leadership Awards 2021
Innovation is another crucial reason why Grameenphone has such high popularity among the masses. Very few brands can match up to the convenience and comfort that they can provide to their users. It has created waves since its very inception. The introduction of a GSM network was a masterpiece strategy in Bangladesh. By introducing this facility, the brand provided a more cost-effective alternative to CDMA. It essentially eliminated multiple factors present in its predecessors and would incur unnecessary expenses to its users. Providing premium telecom services caused many to jump on the GP bandwagon.
Strategic Mastermind
Ensuring quality and providing premium service essence has always been the core of GP's strategic vision. You might have seen lots of people complaining about the cost of maintaining a GP network, however, still GP binds the highest amount of users in its paradigm. Let's talk about some of the strategic keynotes of Grameenphone that we believe are at the core of its success so far.
A business can benefit society, not with the products and services only, but with the vision it carries inside. If you look back, you will see the majority of the important notes of our telecom industry have been here through Grameenphone. Seems like, they are always one step ahead. For instance, My Gp app- the first considerable mobile app of its kind to establish in the industry and we all know how convenient that has been for us-the customers. We are not saying other players don't have such applications, they do but it's GP that has taken the bold step at first.
Other than that GP was also always aware of the fact that serving only the customers is not enough, serving the nation in every possible can only be the motto for success and sustainability. As a result, projects like Next Business Leader, Accelerator, Business Solutions like Ekota, M-tracking, Team Tracker, etc are visible now.
Transforming Towards A Digital Service Industry
It's no secret that voice revenue is about to be shattered in the coming years due to the massive growth of internet users in the country and the free voice calls from the global social media giants. GP seems to be always aware of the fact and invested heavily in creating a digital service portfolio at the very beginning of the shift. Hence, digital service platforms like Gpay, Bioscope, GP Music, Easy Net, Tonic are present now.
Grameenphone not only retained their absolute outstanding services and premium quality, but they also focused on marketing. The brand is famous for its versatile and unique TVCs. TVCs regarding Bangladeshi festivals, patriotism, and emotional attachments have attained cult-favorite status among Bangladeshis. Grameenphone knows how to make its customers feel good with its communications- this is something we all must give credit to the telecom leader of the country. Let's talk about 4 campaigns to summarize the statement:
Shopno Jabe Bari: This campaign has become synonymous with the EID Festivals of our country. What a campaign it was! The executions literally explain all kinds of emotions while traveling to your loved ones during Eid. Starting from the business of shopping for loved ones, to tiredness of the journey to finally the extreme happiness of seeing your loved ones, everything is there for everyone.
Cholo Bangladesh:  This campaign was made on the occasion of World Cup Cricket. The core was to energize and unite the fans of Bangladesh. And once again take a bow. The impact of the particular kid in the campaign was ecstatic. Watch for yourself.
4G introduction TVC: We all know the introduction of 4G was one of the most significant steps for Bangladesh. It has been at the center of various developments in the country currently (e.g the growth of f-commerce). More like 4G gave us the power to win the world within our fingerprints and the following campaign obliged perfectly.
You might say, these are all recent campaigns. Well, GP is consistent for a while now. For example, let's take the following campaign for Djuice. I bet you remember that pretty well.
Somethings are common in all the GP most engaging campaigns-
The background music/voice/song is one of the major elements that drive the engagement.
Plays with Consumer Emotion in a good way providing a 'Feel Good Vibe'.
A campaign for all. Most of the campaigns of GP usually touch the majority of its target audience.
Performance | A review of 2020
The total revenue of the company in 2020 was Tk 139.6 billion, which is a de-growth of 2.8% YoY from 2019 (Tk 143.7 billion).
The de-growth is mainly due to lower voice and interconnectivity revenues. Voice revenue declined by 7.2% in 2020 mainly due to the Covid-19 pandemic and a 5% increase of Supplementary Duty in the National Budget of FY 2020-21. Data revenue grew by 14.0% YoY mainly due to higher data consumption during the pandemic period. Despite the YoY de-growth in revenue, net profit after tax increased by 9.6% YoY mainly due to operational efficiency. The NPAT (net profit after tax) was Tk 37.8 billion which was Tk 34.5 billion in 2019. Total subscribers at the end of 2020 were 79.0 million which was a growth of 3.4% from 2019 (76.5 million).
Read More: Grameenphone | Complete Performance Review 2020.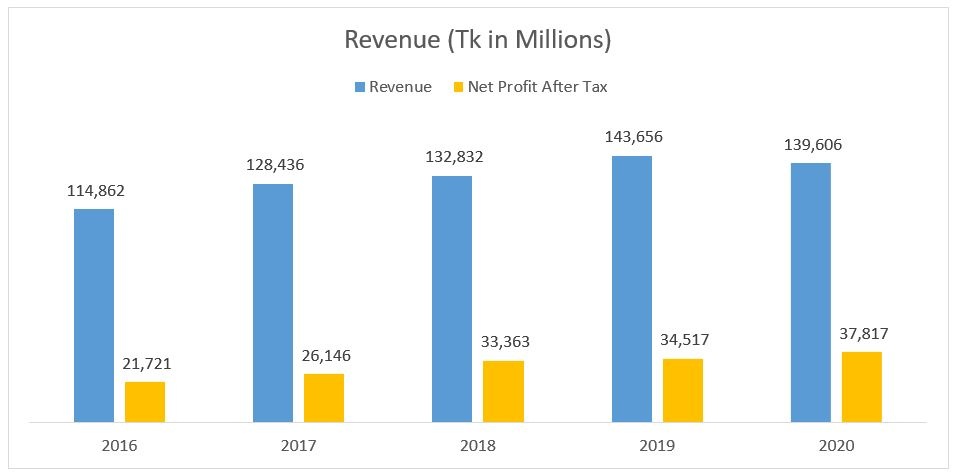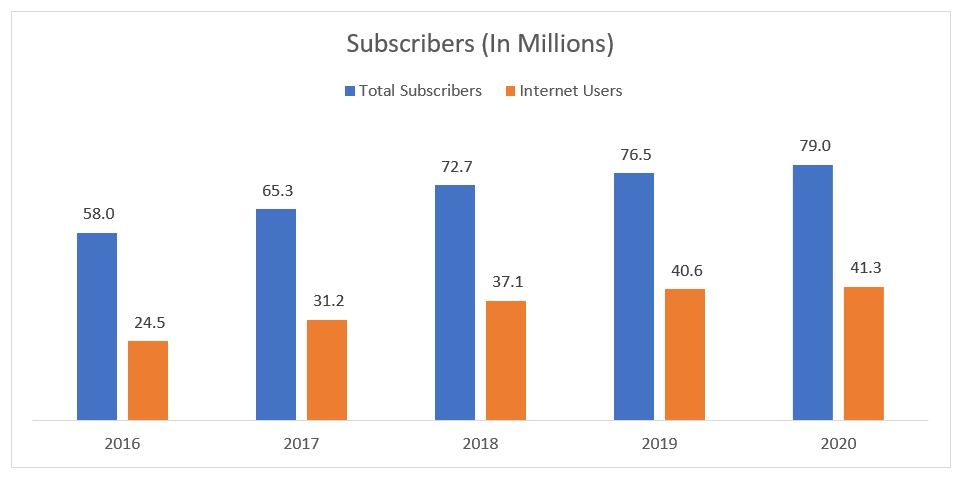 ---
Performance | A review of 2021
Revenue of the company in Q1'21 was Tk 34,813 million compared to Tk 36,169 million in Q1'20. Revenue declined by 3.7 % YoY mainly driven by a decline in subscription & traffic revenue. Although internet subscribers increased by 1.7 million, data revenue also decreased by 4.4% YoY. Profit after tax in Q1'21 declined by 16.7% YoY to Tk 890.6 million due to lower foreign exchange gain and higher tax expense due to one-off adjustment.
Read More:  Complete Grameenphone Q1'2021 Performance Review.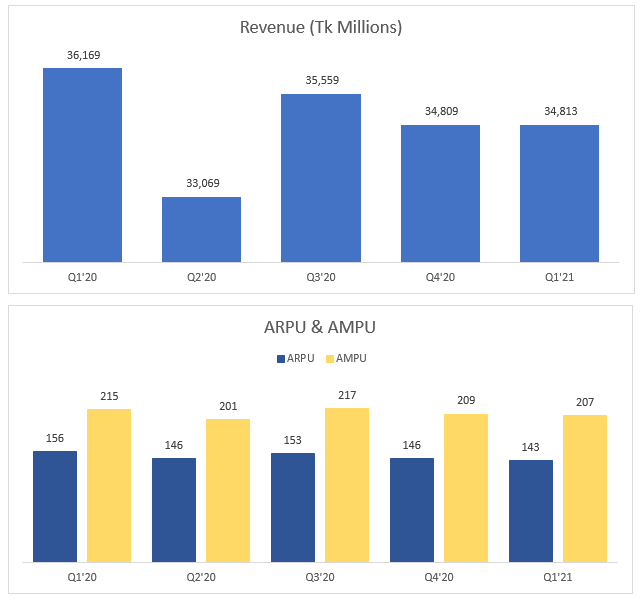 Average Revenue per User (ARPU) has been on a declining trend mainly due to the rise in OTT platforms like Whatsapp, Messenger, Imo, etc, and economic uncertainty for the Covid-19 pandemic.
Disaster on The Horizon?
Grameenphone ticks all the right boxes when it comes to maintaining its place on top of the telecom food chain. Throughout the years, it has paid its taxes properly and have been the nation's top taxpayer multiple times. Despite the brand falling into controversy loads of times, it had still marched forward.
Moreover, it seems to have a clear plan regarding approaching the future. It has successfully recognized the eventual arrival of 5G network and is working towards creating a system that is capable of coordinating with Artificial Intelligence. However, Robi is also working towards this goal. Their cloud service and hosting experience is now a considerable threat to Grameenphone in this regard. It is only a matter of time before we can find out if GP can cross the finish line first in seizing the future.
What are your thoughts about Grameenphone's journey and its future prospects? For more updates, visit Markedium!