In the 2013-2014 timeframe, the e-commerce world in Bangladesh started. Over the years, banking, logistics communications, and payment methods have increasingly advanced and possibilities have been created by the e-business market. However, in recent years, E-commerce platforms in Bangladesh have surged to high levels of growth.
Read more: Jamuna Group to Invest Tk 1,000 Crore in Evaly
Currently, the market size of E-commerce is about $2.0 billion which is increasing by 50% every year. The market size is expected to reach $3.0 billion by 2023. With the rise of smartphone usage and mobile internet data penetration, consumers are becoming more reliant on E-commerce businesses than ever. The convenience and massive product option have definitely been a driver for consumers to rely on platforms like Daraz, Priyoshop, etc.
Since 2018, the E-commerce business in Bangladesh has seen extreme levels of growth due to its competitive business practices that offer customers incentives such as discounts, cashback offers, etc. One of the fastest-growing e-commerce of Bangladesh, Evaly is a prime example of conducting such incentive models.
The rise of Evaly and its business model
Evaly widely followed strategies implemented by Chinese companies JD, Pinduoduo Inc, and Alibaba such as Group Buying strategy. The strategy lets a group of customers order a large number of the same product to avail a discount.
Evaly collected advance payments from customers for that particular product then made bulk purchases from the manufacturer at discounted prices. And with several campaigns which offered products at very competitive prices, Evaly got huge instant popularity.
Once pre-payment is made, customers are told to wait from 7 to 45 days for delivery
The company has also gained popularity for offering customers other lucrative deals on products. The deals included cashback offers up to 100% to 150% as well as discounts. Although initially, it is a loss-incurring tactic, Evaly gained a mammoth monthly order rate and customer retention.
According to Evaly's data from 2020, the company has paid Tk 15 million (Tk 1.5 crore) in taxes against Tk 15 billion (Tk 1,500 crore) in sales. On average, Evaly receives orders of around Tk 1 million (Tk 10 lakh) per month. Up until 2020, they had already sold products worth more than Tk 10 billion however its paid-up capital still stood at Tk 50,000.
 Evaly paved the way, others followed
The business and incentive models have helped cause a surge in the sale trends of other E-commerce platforms as well. Alesha Mart, an E-commerce platform that started operations in January 2021 has reportedly given Tk 350 crore in discounts in 6 months. Its turnover in 6 months was a whopping Tk 1,100 crore.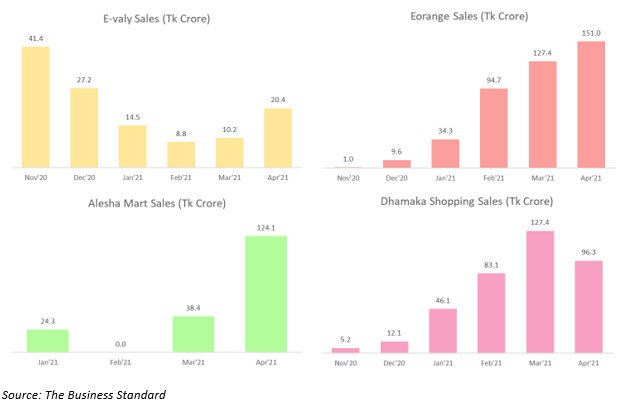 E-commerce platform E-orange was able to get customer orders of more than Tk 400 crore in four months since January 2021 using a similar business model. In April, their monthly sales amounted to Tk150 crore. Dhamaka Shopping, another popular online store offering high discounts, had received orders of more than Tk 350 crore in four months from January 2021.
In this particular business model, all the online stores take advance payments from customers for a duration of one to two months. . These online stores had gained enormous customer response within a brief period due to the unusual discount offer. However, in most cases, the stores took additional time to deliver the products and failed to deliver on time.
 Consumers' dismay
After being lured with unusual discount offers, the online stores inform the customers about the products being out of stock. Although customers are offered full refunds, several reports revealed that customers did not receive refunds even after waiting for months.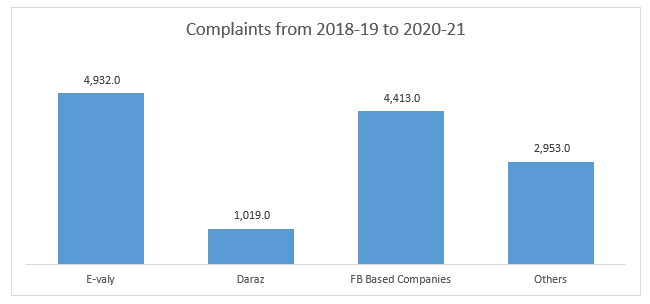 For instance, the Directorate of National Consumers' Rights Protection received as many as 2,180 allegations of anti-consumer rights practices against Evaly since its launch in 2018. The complaints range from a delay in product delivery, cancellation of orders at their own will, and dilly-dally in refunding against pre-ordered products.
From January 2020 to January 2021, the platform completed 35.85 lakh shipments, which is only 32.68 percent of 1.09 crore total orders during the period. Only 5.01 percent (5.59 lakh) received refunds against canceled orders, leaving 57.06 percent unsettled cases.
Not only Evaly, but several other e-commerce businesses also operated with the model of advance payment, and severe discounts (Dhamaaka, eorange, etc) have also been on the list of such allegations.
 New Regulations

After an inspection on Evaly's financial statements by the Bangladesh Bank, it was revealed that Evaly's total liabilities were Tk 407.18 crore and after receiving Tk 213.94 crore in advance from customers and Tk 189.85 crore from merchants, the company was expected to have at least Tk 403.80 crore in current assets whereas it only had Tk 65.17 crore.
Following the absurd findings, the Ministry of Commerce asked the Ministry of Home Affairs to file a case against Evaly over the alleged embezzlement of Tk 338 crore owed to merchants, which was taken as an advance from customers.
A Standard Operating Procedure (SOP) was formulated considering the misconduct and consumer rights violations by several E-commerce sites. The Ministry of Commerce finalized the "Digital Commerce Operational Guide-2021" (DCOG). According to the guide, E-commerce companies have to deliver products to customers within five days after taking advance payment and a maximum of 10 days if the buyer and seller are in different cities.
Evaly responded to the SOP by eliminating their "cyclone" and other offers that allowed lucrative discounts and started a new T10 campaign assuring delivery in 10 days. Under the new campaign, Evaly is serving customers following the SOP formulated by the ministry. Under the T10 campaign, customers are able to pay only 10% of the printed price of any product or service in advance and the rest will be paid in cash on delivery.
 Is It The End Of Such Lucrative Deals?

Well, those deals were too good to be true from the beginning. It worked like a marketing master-stroke for the companies to gain popularity. However, most of them forgot to run the last mile which is delivering the product on time. Now, as we have seen all those discounts and crazy deals are the sole reason why the companies like Evaly couldn't deliver on time. The explanation is simple- they simply couldn't pay the vendor for the required amount of products on time. As a result, there were no products to deliver.
So, we can assume for a brief period of time there will be controlled offerings to come from the e-commerce platforms that were operating on the basis of such discounts and deals.
However, the consumer behavior to such discounts gives us a nod towards a lucrative opportunity for a business with big pockets. If a company can take the hit of losses for a significant time, it will open so many doors eventually.
For instance, think about all the wings Evaly has introduced lately starting with ejobs, efood, etc. They also acquired a firm in the travel sector which indicates a business line in the travel and hospitality sector as well. It all happened due to the customer interaction with the business due to such lucrative offers. So, we believe what Evaly did wrong was to keep going on with the offers even after it got out of control. They should have had a pause.
Having said that, the latest news of Jamuna Group investing BDT 1000 crores in Evaly is a lifeline to the firm. Although we don't know certainly for sure about how the money will get injected, it's an opportunity for Evaly to cash on the trend once again but this time in the right way.
So, we are not completely disagreeing with the fact that there might be a spree of discounts and offers, but it will be a controlled giveaway for sure.