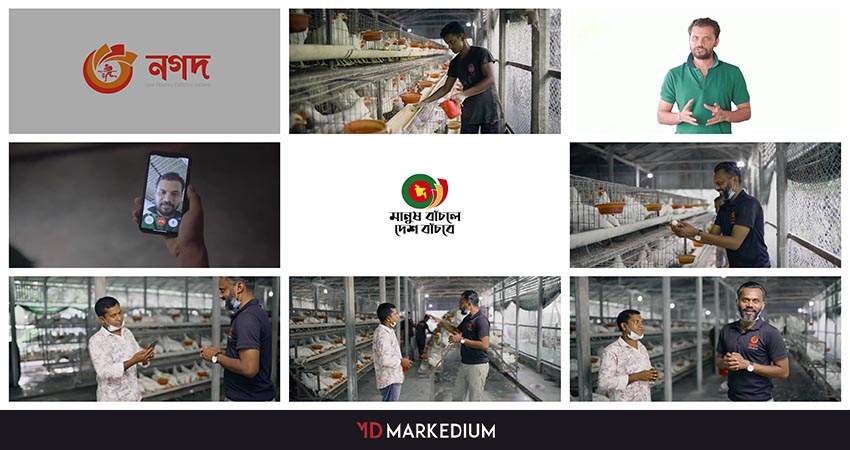 NAGAD Shadhin Pay: Save People, Save The Nation

3

min read
At present, the businesses and public lives of Bangladesh have been stalled due to coronavirus. Not to mention, the survival of small and medium business entities has become challenging in this crisis situation. Under the circumstances, from the belief "if People survive, the Country will too", NAGAD decides to stand by 5 categories of business, businessmen, and organization. To put it differently, the people who are deeply involved in the lives and livelihoods of every people of Bangladesh. For instance, medicine pharmacy, grocery, small and medium enterprises, and market sellers.
Read More: Nagad Users Can Transfer Fund Through Visa, Mastercard
Moreover, NAGAD propels "SHADHIN" service for these businesses to make their financial transactions easier. SHADHIN allows them to make payments for their goods received to another Shadhin Merchant number as per their need at the lowest charge. Therefore, from now onwards, all Shadhin Merchants' transactions are now under "SHADHIN".
To begin with, Nagad is a mobile financing service by the Bangladesh post office. To emphasize, Nagad cut down its transaction charge to 6tk for small and medium enterprises (SMEs). In other words, Marchant will have to pay Tk 6 for a business transaction of Tk 1,000 to other Shadhin users.
"মানুষ বাঁচলে দেশ বাঁচবে" এই বিশ্বাস থেকেই 'নগদ' নিয়ে এসেছে 'স্বাধীন' সেবা। ক্ষুদ্র ও মাঝারি ব্যবসায়ীদের কথা চিন্তা করে 'নগদ' প্রতি হাজারে লেনদেন খরচ কমিয়ে ৬ টাকা নিচ্ছে। বর্তমানে 'স্বাধীন'-এ লেনদেন করে উপকৃত হচ্ছেন বাংলাদেশের বিভিন্ন পেশার সব মানুষ। মাশরাফি বিন মর্তুজা'র সরেজমিন রিপোর্টে চলুন, ভিডিওটি দেখে জেনে নেই 'নগদ'-এর 'স্বাধীন' গল্প। দেশের এই পরিস্থিতিতে, সরকার ঘোষিত স্বাস্থ্যবিধি মেনে চলুন, সুস্থ থাকুন।'নগদ'-এর সাথেই থাকুন।#মানুষ_বাঁচলে_দেশ_বাঁচবে

Geplaatst door Nagad op Donderdag 16 juli 2020
Generally speaking, Nagad thinks people of the country will survive if small business persons can run their business. With this in mind, Mr. Mashrafe Bin Mortaza (MP) took an initiative with Mr. Solaiman Shukhon (Head Of Market Development & Communication, Nagad) to observe the current situation of the small business owners. Consequently, Mr. Shukhon visited farms and reported the spread of the positive impacts of their service.
In fact, an individual who owns a small farm consist of 2000 chickens explained the sectors of his regular expenses. Additionally, he told Mr. Shukhon how Nagad Shadhin Pay service saved his cost in an efficient way. Such as, he addressed his regular expenses in,
Buying chicks from other farms

Transportation

Chicken Feeds

Medicine

Labour

Utilities
In the same vein, allowing them to transfer money with an affordable charge of 6taka per thousand saves a lot of money at the end of the day. Especially, when other providers take 20taka transaction charge per thousand. Therefore, the businessman showed his gratitude and love for Nagad Shadhin Pay. Subsequently, Mr. Shukhon delivered a live report to Mr. Mashrafe over the fact.
Read More: EBL Starts Offering Bangla QR Payment Service
For your kind information, the system automatically fills up the Bangla and English information of NID so that the customer does not need to type. For user convenience, this smart app supports both old and new NID format. NID information of the customer will be verified with the Election Commission Database in real-time. In fact, it takes 30 seconds per customer to complete the registration.
Notably, this platform is developed by Kona Software Lab Ltd. In other words, the Bangladesh subsidiary of the South Korean smart card and digital payment solution provider KONA I Co. Ltd. Moreover, Nagad will utilize this platform for the faster and safer way of the registration process in the Digital KYC.
For more updates stay with Markedium!