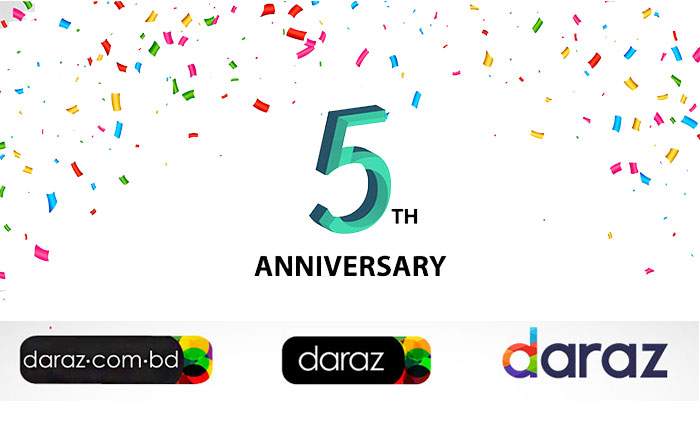 DARAZ Celebrates 5 Years in Business by Thanking Bangladesh and Its People

2

min read
[dropcap]D[/dropcap]araz Bangladesh, the leading e-commerce platform of Bangladesh is about to celebrate their 5 years in business in Bangladesh on September 6. To commemorate the occasion of such success, Daraz has come up with an anniversary campaign to thank the audience of Bangladesh who made this journey possible for Daraz.
Created by Applebox Films, the advert showcases how Daraz being a part of the consumers' life in these 5 years. The new ad gives the audience a throwback where Daraz was always there for them whenever they needed and pioneered the e-commerce journey of Bangladesh.  The campaign got aired on August 21.
Why don't you have a look?
Every Successful story begins with Daraz Box- with the moto, Daraz placed itself as a companion in our life journey of success and dreams. As the film progresses, we see how Daraz was there whether it's to support someone's dream to start something new. But without one thing Daraz would not be able to come this far- The consumers and their trust. With no surprise, through this feel-good type campaign, Daraz thanked the audience of Bangladesh with proper admiration.
Read More: #ThrowbackTuesday | Top 6 Bangladeshi Old Eid Ul Adha Campaigns That Made A Mark- A Markedium Take
Although it's the 5 years anniversary of Daraz, there are lots of exciting deals are waiting for us. Daraz is about to celebrate their 5th anniversary from 6th – 14th September. During the period, you can enjoy all the offers and anniversary sales such as bKash cashback, Bank pre-payment discount, flash sales, double taka vouchers, voucher hunts, etc.
Excited yet? For more exciting offers and other sweet deals from Daraz click the link: http://bit.ly/Daraz_5th.
Check Out Articles on Daraz:
Congratulations to Daraz from our side and don't forget to grab the best deal from Daraz.  For more exciting and latest articles, follow our Facebook Page.