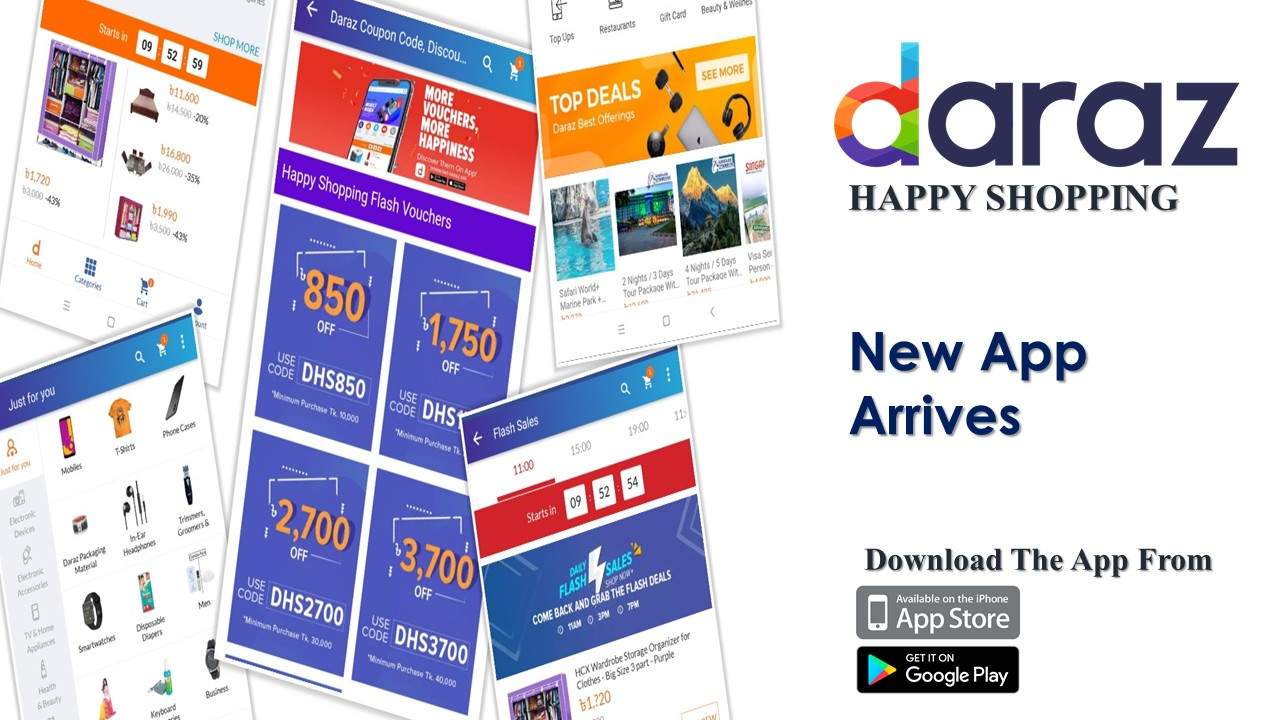 Bangladesh, a land of approximately 160 m consumers with one of the highest economic growth has seen lots of global foot prints in terms of business recently. The acquisition of Daraz by the global giant Alibaba is one of the many examples like that. So, we can expect products from Alibaba entering Bangladesh very soon. But wait a minute, Amazon-the global e-commerce leader has also announced its arrival in Bangladesh as well this year.
Undoubtedly the news brings joy for the consumers, but for companies like Alibaba and Daraz, it is a war siren. So, it was expected from Alibaba and Daraz to do something in response which enhances the customer experience. Introducing the new-
"Daraz App"
One thing which made me fascinated is its user friendliness. This is surely the most user-friendly e-commerce platform you will find out in Bangladesh with varieties of features. The new app includes 8 exciting features:
Official store includes 100% verified and approved brand stores that indicates the authenticity of the seller. An official store badge indicates the seller own (trade mark) the brand itself or the authorized distributor. So, customers can now follow their favorite stores/brands without worrying.
This section is totally designed for each customer. Daraz analyzes the personal interests of each customer. For example, if one shows interest in mobile phone or smart watch, then he/she might find out a collection named "Gadgets" featuring speakers, headphone, watches, phoneaccessories etc.
Daraz is offering daily flash sales offering with huge discounts! Now, customers can keep track on which products are selling fast or having a huge discount going on and never miss out an opportunity for their favorite product.
This section offers new vouchers from the brand each day. Customers can visit their favorite brands to check if there are any useful vouchers are available or not.
As we know Daraz cares about its customers and knows about them. Daraz recommends products based on their customers' interest. So,the more you spend time on the app, the more Daraz knows about you and the best offers and recommendations you will get.
Wishlist
Now one can add their favorite products to the wish-list and simply can check out when the price drops or at their own convenience.
Secure Checkout
Daraz has made the checkout process faster and more secure than before. Customers just need to enter their payment details once and that's it. Next time the space will be auto-filled.
Adding to the consumer convenience, now users can recharge their phone through the app. E-store is a new addition where customers are exposed to several vouchers, movie tickets or event tickets etc. in one place.
Fascinating isn't it? The whole customer journey with Daraz will be now more like atop-notch experience. Although, Daraz has some issues with fast delivery but we believe just like the marketplace experience, they will amaze us with the delivery option enhancement as well.