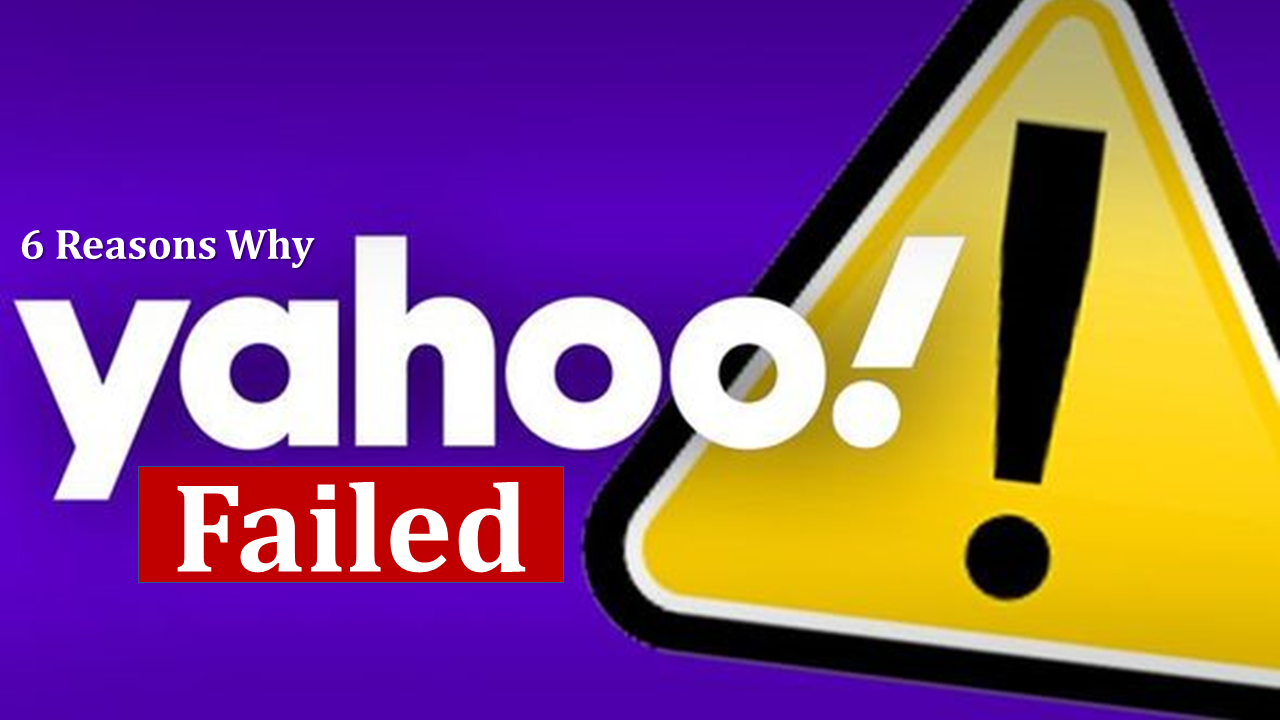 We have known only one name when we knew of the internet and that is Yahoo! It was our life back then but gradually it failed to hold up with the trends and innovation. Let's roll back a bit and have a memory check why once a sensation has become a failure study in today's business world.
Yahoo!, the monarch of internet, sold out their core business to Verizon in the year 2017. The company which was once worth more than Disney and Viacom sold for less than 4%. Yahoo! is no more. We grew up using it and it couldn't continue to be a part of our daily life just like Google and Facebook did. There are various reasons why Yahoo! failed big time.
Read More: JTI Bangladesh Made Neil Coupland Its New MD
Yahoo! was founded by two young individuals named Jerry Yang and David Filo from Stanford. Being the first mover, they offered their users with a full-fledged web portal, Yahoo! Search, Yahoo! Directory, Yahoo! Mail, Yahoo! News, Yahoo! Finance and many more services. They could have had complete control being the market leaders but they failed terribly.
Why? We believe the following 6 reasons are the core factors behind Yahoo's acute failure.
Inadequate start plan for Yahoo!
From the very start, it seemed clear that the company lacked a clear vision for Yahoo! They kept drowning in what was the purpose to start the company. Initially, when they launched they were doing amazing, to add they had a 600% increase in share price and also topped their competitors. With such facts why would any company have no vision, right?
Read More: TikTok Allows Users to Upload Via Desktop
They were confused with the fact that is Yahoo! a search company, or a tech company or a media company. They tried to do everything and anything just not the right thing. They made acquisitions they failed to maintain, they denied offers that were meant to grow. They have taken so many wrong steps. These were the primary reasons why Yahoo! failed.
Failed to make critical acquisitions
The industry experts, Yahoo! tried to buy or sometimes failed to buy corporations that might have added some success. They have brought the streaming platform for $5.7 billion, named Broadcast.com from Mark Cuban just to make him extra rich. At least that's what it looks like now.
They made an amazing deal by acquiring GeoCities with $3.6 billion in 1999. Individuals could make their web pages using GeoCities. Surely, this deal is meant to boom and take Yahoo! at a higher ground, but no! This also gradually started losing its market and died. Another failed acquisition.
Within the upcoming few years, Yahoo! continued to buy businesses but never managed to gain any success from those. You can say that they lost billions by buying or failing to anticipate the purchased acquisitions. This clearly shows how bad they were at making good decisions. However, this many failed examples neither stopped them from buying nor made them realize their faults.
Opportunities with Google
In 2000, it was an era of the dot-com boom. Search engines were getting added exposure from the users. Yahoo! got to understand the market a bit later than that of its competitor Google. And soon they started using search technology from their competitors. Google just got an advantage and brought out the most of it by allowing Yahoo! to use its search technology.
Two years later, Larry Page and Sergei Brin wanted to sell their small startup so that they could focus on their studies. They approached Yahoo! with the offer of $1 million. And guess what they did? They refused this golden offer. We might not know it then but knowing it now makes us feel terrible for Yahoo! Even we can see how this would have impacted Yahoo!'s game in the industry.
Well, the amount seemed to pricy for them. However, with few years passing by they soon realized the cost of refusing Google when it started to take Yahoo!'s market share in the search industry. The company tried to catch up by acquiring Overture but it was too late. By then Google already captured the majority of the market in the search world. Moreover, today Google is one of the market leaders worth around $500 billion. Yahoo! might still be regretting their decisions.
They wanted to overcome Google's latest search engine technology. To counter this, in 2001, they appointed Terry Semel, who was a "non-internet old guy". The CEO had less experience with the search world and the internet world. This is where Yahoo! made a mistake by having a new guy with less relevant experience. And guess what? He ended up taking some wrong decisions like not buying Google, not attacking their competitor with Overture and many more. These are such mistakes that can never bring Yahoo! to that aspiring position they once had.
Yahoo! didn't give up. They never did. They tried fighting for what they lost. So to keep this running they appointed Marissa Mayer. She had a great start and gave everyone hope for Yahoo! but soon things turned out to be worse. Within her time as a CEO, she acquired 53 companies of which 41 died. She failed to bring in revenue through advertisements when her rivals Google and Facebook was taking over this only segment Yahoo! generated their revenues from. She was highly criticized for her work and for being directionless. It was during her time when the largest data breach in history occurred.
Yahoo! was on the verge to buy Facebook, which is now worth nearly $630 billion, in 2006 for $1 billion. Nevertheless, Yahoo! wanted to settle it for $850 million because of its stock price. The CEO of Facebook, Mark Zuckerberg, wasn't pleased with the offer they made and declined the deal right away.
Another big deal similar to Google left! God knows what was going on to their minds. As you observe the industry movement, people were slowly moving towards mobile-based operations and Yahoo! failed to forecast that. On the contrary, Yahoo! should have made agreed to the deal regardless of the amount since that was the future.
Refusing Microsoft acquisition
"Yahoo! announced that it is rejecting Microsoft's multi-billion-dollar buyout offer, saying that it undervalues the company." Although the company sold to Verizon in 2017 for approximately $4.83 billion.
Read More: Yahoo Launches New Logo
Microsoft has offered Yahoo! several times over three years, from 2005 to 2007. The company finally wanted to settle down for $44.6 billion and acquire the whole of Yahoo! But they thought Microsoft was undervaluing the company. Not a fair price! One might think this was another mistake by Yahoo! and yes it was because they sold their business at a much lower value.
Read More: eBay Receives Multi-Billion Dollar Take Over Offer
With not a year passing by, Jerry makes an agreement with Microsoft for 10 years. Microsoft will own Yahoo! for 10 years without being bought. That must have been a beneficial deal for Microsoft.
Yahoo! has remained our favorite since childhood. Taking the wrong steps for all the lifetime they managed to be within the Top 10 list of most visited sites in the world. Not to mention, they have continuously chosen wrong paths and ended up being invisible with this internet-based industry.
For more updates, be with Markedium.