Renaissance of Ed-Tech Industry in Bangladesh

9

min read
Op-Ed: This is an independent editorial from our esteemed opinion contributor. By any means, the op-ed contents by contributors don't reflect any of Markedium's in-house opinions.
---
Edtech is going forward and grabbing market share rapidly in the education industry. Where education and technology are blending up to replace the conventional education system. The tension of innovation and modernization of the study process culminated in Edtech. Edtech is not a convoluted process at all. The renaissance of Edtech in Bangladesh has already started. There are almost 138 ed-tech startups that provide services to date. Among them, 10 min School, Shikho, Thrive, Upskill, and Admission Ninja are a few of them which are very popular.

What is Edtech?
---
Edtech is not only concerned about the study material and online curriculum of the national education board of a country but also other various skills and problem solutions as well. Edtech refers to the system in which different sets of programs have space to roam around the single web. Like Edtech will be comprised of skill enhancement & enrichment, job placement through implementing career track, critical solution path for software & hardware, Online Curriculum Learning, Providing study material online & so on.
Edtech Operating Segments & Verticals
---
Currently, Edtech is operating in different segments. In the beginning, ed-tech started with Pre-Kindergarten and Kindergarten-12th class of online education. Later on, they entered higher education, skill enhancement, B2B, B2C, B2B2C, P2P, & Service and Solutions. Edtech is climbing the ladder to reach the pick where technology can obsolete the physical presence of education. Edtech is hitting all the segments to bring the knowledge to the palm of the hand. Recently top corporates and multinationals are buying subscriptions from Edtech to enhance the skills of their employees.
According to HolonIQ, there are specifically 10 verticals in which Edtech startups are playing. They are- Knowledge and content, Education management, Traditional models, New delivery models, Experiencing Learning, International Education, Learning Support, Assessments & Verifications, Workforce & Talent, and Skills & Job.
Revenue Model of Edtech
---
The revenue Model of Edtech is almost like the Technology & Entertainment industry (mass media). Currently, Edtech is following Free + Premium = Freemium, Pay as You Go, Daily, Weekly, Monthly & Yearly Subscription, and Enterprise Sales. The next revenue model can be linked with the success of the learner. As long as learners will get success Edtech will earn revenue. Apart from that income-sharing model also can be popular.
It will also be known as Student-Edtech Partnership. As in this model, Edtech will equip a student till they start to earn the money. When they will start to earn the money then they will share a certain portion of their salary.
The scenario of Bangladesh and Transition to Edtech
---
Bangladesh education was previously coaching center-based. In the early '90s, the coaching business was started. It spreads like a tornado right middle of the 2000s. The government of Bangladesh tried to stop the spread by implementing lots of regulations and jurisdictions. But nothing actually helped then. According to BBS reports of 2014, almost 33% of education costs went to coaching centers and home tutors. According to Upskill, the government and private sector of Bangladesh used to spend 15 billion USD and coaching centers are grabbing 6 billion USD alone. There is no other research-approved definite market size for the Bangladesh coaching center. But obviously, we can say that it is the cream in the pie, which covers a large chunk of the pie.
The renaissance of Edtech has been started by the 10-minute school. The founder Ayman Sadiq started it on a YouTube channel. Later on, he opened up a platform to provide educational services & skills training. It became the most popular Edtech company in the country. Mr. Shazzad Hossain Mukit writer of Making Sense of Bangladeshi EdTech Ecosystem described the marketplace in two formats. One is Formal Education and another one is Informal Education. Formal Education refers to the Edtechs that provide services regarding government-approved curriculum. On the other hand, Informal Education refers to the Edtechs that provide services other than government-approved curriculum such as skills training, Learning management systems (LMS), software solutions, etc. Mainly, the informal education marketplace goes for B2B, B2C, and B2B2C. In addition to that, startup Edtech's in Bangladesh prefers monetizing over scaling. They prefer to go in the marketplace by monetizing. The 10-minute school had already monetized a lot. Now they are going for scaling their programs.
The Edtech startups are entering the industry and grabbing the market share very rapidly. Edtech raised nearly USD 5 Mn. of funds in 2021. Before the pandemic, edtech have a market share of 5% and after the pandemic, it is supposed to reach 10%. World wide the Edtech cumulative aggregated growth rate is 20%. According to industry experts, the Edtech industry will reach 700 Mn. USD by 2025.
Investment Landscape in Bangladesh
---
To date 12 companies funded over 9 Mn. USD over 5 years. Among them, total Global funding is about 8 Mn USD and Local funding is 1 Mn USD. In 2018, 0.16 Mn USD came from local angel investors. Which contained totally Pre-seed funds. In 2019, 0.63 Mn USD came from local angel investors (84%) and Accelerator/Incubator (16%). Which contained 0.17 Mn USD (27%) Pre-seed fund and 0.46 Mn USD (73%) Seed fund. After 2019, covid hit hard in every industry and funding was getting stopped then. Thus 29% decrease in trend showed the real picture of the blow. From 0.45 Mn USD 38.5% invested by local angel investors and 61.5% invested by venture firms. Among them, 74% were Pre-seed capital, and the rest of them are seed capital. Till 2020 total of 8 companies were funded in this sector total of 1 Mn USD and 78% of contribution to this fund was by local investors. Still, Bangladesh is yet to face a huge amount of foreign investment in this sector.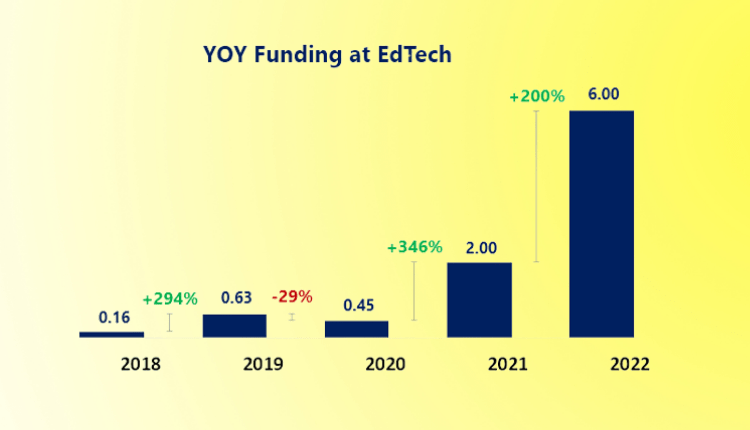 After a heavy country-wide lockdown and full-year school shutdown, the education board started to shift their activities online and the people who worked from home started to enhance their skills by using foreign EdTech platforms. In addition to that, parents started to worry about their children's future. Local EdTech started to feel the need for revolutionization of the overall mechanism. They started to bring different contents to support the current need. For that reason, they need huge funding to change the mechanism. At the beginning of 2021 Edtech got a huge jump in its investment. As a need for EdTech started to grow to replace the conventional method of study. In 2021, 84% of investment was coming from foreign and 16% was from local investors out of 2 Mn USD. This amount was funded by 4 types of investors. They are DFI, Angels, Venture Fund and Corporates and they have 5.5%, 12%, 78.5% & 4% contribution respectively. In addition to that, this fund was funded in 3 stages. They are Grant (5.5%), Pre-seed (22%) & Seed (72.5%). After a successful year of upward funding spike in 2021, the EdTech industry is facing another upward trend of investments in 2022. Recently Wavemaker Partners invested 4 Mn USD for Shikho and Surge invested 2 Mn USD for 10 Minute School. Wavemaker Partners is a venture capitalist firm and Surge is an Accelerator/Incubator. Both are foreign investments and considered seed capital
Edtech Companies
---
10 Minute school:

10 Minute school was founded in 2013 and is based in Dhaka. They are pioneers of Edtech and one of the famous Edtech in Bangladesh. This educational platform is a web-based learning site. That offers a range of government-approved curriculum, skill training programs, and online tests. In addition to that, they offer a range of video libraries, tips for the preparation, admission preparation, university courses, and so on. Total funding is USD 2 million and Surge is the key investor of 10 Minute school.

Shikho:


Shikho was founded in 2019 and is based in Dhaka. They are providing a school-based learning solution platform. This is totally app-based mobile platform. From class 6 to 12 everyone can access Shikho mobile app for their amazing animated video lessons, question-answer sessions, live classes, learning analysis, and so on. Recently they closed investments of 5.3 Mn. They raised 4 Mn. in addition to 1.3 million in 2021. Which brings in a total of 5.3 Mn. Anchorless Bangladesh, Wavemaker Partners, Ankur Nagpal, and 5 Other Investors invested in their business.

Thrive:

Thrive was founded in 2019 and is based in Dhaka. They are an online platform that provides learning tools to educational institutions. This platform is used to enable managing classrooms, personalized guidance for students, learning assistance for teachers, and more. In addition to that this platform offers Digital Coach – which is a student success platform. Total funding it raised around 200k USD. Mehedi Hasan, Quazi Zulquarnain, Abdul Ghafur Bashir are the investors of Thrive.

Upskill:

Upskill was founded in 2018 and is based in Dhaka. They are an online platform that providing peer to peer service for skill sharing. They also provide trainers and other workshops to build up different sorts of skills. It also provides online courses on entrepreneurship, startups, content marketing, digital marketing, funding, and many more. They raise 100k USD as funding from SBK Tech Ventures.

Admission Ninja:

Admission Ninja was founded in 2017 and is based on Khulna. It is mainly admission test centric. Startup Bangladesh is the main investor of this company.

Sohopathi:

Sohopathi was founded in 2017 and is based in Dhaka. Online platform providing multi-disciplinary learning solutions. Accelerating Asia is the main investor of this company.
EdTech future
---
The potential of this sector already attracted foreign investors. If we see the trend of funding, we obviously can say that EdTech started to get a kick to replace the conventional study method. EdTech's are charging 75%-80% less for academic courses than traditional teachers. There are 43 million students who had a gap in their education amid covid. So, this target group of people will be the key driver along with 12 million users of Edtech. According to industry experts, "If the EdTech platform got 5% of its users to subscribe for paid content and classes and the rate would be enough to help its financial sustainability if the expected revolution takes place". Apart from all that, leading Edtech 10 Minute School secured 12 times business growth in 2021, and the majority of their student is the rural learner. So, the industry is facing exponential growth. Along with 10 Minute School, other EdTechs like Shikho, Bohubrihi, UpSkill, Thrive, and so on are also doing well with their revolutionized content. As this market is expected to grow and grab the market share by 20% and the industry size will be 700 Mn USD by 2025. If they still continue to follow their low-cost differentiation strategy then a good future is ahead and exponential growth can be ensured.
Associated Resource Links:
---