No More Password Sharing with Netflix's Latest Crack Down- Here's Why!

3

min read
The days are about to be over when you could share or use the Netflix account of other people. Netflix is coming for you with strict measures!
With a whopping 209.18 million subscribers around the world, the streaming service giant is now looking forward to increasing the number more by adding all the borrowers as paying members of Netflix account. Recently, Netflix has announced that it will launch a two-factor authentication-like procedure that will prohibit any users outside the household to use one account.
But it is still not being completely ruled out by Netflix to have people outside the household, on their accounts, the only difference is they will also have to finally start paying for it. New options will be added with additional charges to incorporate these stray users into a subscription model and generate revenue from them.
On a trial basis, in Peru, Chile, and Costa Rica Netflix users can add up to 2 members outside the household. Netflix projects that 10 to 12 million new users could be added in the United States alone.
Although Netflix's terms and conditions always stated not to share passwords outside the household specifically, the whole demeanor of Netflix regarding password sharing has been very lenient in the past with as far as a tweet from Netflix's official account in 2017 said 'Love is Sharing a Password'.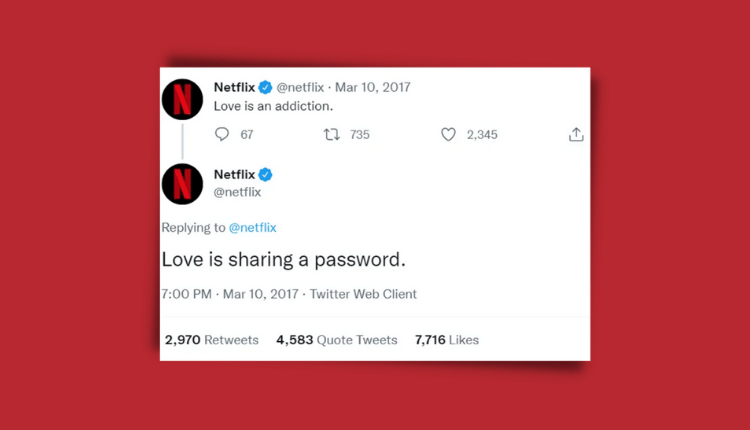 Now in 2022, a lack of new customer acquisition which is barring the streaming pioneer from generating desired revenue has compelled them to take a 180-degree turn from their previous beliefs and rely more on taking measures against password sharing. Netflix has been struggling to generate sufficient money to invest billions of dollars in acquiring new shows and films while it also struggles under the pressure of being toppled by Disney+ by 2025 as projected by experts.
Read more: Pros and Cons of Having NFC for Credit Card and Debit cards
---
The first and utmost reason as to why Netflix is suddenly putting its focus on stray users is-
Revenue Generation!
Apparently,
Being the streaming service giant, they have the market share they aimed for but not the whole population of it is paying up yet and they want to ensure to incorporate those stray users and generate money from them in a systemic way. And in a time when, Netflix is in a very serious battle of content creation against platforms like Disney+, Amazon Prime, etc. the newly proposed barricade against sharing passwords might give Netflix the financial boost it needs right now to win the battle.
Also, then the more altruistic reason could be to ensure customer security, sharing passwords is risky as it could be shared yet again and put the original user's data at risk with their paying account details attached to it. Then, the reason for the sudden change in stance towards password sharing is, that Netflix is already a household necessity and a commodity rather than a luxury for large demography of people, so they are more likely to shift to a paying alternative now than in the past.
Some of you might also argue that Netlfix let password sharing go on for this long to make the users used to its platform and make it a part of their daily life. Either way, it was a move that needs to be controlled now.
With the outbreak of the information, consumers were outraged but Netflix provided assurance that this is just a testing measure and not a full-fledged inspection of unpaid users. But this sure paves a new path for Netflix to instigate that the days of freeloaders are coming to an abrupt halt with new curtailments in process.
For more updates, be with Markedium.