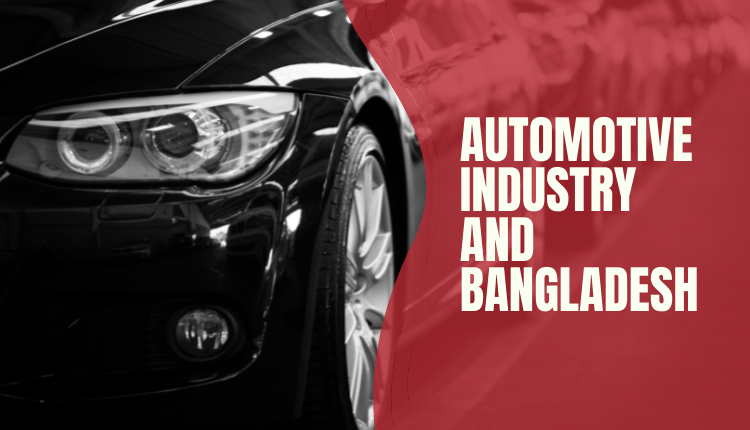 The Automotive Industry Outlook of Bangladesh

3

min read
The automotive industry in Bangladesh is one of the most prospective sectors as the population's purchasing power has been increasing over the years. According to a report by Boston Consulting Group, MAC (Middle and Affluent Class) population is expected to grow to 34 million by the year 2025. The rising purchasing power coupled with the easy access to finance with low interest for purchasing private cars can become the main driver for the growth in the automotive industry.
According to a report of Lightcastle Partners, the industry has grown multifold over the years in Bangladesh to become an industry worth $1 billion. The sector has enormous potential as the country has only 2.5 cars per 1,000 population which is significantly lower than its Asian peers. Countries like Vietnam and Myanmar have 31 and 129 cars per 1,000 population, respectively. Hence, the industry has vast potential to grow as most people do not have private cars for their daily commute.

Current Scenario of the Industry
---
According to Bangladesh Road Transport Authority (BRTA), there are 587,835 passenger vehicles registered in the country. 470,419 (80.0%) of total passenger vehicles have been reported in the Dhaka metro region. Of the total passenger vehicles, 66.1% (388,567 vehicles) are private passenger cars which are essentially sedan cars. Microbus and Jeep are the second and third highest vehicles segment with 111,197 (18.9%) and 76,262 (13.0%) vehicles. The scenario is almost the same in Dhaka, as Sedan cars dominate the private car segment with 320,622 vehicles (68.2%). Microbus and Jeep sit second and third with 87,149 (18.5%) and 60,189 (12.8%) vehicles. 
The market has mainly grown since 2011 in Bangladesh. Sedan vehicles increased by 86.2% from 207,989 vehicles in 2010 to 388,567 vehicles by May '22. Microbus grew by 78.2% from 62,399 vehicles in 2010 to 111,197 vehicles by May '22, and Jeep grew by 171.1% from 28,131 vehicles in 2010 to 76.262 vehicles by May '22. The industry has seen exponential growth since 2011 as the population's purchasing power is gradually increasing with the GDP growth of Bangladesh.
According to Bangladesh Road Transport Authority (BRTA), the passenger vehicle market peaked in 2017 when the total registered vehicles were 33,936 and 29,441 vehicles in Bangladesh and Dhaka. Due to the coronavirus pandemic, the passenger market declined significantly as most people didn't focus on luxury spending during the time. However, from the above data, it can be seen that the passenger vehicle market rebounded sharply as the country has gone towards normalcy. Currently, the Banks and NBFIs are offering low-interest rates for car loans which are also helping in the increased spending in this segment.
Easy Access to Finance
---
Since 2020 the interest rate for a loan has been at a record low as the central bank capped it at 9% except credit card for the Banks. Recently, the central bank has imposed the same lending rate cap at 11% for the NBFIs. Hence, borrowing for luxury spending is now lower than pre-Covid. Moreover, banks and NBFIs are currently focused on retail banking as a growth driver. Therefore people now can get easy financing for cars with a short processing time. IPDC is one of the renowned NBFIs focused on more accessible financing for people to buy cars. Anyone with a minimum Tk 30,000 monthly income can apply for car loan facilities in IPDC. The company offers loans for Brand new, Reconditioned & Used vehicles. 
IPDC's focus on the auto segment is paying dividends as the auto loan portfolio of the company has grown by 88.1% in 2021 compared to 2017. According to IPDC's annual report, the Auto loan portfolio was Tk 1,892.7 million in 2017 and Tk 3,560.2 million in 2021.
Conclusion
---
According to Lightcastle Partners, the consumer preference for brand new cars increases over reconditioned cars. The market was primarily dominated by reconditioned cars, as 92% of the total imported cars were reconditioned cars in 2016. Reconditioned cars are reduced to 82%, and brand-new cars account for 16% of imported vehicles.
According to an interview conducted by Lightcastle partners, 78% of brand-new car dealers recorded higher sales in 2020 than the year before. Hence, the share of brand-new cars will increase in the coming years due to a shift in consumer preference.
This Content is published in collaboration with IPDC Finance Ltd.