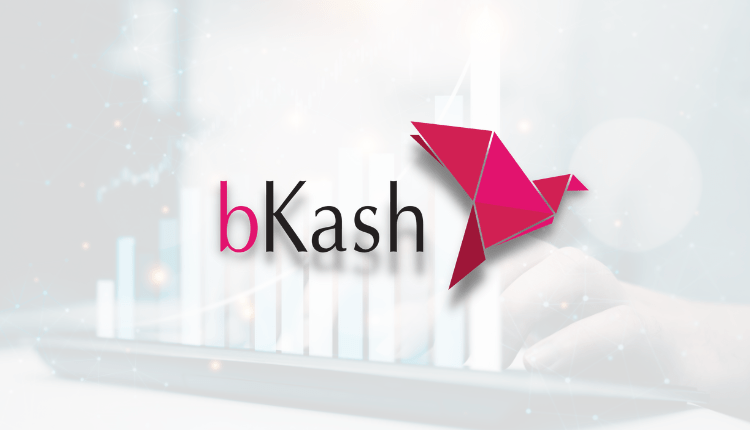 Bkash Continues Its Growth Trajectory In H1'22

3

min read
bKash, the leading mobile financial services company in Bangladesh has recently published its financial statement for H1'22 (Jan-Jun). Net revenue (Revenue excluding VAT) of the company grew by 20.4% YoY from Tk 15,608.2 Mn in H1'21 to Tk 18,791.2 Mn in H1'22. bkash's loss after tax decreased from Tk 720.0 Mn in H1'21 to Tk 424.6 Mn in H1'22.
Revenue growth is driven by higher customer acquisition and transaction volume
---
Net revenue grew by 20.4% YoY mainly driven by an increase in the number of customers along with higher transaction volume. The average monthly transaction volume in H1'22 was Tk 568 Bn which was about 21.0% YoY growth from the same period last year.
The number of customers of bkash increased from 57.6 Mn in 2021 to 62.3 Mn in H1'22. Active customers increased by 4.7 Mn in the first six months of 2022 from 32.8 Mn in 2021 to 37.5 Mn in H1'22.
Read more: Robi's Revenue Grew By 3.7% YoY In Q2'22
Active Customer Ratio (Active Customers divided by Total Customers) ratio increased in H1'22 to 60.2% which was 56.9% in 2021. The data shows a higher number of total customers are now using bkash's platform regularly.
The introduction of profitable products led to a higher gross profit margin
---
The gross profit of the company increased by 32.2% YoY to Tk 4,138.6 Mn in H1'22 which was Tk 3,130.1 Mn in the same period last year. Gross profit margin also increased in H1'22 to 25.2% which was 23.0% in H1'21. As stated by bkash's CFO in earnings disclosure, gross profit margin increased mainly due to entry into new profitable products. Predominantly bkash is still used for cash-out service however as people are using it more for merchant payments, airtime & P2P payments. These services generate a higher gross margin than cash-out services.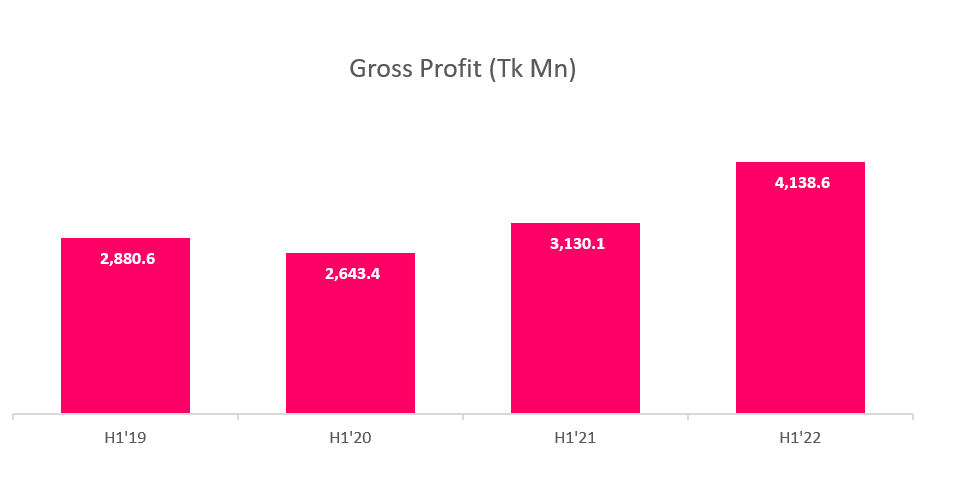 Loss decreased mainly due to higher finance income
---
bkash incurred a higher operating loss in H1'22 compared to the same period last year. Operating loss in H1'22 was Tk 885.0 Mn in H1'22 which was Tk 801.6 in H1'21. Higher operating loss was offset by the significant increase in finance income. Net finance income of bkash increased by 912.1% YoY from Tk 58.8 Mn in H1'21 to Tk 595.0 Mn in H1'22.  Hence the loss of the company dropped to Tk 424.6 Mn in H1'22 from Tk 720.0 in the same period last year.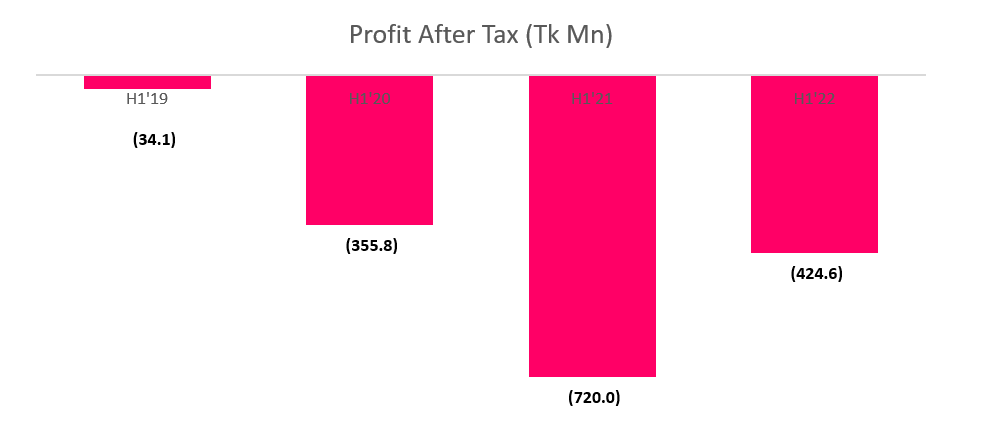 More than a cash-out service is the road to profitability
---
bkash is now focusing on launching different products and services which can help to grow revenue. The company's revenue mix is still cash-out dependent (77% of the total revenue) which has lower gross margins compared to other services like airtime, merchant payments etc.
The company is striving to diversify the revenue mix by introducing more and more products and services. The company will be able to generate a higher gross profit margin when the pie of cash out will decrease in the revenue mix. bkash app will play a major role in this objective as the app allows customers to avail different products and services. Hence customer acquisition for using the app will be one of the important strategies for the company towards profitability.
For more updates, be with Markedium.