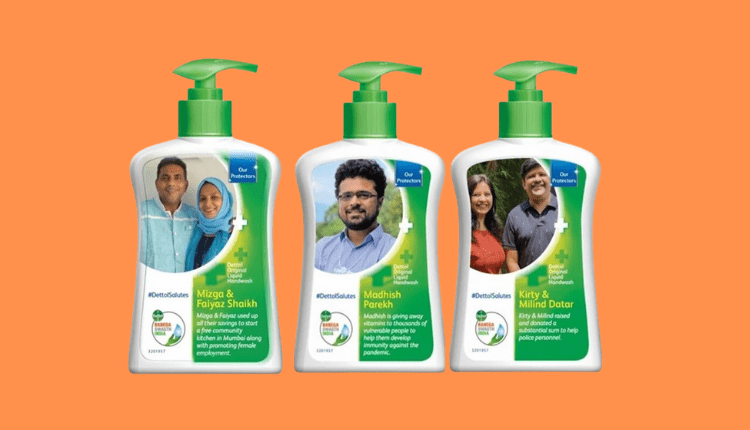 Dettol Honors The Covid Fighters with #DettolSalutes Campaign

2

min read
The power of a brand lies in its ability to be a part of the greater good. Dettol's latest campaign aims to harness that part and become an icon of protection against the ongoing COVID-19 pandemic. The campaign, #DettolSalutes will commence from the 3rd of June. As a part of this campaign, 4 million packs of Dettol handwash will replace the Dettol logos with pictures of COVID protectors.
The purpose of this campaign is to share the identity and story of individuals who are working on the frontlines to keep the nation safe from COVID. The nature of this virus makes it extremely dangerous for frontline workers as they have to repeatedly come in contact with a large number of COVID patients.
Read More: Facebook Won't Take Any Shares from Creators Until 2023
Yet, without their self-sacrificing contribution, there wouldn't be anyone to perform the essential duties such as providing healthcare. By sharing the stories of covid-19 fighters who have made this selfless sacrifice, Dettol aims to pay tribute to these heroes and inspire optimism throughout the country.
The 4 million packs will be distributed through 500,000 stores as well as e-commerce channels in India. To feature as COVID protectors on the packs, 100 individuals and their stories have been carefully selected from across the country. These COVID protectors consist of people of all ages and backgrounds. The diversity is meant to provide widespread representation and allow people from all over India to experience a personal connection.
Keeping up with the diversity theme, Dettol's TV advertisement for this campaign is in sign language and will be aired on different national TV channels of India. Dettol has also launched the website www.dettolsalutes.com to allow the general public to create customized packs featuring the stories of COVID protectors and share them on their social media.
For more updates, be with Markedium.