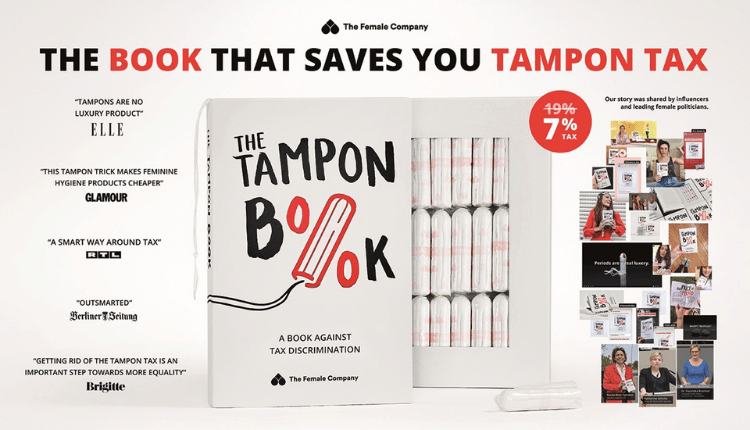 The Tampon Book | The Creative Campaign That Outwitted The German Laws

2

min read
Up until 2019, in Germany, taxation on women's sanitary products was maintained at a shocking 19%, whereas while goods such as caviar, oil paintings, and truffles were taxed at only 7%. You don't have to be a genius to understand that this was indeed just a crap of a call. You can ask anyone dealing with menstruation and you will get a reply that having a period might be a lot of things but a luxury.
As a matter of fact, menstruation is a natural function of the women's body and sanitary products are nothing but an absolutely necessary product.
To raise a significant voice against such discriminating law, in 2019, The Female Company-an an online store selling female healthcare products found an outstanding loophole that pointed out the issue to the mass with great impact.
The Big Idea
With the assist of Berlin-based agency Scholz & Friends, the company packaged 15 organic tampons inside a 46-page book, which was taxed at the lower 7% rate for daily necessities.
In addition to the tampons, the book includes stories and illustrations about menstruation. The first printing of The Tampon Book sold out in a day, the second in a week.
The campaign successfully acquired the attention of German lawmakers, with numerous female politicians offering the book to their supporters. A petition on Change.org to lessen the tax rate to 7% had a mammoth amount of signatures from the mass.
And guess what?
The taxation on sanitary items was cut from 19% (the basic rate) to 7% (the reduced rate) as of January 1, 2020. This is said to be a step toward a tax system that does not discriminate against women.
The campaign received numerous awards such as Cannes Lions 2019 Grand Prix for PR, Clio Award 2019 for Design, Clio Award 2019 for Public Relation, Clio Award 2019 for Branded Content, Clio Award 2019 for Direct Communication, Clio Award 2019 for Innovation
For all the latest updates, be with Markedium.