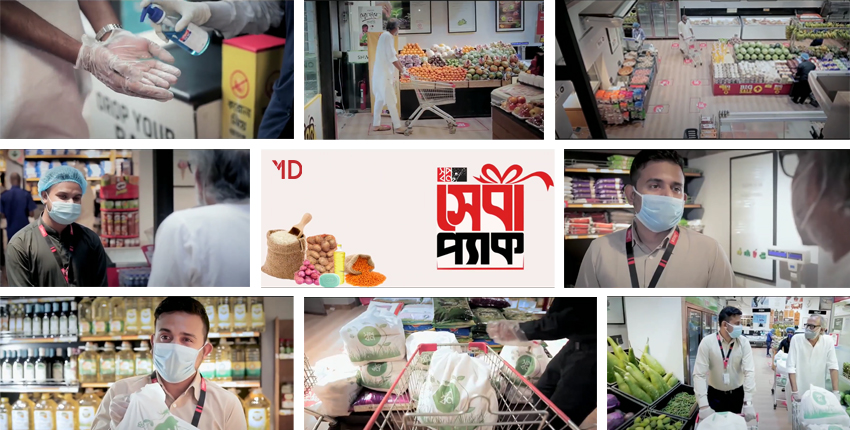 This pandemic threw the whole world into a frenzy. Everyone is trying their hardest to withhold some semblance of sanity as we all blindly wade through this fog of never-ending uncertainty. However, there is no denying that some of us are finding it easier to do so than others. There are countless of destitute people in our country alone, let alone the rest of the world, who are fighting harder to not give in to desolation.
Due to the lockdown that followed the COVID-19 outbreak, daily wage earners are suffering substantially. Without their source of income, they are finding it harder to make ends meet and serve food on their table.
Acknowledging the desperate times that these people are going through, many citizens have stepped forward to lend a hand in any way they can. Either donating to various volunteering organizations or purchasing the supplies themselves to distribute to those in need around the neighborhood.
"দেশের জন্য, মানুষের জন্য আপনি কিছু করতে চান, আপনার পাশে আছে স্বপ্ন"Client: Shwapno (ACI Logistics limited)Product design: Sabbir NasirCampaign: ShebapackAgency: Salt CreativesCEO and Creative Director: Sharmin Sultana SumiCOO: Shamim Ahamed OpuHead of Digital Marketing: Areful EeslamStrategic Planning Executive: Tanvir Hossan SharkarAccount Executive: Momena Shifa Rumki, Saraf Tasnia Ali Anonna, Mumtahina Nahrin AnniArt Director: Amzad Hossain SwapanSr. Visualizer: A R Khan SumonVisualizer: FS AnikProduction House: Toaster Production Director: Roni Bhowmik Producer: Nova FirozeDOP: Raihan KhanChief Assistant Director: Rubel HaiderLine Producer: Ratul Mahmud Assistant Directors: Rakib Hasan, Zayed D Hassan Edit: Toaster PostColour Grade: Chopping BoardMusic: Jahid Nirob, Butter CommunicationCG: Chopping Board Sound Mix: Sumon Parvez, Butter Communication

Geplaatst door Salt Creatives op Maandag 20 april 2020
Many organizations have taken an initiative to help people survive this pandemic and Shwapno is no different. They have introduced a special pack, called "Sheba Pack" that regular citizens can purchase for the needy. Sold at a discounted price, these Sheba Packs contain all the necessary supplies needed for a few meals.
Check Out: Brac provided Cash Assistance To 1 lakh Families In Need
Yes, being stuck at home 24/7 and being thrown off our regular life schedule is hard and mentally stressful for everybody. But we still have to recognize that we have much to be grateful for and that there are people in worse situations.
It is high time that we take a step to help them out in any way we can. One hot meal goes a long way for them, something we often take for granted. Let's all use the opportunity Shwapno has given us to offer a helping hand to those who desperately need it. After all, they are one of us. We might be in different socio-economic classes, but we are people of the same country. And to win this war against COVID-19, we all need to have a united front and take care of one another.
Read More: Banglalink To Distribute Relief among 14,500 households
What did you think about Shwapno's COVID-19 Campaign? Let us know your thoughts, and for more of the latest Bangladeshi marketing news, stay with Markedium.
Stay home, stay safe.