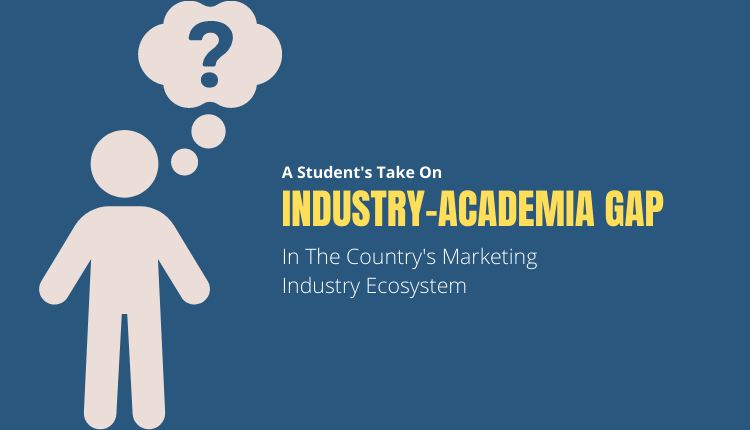 As a student pursuing an undergrad in the marketing field in Bangladesh, I have found myself boggling down to a single question, "Is my money well spent." To be honest, the million-dollar question is whether "Is my time well spent or not?"
Suppose you're studying in a private institution in Bangladesh. In that case, the four years of university life will end up costing you around BDT 8-10lacs just in tuition fees.  You could always choose an alternative route, getting into a public university, but we all know how difficult that is. Well, if you're spending this much money, you'd expect some form of value; however, in this country, especially in the marketing field, that is not the case all the time.
Read More: Bkash's Growth Continues In H1'21
Dominated by an archaic curriculum, even the largest of institutions fail to deliver well on their part. A majority of students that come out of the system tend not to be aware or even prepared for the needs of the country's marketing job market.  However, there are a few outliers within this segment; one such is an elder brother of mine- Mr. Shadman.
As an individual currently pursuing his undergrad in Marketing, with over six years of experience in the field, he gave me quite some insight into both ends of the spectrum.
When asked to differentiate between the two ends, he stated that the university could only provide him with long-standing knowledge of theories, concepts, and jargon. However, what he faced in the real world was much more conceptual; it was a field where you would lose out if you didn't constantly adapt to the industry's needs.
Although the lack of practical concepts only forms the tip of the iceberg, there are many other reasons behind an undergrad marketing degree lacking value:
1. Switch to Digital Marketing
Over the past few years, one of the most significant shifts in the marketing field has been the switch from traditional marketing to the world of digital marketing. However, institutions have not been capable of handling this massive switch. Some of the top institutions still lack dedicated courses catered towards this entire segment.  I am not even sure if there is any university offering a proper industry-standard digital marketing education.
Read more: The Data Race Is Heating Up, But Who Is Ahead?
SEO Management, Website Tracking, Data Analysis, Social Media Marketing, Media Buying, and much more are fields of learning that are yet to be explored by young minds.
2. Lack of Local Resources:
Finding proper industry-specific Data in Bangladesh tends to be very difficult; the available data is usually incorrect, irrelevant, or expensive. Students completing projects and research papers tend to falsify data in order to complete the course. Thus, reaching the real-world scenarios when the falsification of data is no longer a possibility, these undergrads find themselves in a fix.
Here's another dangerous fact! In almost every top-tier private university in Bangladesh, students are mostly introduced to the global cases (mostly from the USA and Europe). Whereas, around 90% of the students, I believe are destined to be working in the local industry. It's more like if a certain problem was faced by Global Burger King, a student from Bangladesh probably can solve the issue but what if it comes to local Burger King, then he or she will be facing a real hard time most of the cases.
It's a good sign that for platforms like Brand Forum Bangladesh, Brand Practitioners Bangladesh, Markedium, and some more, students can get access to the local marketing and business data nowadays. But still, it's a long way to go.
3. All That Matters Are Grades:
Out of all of these factors, one of the biggest reasons behind your marketing degree losing value would be the misconception that all that matters are grades. This issue can't be directly stated as the fault of the institutions; instead, it is the deep-rooted cultural thinking to be blamed.
Students live on the concept of pleasing their parents and having a CGPA that reflects well on their CV. With grades being the only motive, students tend to overlook the opportunity to learn; instead, they focus on shortcuts to gain better marks.
Impact
Well, this enormous industry knowledge gap among the fresh grads leads to a frustrating career beginning. We often complain about low salary bases in several wings of the industries. One such is the Agency. It's a known fact that a fresh grad can't expect a handsome salary if he or she considers entering the most creative wing of his field. It's an irony, isn't it? In fact, it's frustrating.
But can you blame the agencies that much? Are we producing enough quality fresh grads?
Look, am not talking about the 10% of the fresh grads who are already the shining stars, they would have succeeded anyway. I am talking about the rest 90% who need help and who are also paying adequate tuition fees. What about their future? I am also not denying the fact that the student also has a part to play, but is he having the appropriate guidance? Make no mistake, it's not about the faculty. I believe each university delivers the best possible faculty members for the students. It's more about the ecosystem. Do we have a good one? I leave it for you to answer!
---
Not to end on a grim note, there's always something that can be done, mainly focusing on the end of Universities. A great way to start would be to reassess the current curriculum and strategize on bringing theories to life with practical experience-based learning systems. In one word- reducing the Industry-Academia gap. And believe me, only arranging business case competitions is not enough- that is also a game for the shining stars.
The job is to provide a better ecosystem for the whole 100%, not the 10% only!