Walton Came Back Strongly With 125.6% PAT Growth in FY 2020-21

2

min read
Walton Hi-Tech Industries Limited, the leading electrical and electronics manufacturer of Bangladesh has recently published its annual report of FY 2020-21. Revenue of the company increased by 70.3% from Tk 41,079.2 million in FY 2019-20 to Tk 69,949.9 million in FY 2020-21. Profit after tax increased staggeringly by 125.6% despite the pandemic period.
Revenue
Revenue increased by Tk 28,870.7 million in FY 2020-21 despite the impact of 2nd phase lockdown during the period. The company managed to see growth in volume as Refrigerators grew by 86.5%, Electrical Appliances by 104.9%, Home Appliances by 72.4%, and Television by 9.9%. Export revenue also showed a staggering growth of 754.5% in FY 2020-21.
Walton retains its market leadership in the Electrical & Electronics market in Bangladesh with a 71.7% market share. Its flagship brand Walton holds 66.0% market share whereas Marcel holds 5.7% market share. The second-largest player in the Electrical and Electronics market is Singer Bangladesh with a 6.3% market share.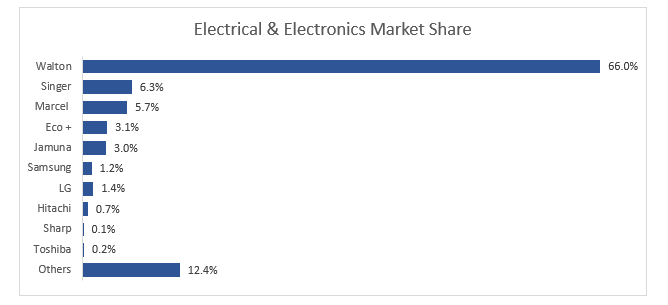 Gross Profit
Gross profit increased by 68.8% in FY 2020-21 mainly due to higher revenue. However, gross margin decreased slightly by 0.3% from 38.1% in FY 2019-20 to 37.8% in FY 2020-21. The gross margin had a higher mix of high margin product lines of refrigerator compared to the flat performance of television, electrical & home appliances. The high-margin products showed growth despite offering discounts to slow-moving products.
Profit
Profit After Tax increased by Tk 9,127.5 million mainly due to higher sales and lower operating expenses. The company continued its focus on cost-efficiency by managing the operating expenses. Operating expenses were 10.1% of revenue in FY 2020-21 which was 11.3% in FY 2019-20. In nominal terms, operating expenses grew from Tk 4,652.5 million in FY 2019-20 to Tk 7,089.1 million in FY 2020-21. Net finance cost also decreased by Tk 1,007.3 million mainly due to lower interest rate.
Conclusion
Walton Hi-Tech Industries Limited came back strongly in FY 2020-21 after a dismal FY 2019-20. The company was not impacted by the 2nd phase lockdown of the coronavirus pandemic as it was not as strict as the 1st lockdown. During the 1st phase lockdown, all business stores were shut down which was not the case during the 2nd phase lockdown. However, Bangladesh went through 3rd phase lockdown from the end of Jun'21 till the first week of Aug'21. Hence, we expect some impact on Walton's financials in the coming quarterly report.