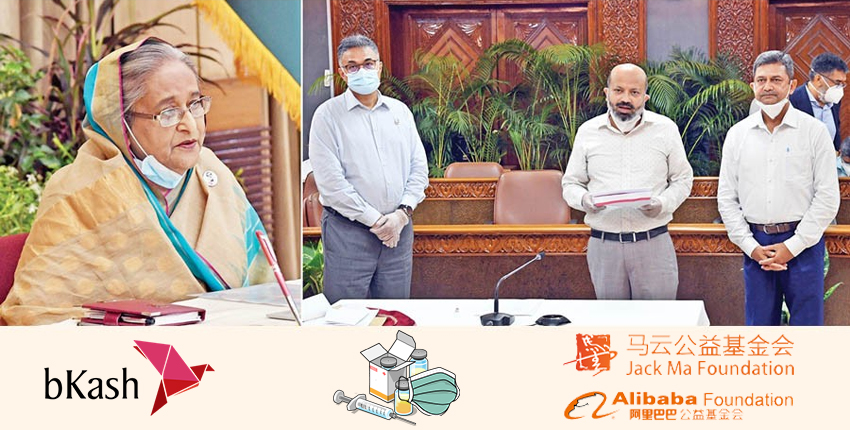 Bkash hands over health tool kits sent by Jack Ma Foundation and Alibaba Foundation

2

min read
Handover of more than 50 ventilators and 650,000 emergency health toolkits to the prime 
minister's relief fund through Bkash took place on June 4th. China's Alibaba Foundation and
Jack ma foundation sent these as humanitarian aid to better equip the country of Bangladesh in
fighting the novel coronavirus.
The prime minister who couldn't be present in person during the handover, expressed her 
gratitude saying that this equipment will be immensely useful during this crisis. The Prime 
minister oversaw the whole program through video conferencing from the Gonobhaban.
The list of health toolkits include 20,000 detection kits for Covid-19, 60,000 KN95 masks,
300,000 face masks, 200,000 inspection gloves, 15,000 face shields, 15,000 protective clothing,
80 electronic laser thermometers, 20,000 nucleic acid isolations and 20,000 sample
Bkash CEO, Kamal Quadir handed over the aid to Ahmed Kaikaus, the principal secretary to the 
prime minister. The handover took place in the prime minister's office. Major General Sheikh Md
Monirul Islam (Retd), chief external and corporate affairs officer of Bkash was also present.
 "We are delighted that Alibaba Foundation and Jack Ma Foundation have sent these medical 

supplies for the people of Bangladesh. Jack Ma and his organizations are not only participating 

in Bangladesh's economic activities through investments but are also concerned about the 

well-being of the people. Hence, they have sent this medical aid during this emergency," said

Kamal Quadir, CEO of Bkash.

 
Medical experts believe that these ventilators would be extremely helpful in severe cases of
respiratory infections by Covid-19 and give the infected a better chance of fighting the disease.
For more news, stay with Markedium.