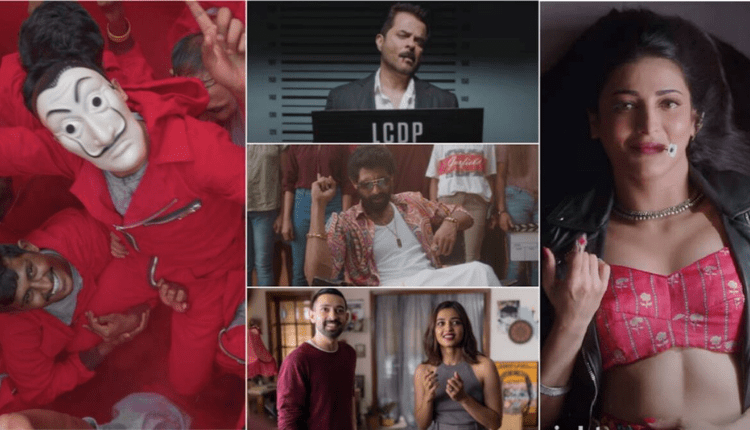 Netflix Gives Money Heist Season 5 Promotions an Indian Spin

2

min read
And it is quite amazing!
With season 5 of Money Heist just a little over a week away, Netflix India has dropped an extravagant promotional music video titled "The Money Heist Fan Anthem" to the tune of Bella Ciao. The video featured prominent Indian celebrities including Anil Kapur, Radhika Apte, and Hardik Pandya.
The title and chorus of the song "Jaldi Aao" mean "Come Soon" in Hindi.  The music video features the phrase being sung by different Indian languages and gives off the impression that the whole of India is excitedly waiting for the series finale.
"Jaldi Aao" recreates several scenes from Money Heist with an Indian cast. We can see Anil Kapoor finding his inner Denver as he dances on a bed of money, Shruti Haasan pays tribute to Nairobi with a flower in her mouth, and much more.
The music video paid tribute to the fans just as much it did to the show itself. The video showcases popular fan practices such as devising fan theories as well as their wants and desires for the show, perfectly illustrated by Radhika saying she really wants Arturo dead.
Season 5 of the popular Spanish show will be aired in two different volumes and will mark the end of the show as the season finale. The show is set to premiere on Netflix in September and will come to an end within December of 2021.
The plot of the show revolves around a team of thieves led by a mastermind known as "The Professor". Each member of the team uses names of major cities as aliases. Their lives, personalities, and stories are rich with drama and it all comes together in a show that managed to become a global phenomenon.
The show's popularity was exceptionally big in India. Netflix's Indian promo "The Money Heist Fan Anthem" was an excellent effort to engage the vast fan base the show has in the culturally rich nation.
For more updates, be with Markedium.