From The Vault | Uber Heetch, A Campaign That Troubled UBER in France

2

min read
Heetch is a French ride-sharing app that sort of challenged Uber about its services and came forth with a blow. Uber, on the other hand, is the largest ride-sharing app as well as food delivery app. Uber is literally everywhere so no introduction needs to be given to it. A startup in 2013 by Teddy Pellerin and Jacob Matthieu, Heetch found a way to enter the market by targeting late-night clubs. There was a gap while commuting from clubs late at night. Hence, Heetch came up with the idea of building a bridge between the service taker and service provider for that period of the night.
Gradually, it came down to Uber to find its way out in the market.
The campaign "Uber Heetch" was a subtle way to cut out Uber from the picture in France. It was a tough call for Heetch to get down to Uber because it is operating everywhere. Heetch took advantage of this, particularly through Uber Eats. While Uber was busy providing services, Heetch came up with the idea of making Uber deliver their ads for Heetch. As a result, 12000 free meal box packets were prepared to deliver to the restaurants for free.
Heetch aimed for Sundays because that's when Uber Eats delivery shoots up and all the participating restaurants are busy preparing food for home delivery. All the pink-colored Heetch boxes had certain messages to convey to the customers like – why would your ride-hailing app pay its taxes elsewhere when your restaurant is paying taxes in France and that Heetch is not hungry for their driver's money. These were some clear indications that Heetch wanted the consumer of the meal boxes to ditch Uber Eats and start using Heetch for good.
https://www.youtube.com/watch?v=nPwyt0GAPOo
In a few days' time, this was all over the internet and the target group got its message. Heetch did not spend a single penny for this online advertisement yet got all that it needed through Uber which successfully delivered the competitor's ad to everyone.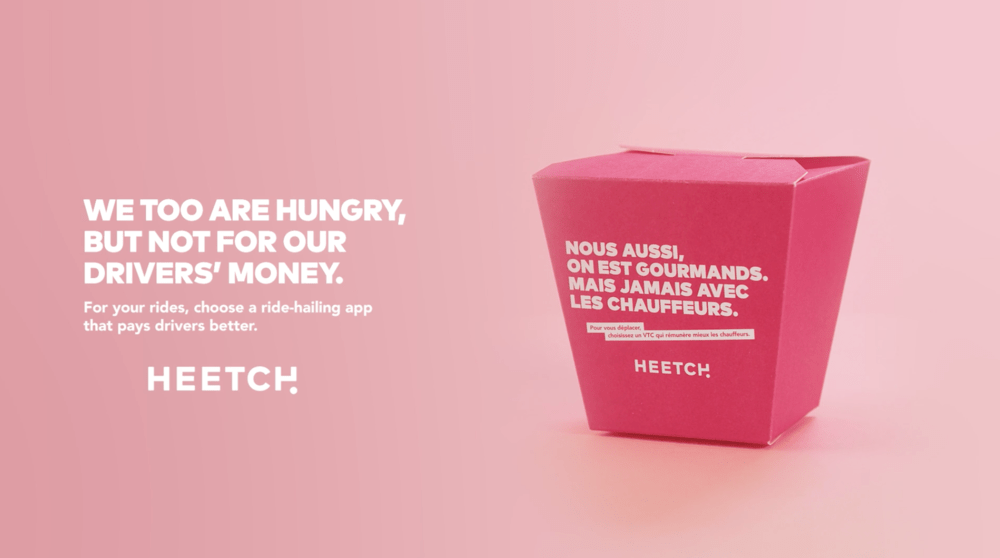 Thought to be far below the possibilities of Uber, Heetch successfully launched the campaign that it wanted to, and being smaller in size did not matter at all. Rather Heetch focused more on the mind game and proceeded accordingly.
As a result of it, Heetch created the buzz as the best possible alternative to Uber in France.
For more updates, be with Markedium.