For the Travelers Who Dream Limitless | GoZayaan Latest Campaign

3

min read
Sponsored content
Online travel tech platform GoZayaan has recently launched a new brand campaign announcing the bold motto "Go Limitless". Travel is for everyone whether they like leisurely walks by the beach or thrilling hikes to mountain tops. There is no limit to what the traveler can achieve with access to the right services. This campaign exists for those whose dreams are limitless.
The Campaign
---
After two long years, Eid has brought in the same festivities as it did before Covid. The new normal is slowly starting to look like the old normal. Travel restrictions lifting across borders has also given rise to possibilities for international travel alongside domestic destinations. The long break from normal life has created an abundance of explorers who want to travel without restrictions.
The mentality towards travel has shifted since vacation days are hard to come by nowadays. The traveler wants to perfectly plan every aspect of their dream holiday. GoZayaan aims to put control in the hands of the traveler when it comes to planning. The smart travelers of today can avoid dependency on third-party vendors and directly book their flights or hotels through GoZayaan.
Read more: Go Zayaan: Building An Online Ecosystem For Domestic Tourism
The new campaign promises control, reliability, flexibility, and much more in a value proposition to the customer. With a fresh new take on travel, their latest OVC proclaims the same. Depicting a couple trying to decide what to do on their holiday, the fun video captures the essence of the brand.
Social Media Hype
---
Various content creators all over social media have joined the "Go Limitless" calling by announcing how they are limitless in their own endeavors. Influencers from the travel community, food blogging, lifestyle blogging, etc. are adding their voice to the campaign. GoZayaan has truly established itself as a brand that inspires as limitless individuals declare their passion for travel.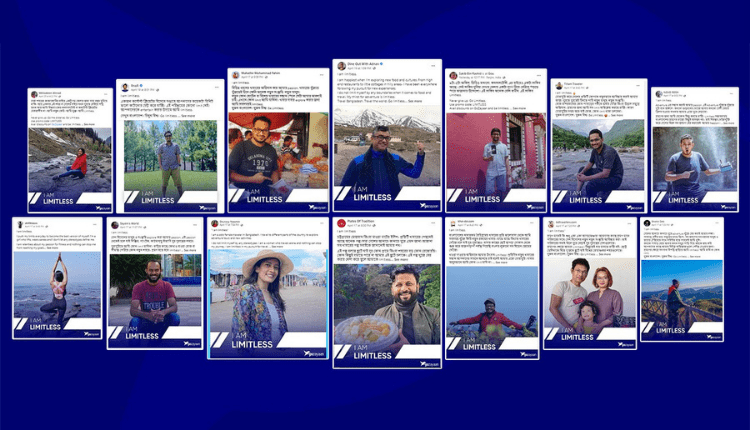 The posts come with the promo code LIMITLESS so individuals can get extra discounts while traveling. Proving once again, that nothing should get in the way if the intent exists for travel.
A World of Limitless Possibilities
---
GoZayaan is offering multiple options with offers and deals so the customer can get the best value for money. Travelers can customize the tour of their dreams just by booking their flights, tours, or hotels and becoming worry-free. Not just for the long Eid holiday, the slogan is here to stay as the company continues to add new and exciting travel solutions to its platform. From early 2020 the company has introduced the GoSafe program, integrated RT-PCR tests with international flights, travel loans, travel insurance, etc to keep up with the latest travel requirements. Staying true to their limitless promises, they are offering numerous deals on their website and app. The transparency to decide and the freedom to choose are two key components GoZayaan is providing to travelers.
Travel is for everyone regardless of preferences. Whether you travel for adventure or tranquility- the possibilities for travel are endless. Travelers have limitless dreams that will never stop. GoZayaan exists for those dreams, so you can be limitless.
For more updates, be with Markedium.
[This article is being published in partnership with GoZayaan.]