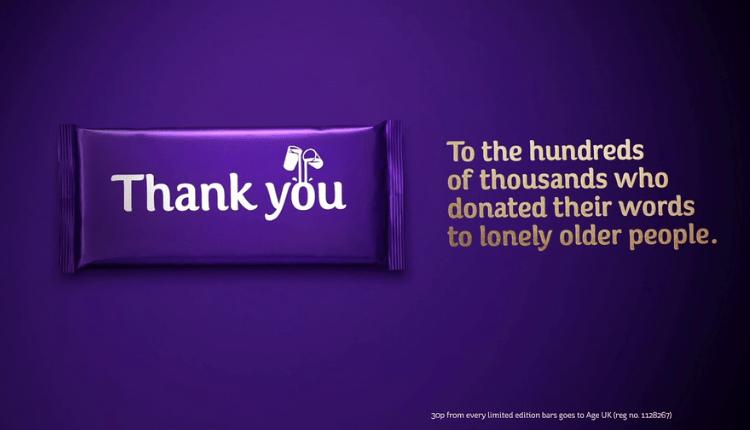 Cadbury Brings Out the Voice of the Older People to the World

2

min read
Life can be a fickle friend to older people. Many rarely find a friend to confide in after leading such vibrant life. Therefore, a lot of spend a great portion of the last phase of their lives in loneliness. Cadbury's latest campaign is a reminder to the world that the elderly have some interesting stories to share.

Designed to Express
Cadbury's "Donate Your Words" campaign features a complete repackaging of their legendary Dairy Milk bars. The brand has replaced the bar's logo with a quote from an older person. Each quote states a unique experience and next to it is the name of the person and their age. The entire purpose of this decision is to highlight the unique experience this demographic has to offer.
Furthermore, the campaign also showcases a video advertisement where various older people are sharing their stories. The video shows them to be eager to share their experiences. Optimism and wisdom flood into their eyes as they look into the camera hoping for an audience. The campaign ends with the phrase, "Donate your words, and who knows what words you'll get back."
Read More: Surf Excel Ramadan Rekindles Ramadan's Essence of Collective Perseverance
Dairy Milk also released a series of videos labeled "The Originals" as a part of this campaign. Each short video has an older person talk about their lives. The stories include kissing a rock star and wrestling the Prime Minister's bodyguards. Each of these experiences is unique and exciting.
Promoting an Important Cause
The "Donate Your Words" campaign is a result of Cadbury and AgeUK's latest partnership. Engaging in communication with older people and including them in the community is the main purpose behind it. More than 225,000 older folks go entire weeks without getting to speak to someone. Cadbury intends to change this situation with this campaign. They are also donating 30p from each sale to AgeUK to encourage the nation for being conscious about their welfare.
Cadbury's latest campaign is a masterstroke in the sense that it fulfills CSR by promoting the elderly. At the same time, it also immortalizes its Dairy Milk bar with this unique packaging and video series.
What are your thoughts on Cadbury's latest campaign? For more updates, visit Markedium!