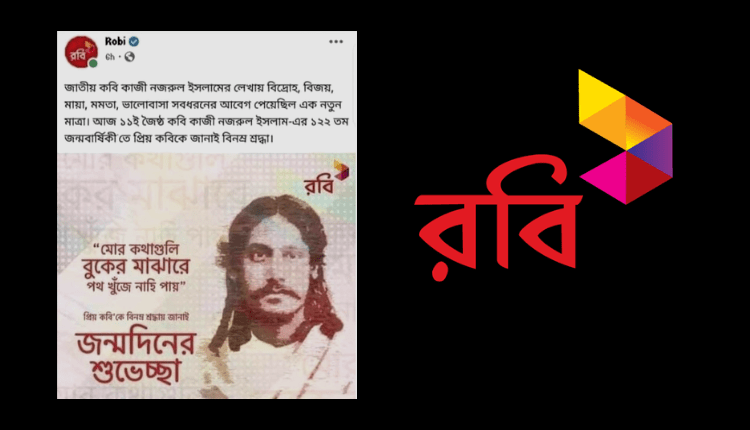 A Take On Robi's Recent Crisis Management Dilemma

4

min read
In this age of social media, all it takes is one negative comment or an aggrieved consumer or a disgruntled employee to fuel negative fires for the brand. Companies, brands, their PR division, the top management should be even more watchful today to stop any offensive voice from really developing and proactively act to address real concerns. However, recently the country's second-largest telecom service provider has faced an acute backlash due to an unintentional mistake while paying tribute to the National Poet on his birthday.
The Story
The 122nd birthday of the National Poet of Bangladesh, Kazi Nazrul Islam, was observed in the country on 25 May. On the occasion, Robi also made a content dedicating to the legendary poet on 27 May. However, the telco giant used a picture of another great Bengali poet, Rabindranath Tagore.
The post immediately received a massive backlash and rightfully so!
The granddaughter of our National Poet also took on social media and shed light on the mistake done by the telco giant.
Read More: GP is still the market leader, but Robi is catching up on Data | Q1'2021
She stated, "Robi should leave Bangladesh. Those who do not know the National Poet of Bangladesh Kazi Nazrul Islam have no right to stay in this country. Condemn Robi. Poet Kazi Nazrul Islam and Poet Rabindranath Tagore were both insulted. We are going to take legal action on behalf of the family."
However, Robi eventually took down the content and shared an apology after 3 days with another content stating:
"We are extremely sorry. Our concerned agency posted a wrong picture with a post from Robi's page on 25 May for the birthday of the National Poet Kazi Nazrul Islam. We seek your forgiveness for this unintentional mistake. We removed the post as soon as we noticed it."
The Goods and Bads of The Crisis Management
The only thing that we can appreciate is that Robi came forward and made an apology regarding the issue. But there were too many ifs and buts. There was a portion of the audience who gave Robi gave the credit for their acceptance of the mistake in spite of being such a big brand.
Read more: Robi Launches Appmaker+, Country's First No-Code Android App Creation Platform
Wait a minute, isn't that what one should do? On the contrary, if you are a small brand, sometimes you can get away with a mistake. But if you are a brand like Robi, it's a must to do when such a mistake occurs. So, there is no extra point from our end. However, we appreciate that Robi did what they needed to do.
But, was that too little too late?
 We figured two major flaws of the crisis management undertaken by Robi for this incident.
It was too late

If you have noticed the post of the granddaughter of our National Poet, you would see the post was shared when it was already uploaded for 6 hours. Now, that's a bummer. A post with such a big mistake should not be up for that long. Just not done. Secondly, the timing of the apologetic post was late as well. It took 3 days for Robi to share the feelings of the general mass and express their apology.
         Once again, not done.
The blame game:

Another thing that made us surprised was the selection of words in that apology content. Robi somehow directly put the blame on the shoulders of their partner agency. Now, maybe the statement was true, maybe it was the agency people who made the mistake but who gave the go-ahead to the post from Robi's end in the beginning?
Let's give Robi a benefit of the doubt and say, the agency took the responsibility and gave the post on its own. But then again, what were the associated people from Robi were doing for that long to identify the mistake? So, either way, it comes down to Robi.
So, it wasn't necessary at all to showcase the blame game in that apologetic content. A plain and simple apology as a brand would have done just fine.
Now, we believe this was just a one-time thing from such a giant corporation like Robi and there is no evidence to conclude that the crisis management of Robi is facing a crisis. It was just an example of sheer lack of focus for a short period of time and we hope this will never happen again. As let's face it, Robi is a company that is taking Bangladesh forward and it has played a big part in our current ongoing success in economic development.