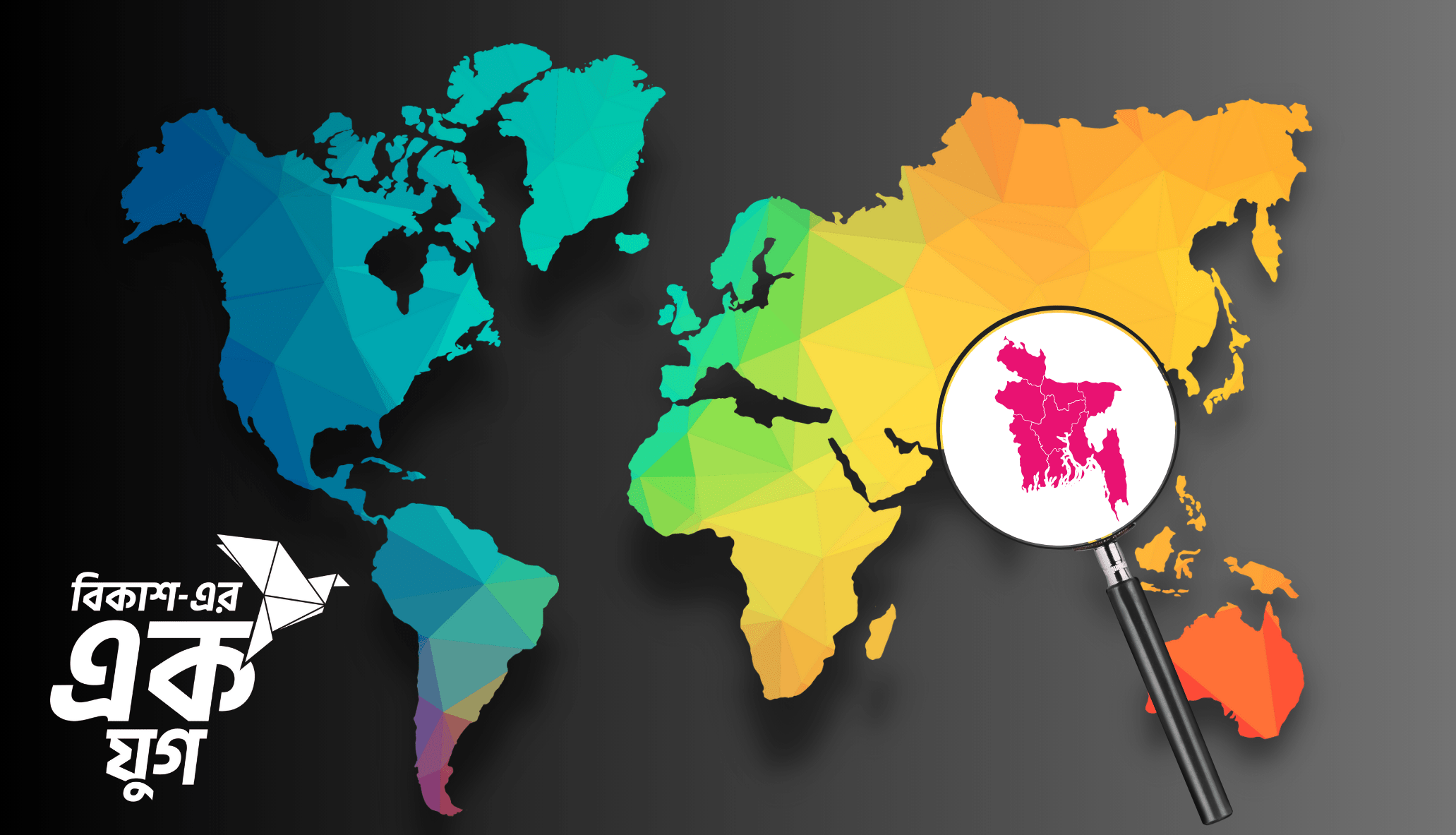 12 Years of bKash: Illuminating Bangladesh On The Global Stage

7

min read
In recent years, Bangladesh has emerged as a rising star in the world of digital financial services. Among the various players in this space, bKash, the country's leading mobile financial service provider, has played a significant role in reshaping the financial landscape of Bangladesh.
As bKash is celebrating its 12-year milestone today, it's timely to delve into the profound impact this flagbearer of the MFS industry has had, not only within its native Bangladesh but also on the global map. As the pioneering force in the Mobile Financial Services (MFS) industry in Bangladesh, bKash has created a substantial ripple effect that has contributed to the changing narrative about Bangladesh's economic capabilities and technological prowess.
The bKash Phenomenon
---
Since its inception in 2011, bKash Limited has done far more than offer a successful financial solution; it has revolutionized the financial sector of Bangladesh. The company's impact has been extraordinary, serving as a catalyst for inclusive financial growth, social development, and technological advancement.
bKash's MFS platform offers an accessible and secure way for the unbanked masses to participate in the digital economy, subsequently helping to alleviate poverty, enhance financial inclusion, and stimulate economic growth. With over 65 million customers currently, it is evident that bKash has been successful in mobilizing a substantial percentage of Bangladesh's population into the digital economy.
Let's explore the transformative impact of bKash and its contribution to Bangladesh's global recognition.
Empowering Financial Inclusion
---
One of the most remarkable achievements of bKash is its contribution to financial inclusion in Bangladesh. Before its inception in 2011, most of the population had limited access to formal banking services. bKash's mobile-based platform has bridged this gap by offering basic financial services to the unbanked and underbanked population.
Read more: Book on Sheikh Akij Uddin Explores His Remarkable Journey: 'Sheikh Akij Uddin: Jibon o Shomoy'
With over 70 million subscribers, bKash has effectively connected people to the formal financial system, empowering them with convenient and secure ways to save, send, and receive money. This financial inclusion initiative has garnered international attention and admiration, placing Bangladesh at the forefront of inclusive finance.
The Power of Global Partnerships
---
One of bKash's defining features is its robust partnerships with international entities. In a developing economy, global investments and collaborations are pivotal. They drive economic growth, and technological advancement, and lend international credibility.
Here are some of the notable global partners of bKash that made it one of the flagship startups from Bangladesh.
Bill and Melinda Gates Foundation: The Bill and Melinda Gates Foundation, set up and run by the co-founder of Microsoft, Bill Gates and his x wife, Melinda Gates supported the founding of bKash through a series of grants before finally investing in bKash to accelerate the expansion of its agent network and product development to benefit low-income people in Bangladesh.
The International Finance Corporation: The International Finance Corporation is part of The World Bank Group and works to advance economic development by encouraging the growth of private enterprises in developing countries.
In 2013, bKash received an investment from the IFC worth USD 10 million to increase access to finance through mobile payment, enable integration of bKash customers with the formal banking system as the customers will slowly develop a track record of banking transactions via bKash and facilitate commerce among the broader segments of the population by reducing costs such as transportation and overcoming geographical barriers.
Alipay: In 2018, Ant Financial Services Group, operator of Alipay, invested in bKash. Alipay is a part of the world-famous Alibaba group and is one of the biggest players in the mobile payment industry in the world. bKash, along with Alipay's investment and technology set out to provide highly secure and inclusive financial services to address the needs of people and local businesses in Bangladesh. Together, the two giants worked to introduce QR codes and consumer credit via the bKash app to a still highly unbanked population of Bangladesh.
Softbank: In Early 2022, Japanese Softbank Vision Fund II invested a reported USD 250 million dollars in bKash, taking their valuation to upwards of USD 2 Billion, cementing bKash's place as the first and only unicorn in Bangladesh's startup history. For readers who are aware, Softbank is run by its CEO and Chair Masayoshi Son, and has had investments in every major tech startup in the world- further cementing bKash's place as one of the major startups in the world!
Moneygram: In November 2021, it was announced that Digital P2P payments provider MoneyGram International, Inc. integrated with bKash to enable all its users to receive funds in real-time globally. This partnership is used to further strengthen the remittance inflow system and integrate it directly with bKash and thus provide a one-stop solution on the app.The latest global footprint of bKash states that now expatriates can open bKash accounts from 12 countries using the foreign country's sim cards which clearly states the bKash's vision to become the first global fintech company from Bangladesh. As a result of this opportunity to open an account in the bKash App while abroad, now expatriates can send money to the country at any time of the day more easily than before.
Digital Transformation
---
bKash has played a pivotal role in driving Bangladesh's digital transformation. By introducing mobile banking and digital payment solutions, it has ushered in a new era of financial services. bKash's user-friendly interface, simple registration process, and accessibility through feature phones have made it a popular choice among both urban and rural populations.
Read more: The MFS Revolution With bKash and The Dawn of a Cashless Bangladesh
Its services, such as utility bill payments, merchant payments, and online shopping, have become an integral part of everyday life for millions of Bangladeshis. The digital revolution brought about by bKash has showcased Bangladesh's potential as a technologically advanced nation, attracting attention from global investors and businesses.
Awards & Global Recognition
---
bKash, under the visionary leadership of its CEO, Mr. Kamal Quadir, has distinctly positioned Bangladesh on the global map as a future leader in financial technology and inclusive banking. Its transformative impact on the digitization of financial transactions and uplifting millions of unbanked individuals in Bangladesh has received significant global recognition. Some notables are:
Manthan Award (2014): bKash won the Manthan Award in the "Digital Inclusion for Development" category by Digital Empowerment Foundation (DEF).
Asia's Best Employer (2017): bKash won 'Asia's Best Employer Brand Awards 2017' in its 8th edition, '12th Employer Branding Awards' by Employer Branding Institute – India.
bKash in Fortune 50 list (2017): In 2017, bKash was ranked as the 23rd company in Fortune Magazine's annual "Change the World" list among the top 50 companies across the world for making changes based on social issues. bKash was the only Bangladeshi brand in that list alongside global giants like JP Morgan Chase, Apple, Novartis, Walmart, Toyota, Nestle, Unilever, Microsoft, Volvo, IBM, American Express, and Dell.
As a result of continuous innovation and development from bKash in the industry, recently bKash founder and chief executive officer (CEO) Kamal Quadir has been selected among 23 global high-impact leaders worldwide by the Aspen Institute for its Finance Leaders Fellowship for impact in the global finance industry.
The Argentine Football Association Regional Partnership
---
bKash recently has become the first ever Bangladeshi company to partner with the Argentine Football Association, the FIFA World Cup 2022 champions in a bid to explore new opportunities of solidarity through sports and entertainment while helping to tell Bangladesh's stories 'in an immersive and emotional way. This partnership earned bKash, and as a result- Bangladesh earn global recognition both among fans of the AFA and also football in general!
Read more: Transforming Transactions: The Growth Of Digital Finance Adoption In Bangladesh
As an end note we can say that by bridging the gap between the global and local, bKash has not only enhanced the image of Bangladesh but also shown how local enterprises can actively participate in and contribute to the global market. The success story of bKash is a story of Bangladesh's resilience, potential, and steadfast progress in the face of challenges. It's a story that promises even more in the years to come.
For more updates, be with Markedium.