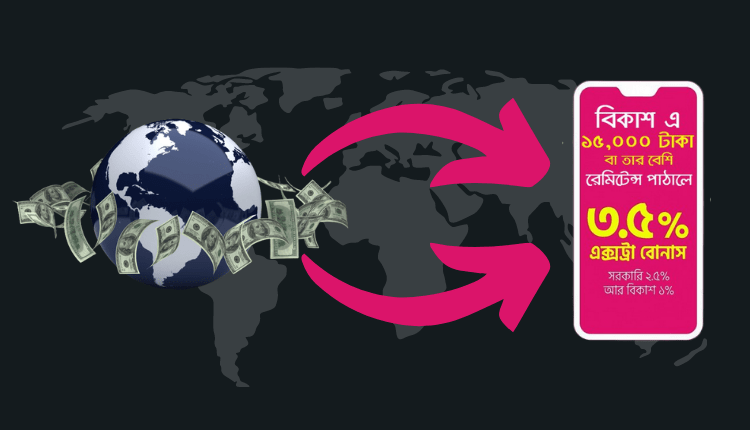 How bKash Hits All the Right Notes with Its 1% Extra Cash-Back on Remittance Offer?

4

min read
bKash – the country's leading MFS service provider has recently come up with an exciting offer for one of the most important workforces to the economy – migrant workers! Bangladesh reportedly sent 6,17,209 workers overseas and received a record $22,070.87 million ($22.07 billion) in remittance in 2021 amid the Covid-19 pandemic.
Although the yearly turnover set a record, the inward remittance did see a declining trend at the end of last year. As a result, in the beginning of this year, the Government of Bangladesh increased the incentive on remittance transfers to 2.5% from the previous 2%.
Now, bKash is offering a 1% extra cash bonus on top of the 2.5% government incentive while receiving remittance in bKash wallets. This allows customers to avail a total of 3.5% bonus. The cash bonus will be available till 30 April 2022 for any amount of remittance of Tk 15,000 and more sent through legal banking channels.
A customer can avail this offer twice a month – maximum of 8 times during the entire campaign – receiving cash bonus up to Tk 600 a month and a maximum of Tk 2,400 during the offer period.
Well, seems like a revenue losing initiative from bKash. Isn't it? If so, then why bKash- the leading MFS suddenly decided to came up with such offer? What are the upsides?
Let's have a deep-dive!
Although in daylight the offer seems to have a money losing angle, it has some remarkable upsides that apparently offsets the mentioned downside. Here are four of them:
---
Expanding the reach in remote areas
---
It's clearly imaginable that most of the remittance workers belong to a lower socio-economic segment of the country and mostly lives in the rural part of Bangladesh.
With this new incentive, bKash has created an opportunity to continue to take remittance service to the remotest areas of Bangladesh.
In other words, including the part of the population in the digital finance ecosystem where every Taka counts and traditional banking services is complicated to avail.
---
Supporting The Government Initiative
---
With this added 1% incentive, bKash-as a market leader is also providing a boost to the Bangladesh government's goal to encourage the migrant Bangladeshi workers to send more remittance through the formal channels.
Now, a question might pop-up as to why sending remittance through formal channels is important for a nation.
Remittance is an important source of economic development. Remittances are used to raise national savings, reduce the constraint associated with foreign exchange and balance of payments, and contribute to the development budget. Hence, the remittances should be transferred through formal channels such as bank drafts, money transfer companies, and others to maximize its inflow.
So, with this new offer, bKash is also putting its 2 Cents to both encourage remittance earners and the economic development of the country. Indeed, a move worthy of a market leader.
---
Exploring a crucial customer segment
---
From a company perspective, this incentive has also created an opportunity to acquire new customers in this crucial segment (mainly from the rural area) to whom every Taka matters and who earlier had to go through the hassle of opening a bank account or going to the bank physically.
Now, with this offer, if the remittances come directly to the families' bKash wallet, the comparatively new segment will become regular users of bKash.
And who knows, since the MFS industry cash-in amount is showing an upward trend compared to the cash-out amount, we might soon see customers living in remote areas get more actively involved in the digital finance ecosystem.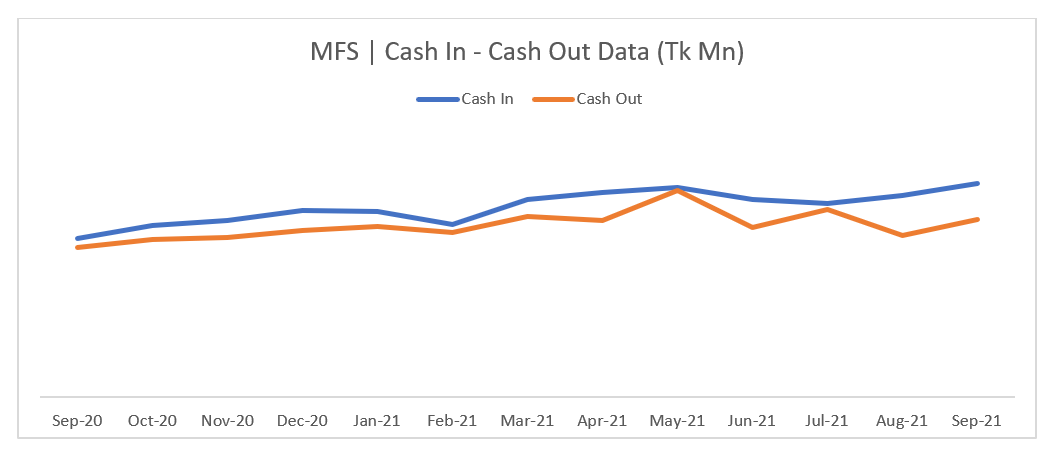 ---
A Huge Boost for the MFS Ecosystem
---
MFS is comparatively a new edition in the formal transaction channel for remittance in Bangladesh. However, remittance transaction amount through the MFS is showing a bright sign. According to Bangladesh Bank data, total inward remittance through MFS increased by 119.7% YoY in Jan'21-Oct'21 compared to same period last year.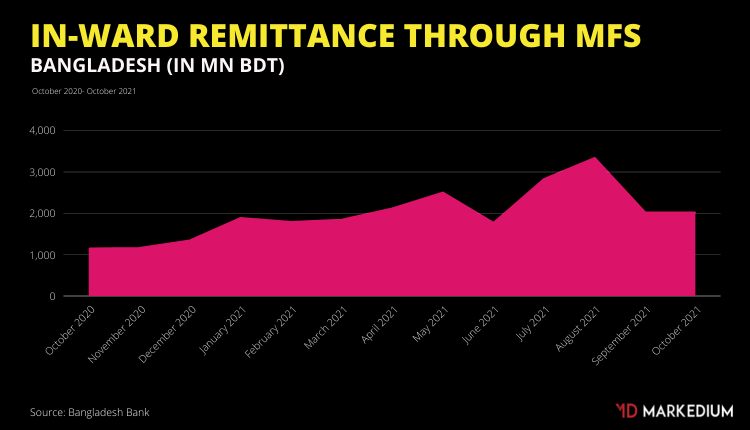 So bKash's extra 1% added incentive might work like a fuel booster for the MFS ecosystem in the following manner.
Firstly, the offer will encourage remittance earners to use MFS channels to send their money to Bangladesh.
Secondly, this offer will get the remittance earners accustomed to using the MFS channels for sending the money to their loved ones, as they are likely to be self-motivated to learn the process.
Thirdly, this offer will get remittance earners to have a constant involvement in the bKash ecosystem; thanks to its convenience compared the comparatively complicated banking ecosystem.


---
Things to look for
---
One thing to note is that the offer has a time limit. While remittance earners are sure to take advantage of this brilliant initiative, it remains to be seen whether they continue to use MFS as a preferred channel after the offer expires and to what extent they are willing to change their habit.
However, the growth in remittance transaction through MFS is showing nothing but a bright future for the industry and regardless to say, bKash as well.
So, what's your thought? Let us know! For more updates, be with Markedium.