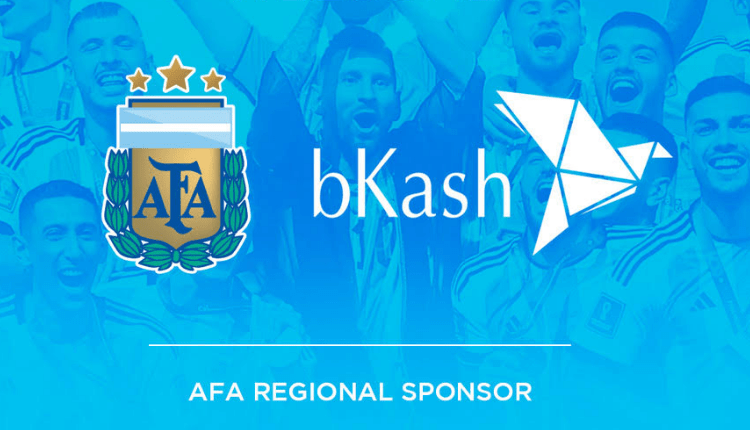 Bkash Becomes The First & Only Bangladeshi Brand Partner Of FIFA World Cup 2022 Winner-Argentina

3

min read
The Argentine Football Association and bKash Limited (bKash), the largest mobile financial services company in Bangladesh, announce the launch of their regional sponsorship agreement making bKash the first-ever Bangladeshi brand partner of the FIFA World Cup 2022 champion- the Argentine National Football Team in history.
During the 2022 World Cup, Argentina received unprecedented support and warmth from Bangladeshi fans as always. Following that excitement of the greatest show on earth, the World Cup champion now endorses bKash which embodies the spirit of human aspiration.
After years of support for the Argentina National Football Team worldwide, the AFA has devised diverse brand expansion programs in countries like Bangladesh, India, China, and the Middle East. Bangladesh's no.1 brand, bKash. Both institutions have won the hearts of millions of Bangladeshis and will now be a bridge between die-hard football fans and their favorite superstars like Lionel Messi, Angel Di Maria, Julián Alvarez, Emi Martinez – just to name a few.
Argentine fans and Bkash users will be able to obtain invaluable experiences, signed shirts, and unique moments to feel closer to the Argentine National Team. This regional agreement that begins today is the expression of the trajectory and international reach of the Argentine National Team and the largest brand of Mobile Financial Services in Bangladesh, bKash, with a reach of more than 70 million people in Bangladesh, becoming the brand that is an integral part of the lives of millions in that territory.
Claudio Fabian Tapia, President of AFA, said: "The Argentina National Football Team has felt throughout the World Cup the strong and passionate support of the Bangladeshi community. We are very delighted to have bKash, an emblematic Bangladeshi FinTech company, as the first regional brand partner of the Argentine Football Association. A true milestone of financial inclusion has been achieved in Bangladesh through bKash. This collaboration will take us closer to new regions where our National Football Team has millions of fans. We welcome bKash as the first regional brand partner of the Argentine Football Association in Bangladesh."
Read more: bKash Posted Profit After 3 Years
Kamal Quadir, Founder and Chief Executive Officer of bKash, said: "Football is a sport that unites the world towards empowerment and entertainment. As part of this, classical Argentine football and their star-studded squads have been mesmerizing the world with their skills, rhythm, and sportsmanship. The strong support of Bangladeshi fans for the Argentine National Football team in the 2022 World Cup has earned global admiration. Similarly, the resilient growth of Bangladesh has also earned global recognition. With the relentless commitment of our passionate people to push for robust growth, Bangladesh is on its way to becoming a trillion-dollar economy. In light of these aspirations, Bangladesh's most loved brand bKash is excited to collaborate with the world's top football team Argentina and players like Lionel Messi. This partnership will explore new opportunities of solidarity through sports and entertainment while helping to tell the inspiring story of Bangladesh to the world in an immersive and emotional way."
Read more: Nestlé Bangladesh Appoints Deepal Abeywickrema As The New Chairman
Leandro Petersen, Chief Commercial and Marketing Officer of AFA, said: "Throughout the last five years we have established a strategic view and goal for our Argentine Football Association, recovering international prestige and worldwide commercial attractiveness, this regional brand partnership with bKash is the outcome of dedicated teamwork and a clear direction in where AFA puts its focus. The global expansion of the AFA brand, in markets such as China, India, the Middle East, and now Bangladesh is a fact. Fans and bKash users will be closer to the players they love, thanks to the efforts of a leader brand like bKash. We are pleased to announce that bKash has become the first regional brand partner in Bangladesh's history. It is our mission to work together and strengthen this partnership and continue generating new opportunities and interactions with international brands at the level of bKash. The AFA and bKash will jointly promote each other and develop actions that will increase the synergy and power of their brands."
For more updates, be with Markedium.