Unilever Consumer Care Posted Double-Digit Profit Growth In Q1'23

2

min read
Unilever Consumer Care Limited, the publicly listed concern Of Unilever Bangladesh posted higher profitability in Q1'23 despite a decline in revenue. The company behind brands like Horlicks, Boost & GlucoMaxD posted a profit of Tk 201.3 million in Q1'23, which is a growth of 16.6% YoY.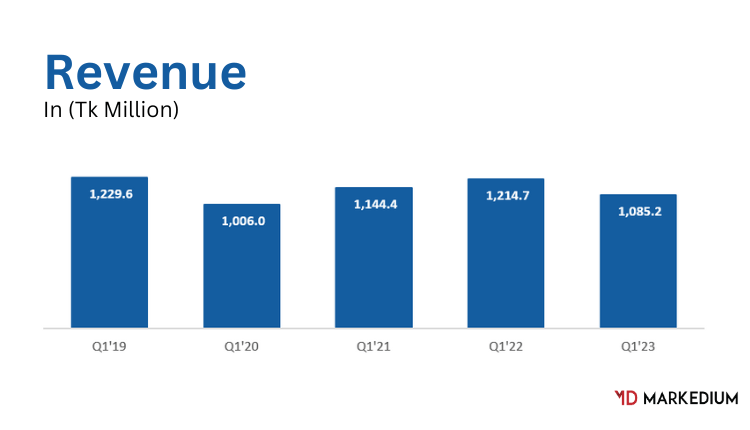 The revenue of the company declined by 10.7% YoY as inflation is making consumers spend only on necessities. Inflation has been hovering around 8-9% for the last 7 months. As of March 2023, inflation was 9.33% which was the highest in this fiscal year. Hence the high inflation forced people to cut down on unnecessary purchases.
Read more: Unilever Consumer Care Posted Profit Growth Due To Efficient Cost Management In 2022
Since Horlicks or Boost is yet to become a part of the daily diet of mass people of Bangladesh it is normal to see a dip in demand for the product in this macro-economic scenario. The Health Food Drink Segment declined by 13.1% YoY in Q1'23 to Tk 914.8 million. Revenue from Health Food Drink Segment was Tk 1,052.6 million in Q1'22. Quantity sold in the Health Food Drink segment declined by 32.8% YoY to 1,387.0 MT which was 2,064 MT in Q1'22.
The Glucose Powder segment posted growth of 5.1% to Tk 170.4 million. But quantity sold declined by 10.7% YoY from 637.0 MT in Q1'22 to 569.0 MT in Q1'23. The data clearly indicates that in terms of quantity the segments had significant declines compared to the same period last year, the decline in quantity was somewhat offset by price increase products.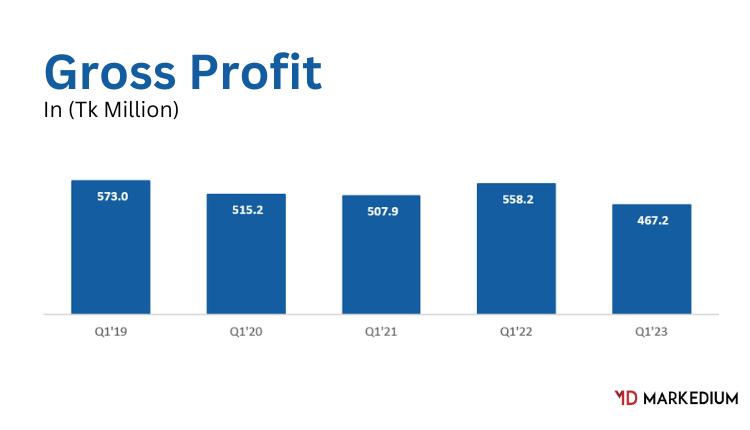 Gross profit declined by 16.3% YoY as gross margin declined by 2.9%. The gross profit margin was 43.1% in Q1'23 which was 46.0% in Q1'22. However, profit from operation also declined by 7.8% YoY to Tk 234.2 million. Unilever was able to achieve profit growth mainly due to Tk 41.3 million from its other investments (FDRs). Although the company posted healthy profitability growth fundamentally it was not a strong performance from the company. However, the revenue decline is understandable given the uncertain macroeconomic situation.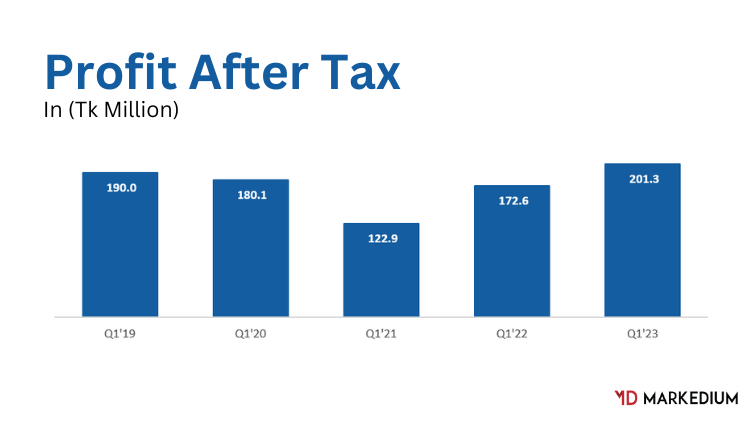 For more updates, be with Markedium.