Grameenphone's Revenue Increased By 4.2% In Q4'2021.

2

min read
Grameenphone the largest telecom company in Bangladesh has recently posted its Q4 (Oct-Dec) financial report for the year 2021. Revenue of the company increased by 4.2% YoY to Tk 36,281 Mn in Q4'21 from Tk 34,809 Mn in Q4'20. The growth in revenue is mainly driven by 3.7% YoY growth in subscription & traffic revenues. Profit after tax declined by 20.4% YoY in Q4'21.
3.7% YoY subscription & traffic revenue growth was mainly driven by growth in bundle & data, which was supported by spectrum, site roll-out and enhanced market initiatives. Grameenphone continues its focus on promoting bundle services in Q4'21 to provide better customer value with enhanced experience. The focus on bundle has paid off successfully for the telecom giant as revenue from bundle services increased by 7x in Q4'21 compared to same period last year.
Average Revenue per User (ARPU) declined by 3.0% YoY from Tk 146 in Q4'20 to Tk 142 in Q4'21. Average minutes per User (AMPU) continues its declining trend by declining 5.0% YoY. The continued rise of OTT services usage like whatsapp, imo, messenger etc is driving the declining trend of AMPU.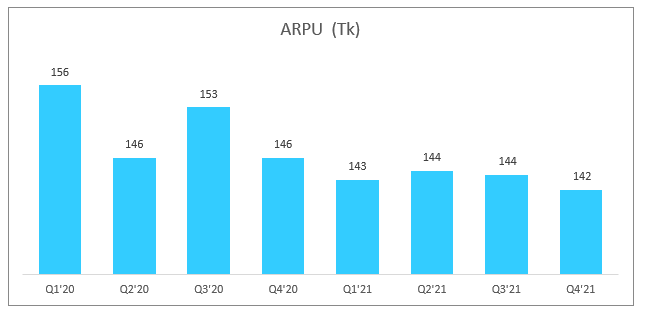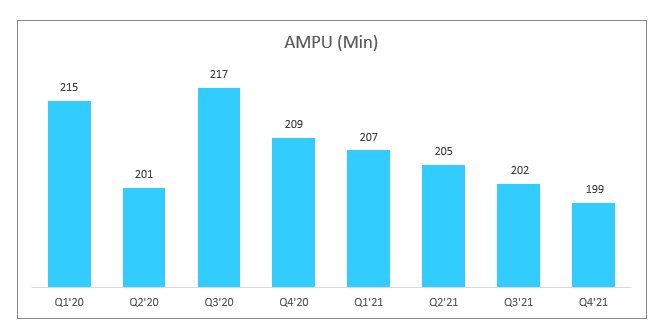 Mobile Subscribers
Mobile subscribers of the company have grown by 5.3% YoY from 79.0 Mn in Q4'20 to 83.3 Mn in Q4'21. About 53.6% of the total subscribers are internet subscribers. Internet subscribers have grown from 41.3 Mn in Q4'20 to 44.6 Mn in Q4'21.
Data Revenue
Data revenue increased by 6.0% YoY mainly due to 8.0% growth in internet subscribers. Internet consumption per user has increased by 51.0% YoY. MB per subscribers was 4,393 MB in Q4'21 which was 2,909 MB in Q4'20.
Future Ahead
Grameenphone's focus on bundle packages clearly shows its intention to grow in data segment since the usage of OTT services like whatsapp, imo is taking away revenue from voice segment. Hence 24.5% contribution of data on total revenue is expected to grow in the coming quarters.
For more updates, be with Markedium.