Data And Bundle Services Contributed To Grameenphone's 5.1% Revenue Growth In 2022

2

min read
Grameenphone, the leading telecom operator in the country has posted modest revenue growth despite different challenges. On 29th June 2022, the regulatory authority banned new SIM sales which impacted its business, especially in the second half of 2022 in terms of new customer acquisition. The company posted revenue growth of 5.1% to Tk 150,403 million in 2022.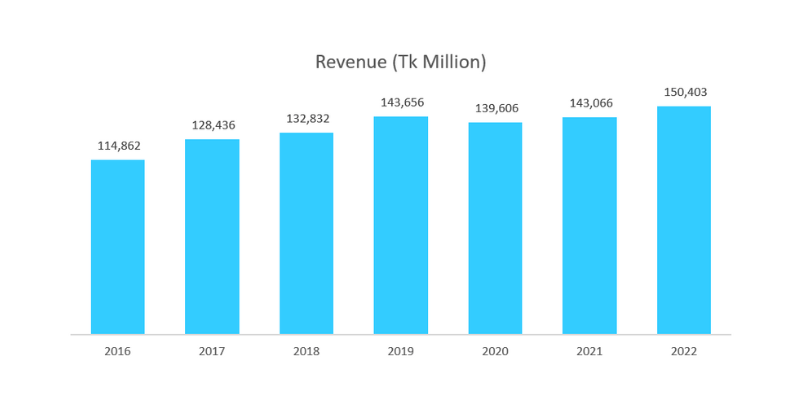 The increase in total revenue was mainly driven by higher bundle and data revenue. Grameenphone continued its focus on bundle packages which showed the biggest growth among the segments. Voice revenue decreased by 4.1% compared to last year mainly due to SIM sale restrictions; adverse macroeconomic scenarios; and a shift of customers from voice packs to bundle packs.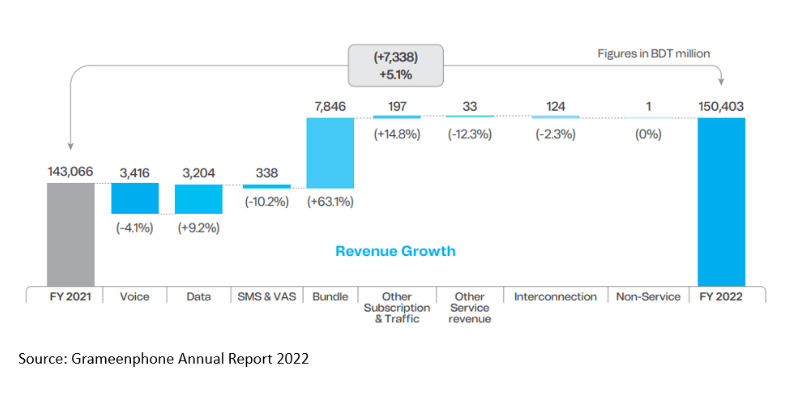 Bundle services revenue grew by 63.1% compared to last year as it is becoming one of the main contributors to revenue.
Data revenue which now contributes to about 25.6% of the total revenue of Grameenphone grew by 9.0% compared to last year. Data revenue was Tk 38,503 million in 2022 which was Tk 35,337 million in 2021.
Read more: Berger Reportedly Aiming At USD 60m Loan To Ensure Seamless Operations
The growth in data revenue was mainly due to a 52.7% growth in data consumption. About 34.2 million are 4G customers which grew by 23.6% compared to 2021.
Total subscribers took a hit as Grameenphone was banned from selling SIM to new customers. As a result, total subscribers decreased by 5.0% to 79.1 million. Internet subscribers also decreased by 2.2% to 43.6 million but Internet subscribers as a percentage of total subscribers increased to 55.1%. The SIM sales ban was fully withdrawn on 2nd January 2023.
Grameenphone's net profit after tax decreased by 11.8% compared to last year mainly due to higher operating costs, financing expenses & forex losses. Operating expenses increased by 8.9% which reduced the operating margin to 42.3% compared to 44.3% in 2021. Grameenphone's finance expense increased significantly to Tk 10,177.4 million in 2022 which was Tk 2,595.4 million in 2021. Grameenphone also incurred a foreign exchange loss of Tk 1,430.7 million in 2022. Profit after tax margin decreased to 20.0% in 2022 from 23.9% in 2021.
For more updates, be with Markedium.