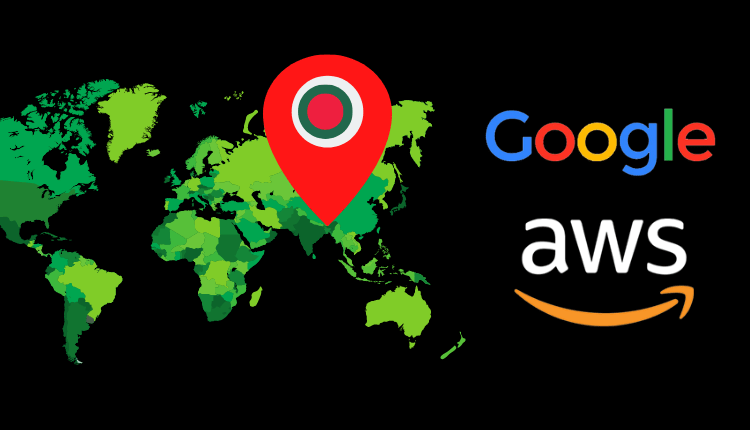 The Official Entry Of Amazon And Google | What Does It Mean For Bangladesh?

5

min read
Yesterday, we got informed about the official registration of the world's two tech giants in Bangladesh. Finally, Amazon and Google have obtained the Business Identification Number (BIN) from NBR and confirmed their official business entry in Bangladesh.
Read more: Amazon took BIN for its web services (AWS), the e-commerce is yet to reach Bangladesh!
This news was welcomed by the natives with open arms and much more excitement. However, it was quite misinterpreted that Amazon has registered for its eCommerce business whereas, in reality, this wasn't the case. Amazon obtained its BIN under the name of Amazon Web Services Inc. and Google took it under the name of Google Asia-Pacific Pte Ltd. So, the global eCommerce leader is yet to reach Bangladesh with its front business.
Read more: Jeff Bezos to leave the post of CEO of Amazon on July 5.
It's also speculated that global giants like Facebook, Netflix, and Oracle are also in line to do the same in the upcoming future. It's to be noted that last year, Facebook Inc appointed an agent to do business in Bangladesh after facing pressure from the NBR. The company's agent Httpool has been paying VAT to the board, but Facebook still does not have a BIN in Bangladesh.
Now, the burning question is- Why such entrance of global giants is that exciting for Bangladesh?
Let's have a dive into it.
A New Source of Revenue

It's estimated (according to 2019 data) that each year Bangladeshi companies spend around BDT 2000 crores in digital marketing ads and companies like Google and Facebook earn the majority of the chunk from the expense bucket. Mostly through the channels of digital marketing. However, the Bangladeshi government was deprived of a well-deserved tax from such transactions, until now.
Read more: BKash's Bet on Customer Acquisition has Paid Off in 2020.
Since Google and Amazon have obtained their BIN from NBR, now the government can have a track of their yearly revenue turnover from Bangladesh. Both the companies are now bound to pay a 15% VAT on revenue derived from Bangladesh and submit returns on the total turnover at the end of each year.
Start of a New Relationship

With the registration, now Bangladesh has finally been recognized by both the global tech giants as one of their partner operating countries. Which indicates nothing but a strong future profitable prospect for both the entities and Bangladesh.
Hopefully, this move will accelerate the cycle of both the companies opening their offices in Bangladesh.  And what happens when companies like amazon and google establish their presence in a country? We all know that! It's a mixture of both opportunity and opportunity costs for the country.
Hold for Accountability

Another important aspect of such a big update is that now these two giant corporations can be held accountable for any wrongdoings or any contradictory events or if there are any issues to be solved, the Government of Bangladesh can directly communicate with the companies or their representatives.
Improving The Aspects of Local Developers and Influencers

With Google registering here in Bangladesh for business, it indicates a positive step for the local developers and influencers. It's not unknown to us at all that earning from Google and its subsidiaries seem to be easy but cashing out the income in Bangladesh is a complex job for any local game/app developer or a fancy YouTube influencer.
Well, we are not saying that the problem will be solved with immediate action with the entrance of Google, but surely this is a positive start.
A Factor of Reassurance for Other Big Companies

Over the past five decades, Bangladesh has transformed itself from being an economic "basket case" to one of the fastest-growing economies in the world. As a result, Bangladesh is now considered to be the next superpower in the south Asian region and a place of opportunity for businesses.
The official registration of Google and Amazon in Bangladesh will work as reassurance for other global companies that were considering a move.
Customer Friendly Market

Probably we all have seen how Bangladeshi people have embraced the news of Amazon and Google officially registering in Bangladesh. It was like a firecracker effect. However, it was quite misinterpreted by the majority that Amazon is entering Bangladesh with its e-commerce business, which is not the case. We have encountered so many memes and trolls stating that the local e-commerce companies are about to have a real hard time in Business.
Now, this tells us two very important things:
The amount of trust the local audience has in these global giants.
The local companies have a decent distance to make to capture a fair share in terms of customer loyalty.
Well, maybe the local e-commerce companies can take a breather for now, but there is one industry that we believe should now work relentlessly to stay ahead in the consumer mind- The Local Online Streaming Industry.
As AWS has made an entry in Bangladesh, we believe the day is not far when Amazon Prime Video will announce its local agenda for Bangladesh.
Read More: Netflix could reportedly offer a games bundle by 2022!
So, now it's all about providing Quality and attaining Customer Delight in both the e-commerce and online streaming industry. Both ways, it's a win for us customers.
Now, that was our take, what's your thought on the big event? Let us know and for more updates, be with Markedium.