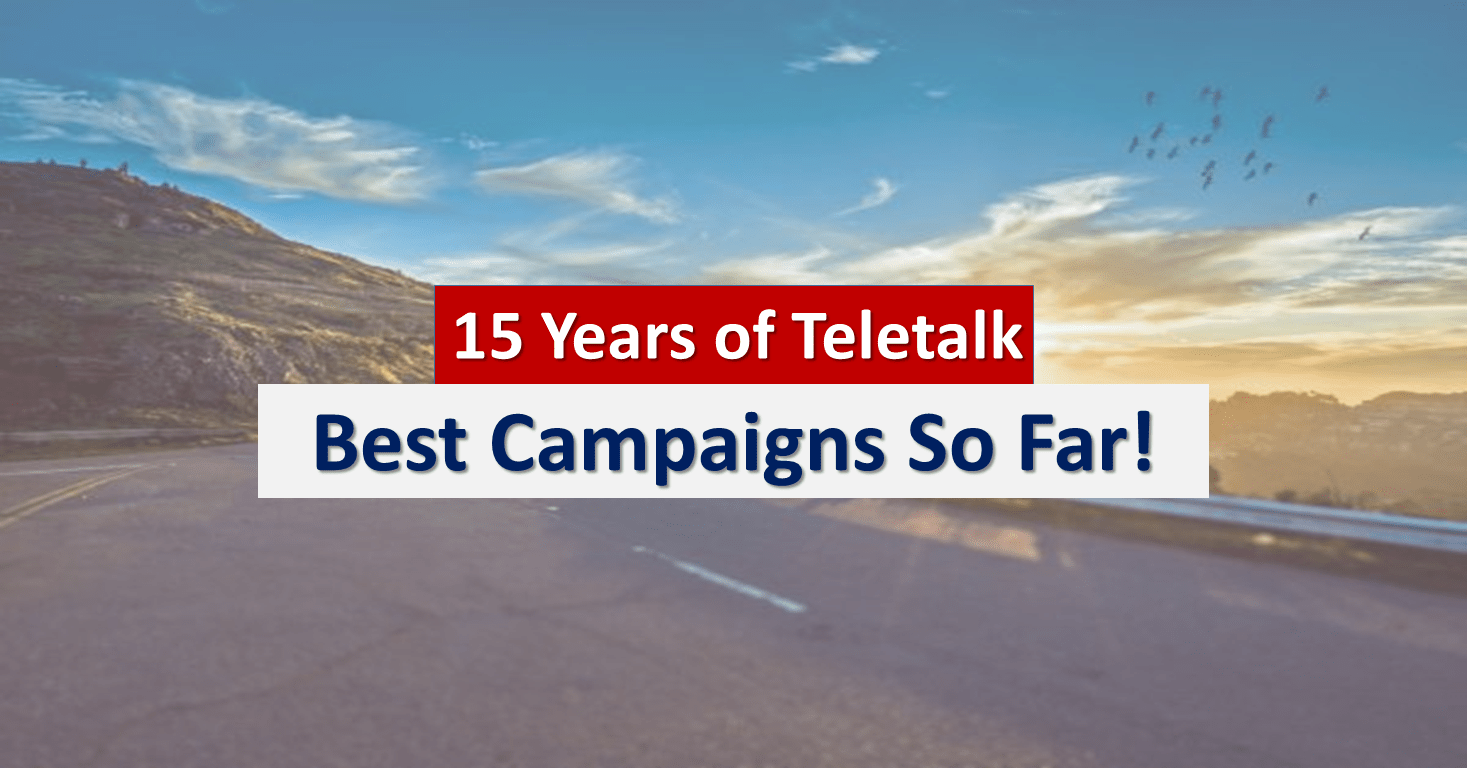 Teletalk Turns 15 | The Best campaigns of Teletalk

3

min read
The state run telecom service provider was founded on December 26, 2004.
Happy Birthday to Teletalk- the only state-owned telecom service provider of Bangladesh.
15 years ago, today- on December 26, 2004, Teletalk was founded as the fifth mobile network service provider of Bangladesh. It contributed around 2 Billion Taka for spreading GSM network countrywide. In 2012 it initiated the HSPA network. At that point 16 December 2018 introduced it's LTE network.
Not everything has gone according to the plan for Teletalk in-terms of Network coverage and Subscriber number. Currently, Teletalk providing service to 7million+ consumers which is considerably low than the market leader Grameenphone (70million+ subscribers).
Also read, Top 7 Victory Day Campaigns of 2019 – A Markedium Take
Over the course of Teletalk's journey of 15 years, it has been responsible for a host of some really good campaigns. Here Markedium looks back on some of the most memorable campaigns in Teletalk's advertising journey so far.
#ThankYouBangladesh
Undoubtedly the best campaign from Teletalk so far. On the eve of Victory Day, 2016, the state-run telco came up with this brilliant campaign where it inspired the whole nation to thank the country for all the advancement that makes our life a better one.
The story resembles a very common habitual aspect of our life- Cursing the country and its leadership when something goes wrong!
With a series of three TVC, Teletalk just asked one question to all of us.
Have we ever thanked our country for all the advancements it's offering to increase our standard of living?
Let's have a look at the campaigns:
ThankYouBangladesh | Mother & Daughter
ThankYouBangladesh | Father & Son
ThankYouBangladesh | Friends
Teletalk should have continued the campaign!
#AmiAparajita
To launch their female-oriented service Aprajita, Teletalk came up with a thought-provoking campaign to point out all those hurdles and stereotypes a woman has to go through to climb up the success ladder. Why don't you watch the campaign as it speaks for itself!
The voice over with the strong copywriting gave the campaign a solid meaning. Kudos to the team responsible for such a campaign.
Teletalk International Mother Language Day TVC 2017
In 2017, to commemorate the sacrifice of our language martyrs, Teletalk released another thought-provoking campaign that inspired us all to feel proud of our mother tongue regardless of the origin or locality of it.
Indeed the campaign touches your nerve emotionally in the end.
Happiness In Bangladesh | Teletalk
In 2017, on the eve of Independence day, Teletalk came up with a thematic campaign that encouraged the patriot in all of us with hope! Each line of the theme song used in the campaign talks about the endless opportunities available in Bangladesh. What does Bangladesh need? Our trust and hard work for the country.
Teletalk 3G TVC | Break The Barriers
Remember life before we had 3g? Slow internet connections resulting in all the worst results in personal and professional life both! More like we were in a cage.
Launching 3G was one of our milestones towards digital Bangladesh. Now, we all can see the economic growth Bangladesh is seeing currently. It gave us the wing to fly towards prosperity.
Well, we know we have 4G now and in the near future, 5G will be here as well. But, think from a 2012 perspective, you will get the idea.
So, this was our take on the best campaigns of Teletalk! What do you think? Have we missed anything? Don't forget to let us know and be with Markedium.