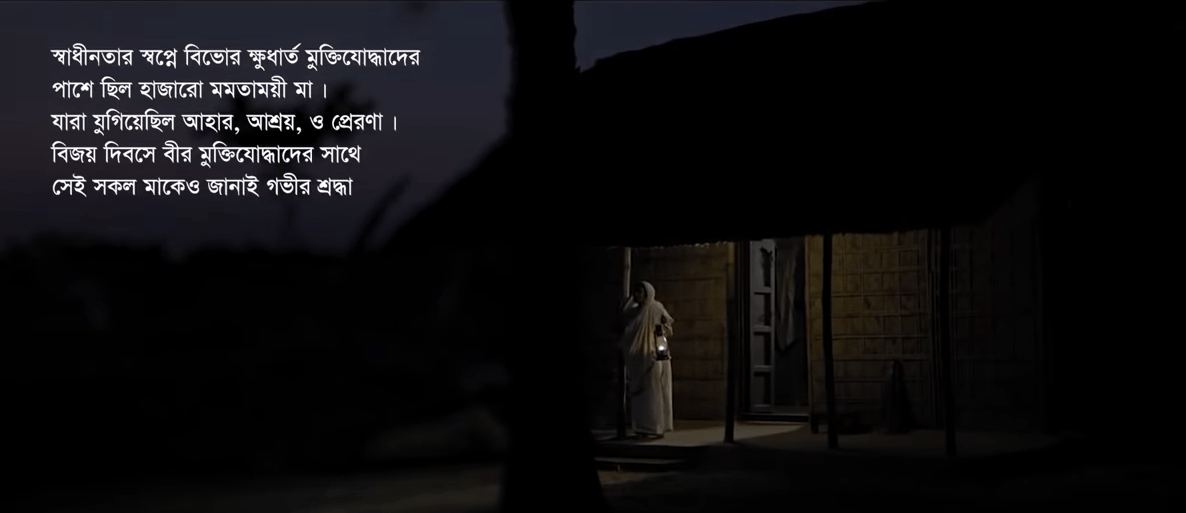 When you grew up to understand the world, you have surely noticed that a mother's role is to protect their child from all dangers. Unlike the concept, during the war in 1971, our Bengali mothers showed characteristics of no less than field soldiers. They gave us their beloved children so that we could leave in peace speaking our language. In a recent victory day campaign from Bashundhara for their Atta, Mayda, Suji brand follows the affection, sacrifice, and love within this 2:45 minutes of OVC.
By the way, you will feel being there with those freedom fighters and feel the concern along with the mother. The scene seems to be a cut out of real war movies. With such a low budget (as per the set design) of the production, the victory day campaign has reached millions and engaged thousands. What parameters should you use to measure the love for such a campaign? Well, let's watch the campaign first.
In 1971, the sons would return home in gloomy nights to take rest and have food. Those were the only few times they could sometimes rest properly and eat well. Then back to their mission. Not all mothers were lucky enough to have their children back.
Read More: Airtel Salutes The Significance of Friendship On This Victory Day
Regardless, they would welcome in the fighters to comfort them with motherly love. The scenario within the OVC represented such caring mothers who would care for other children as their own. The sacrifices and risks these courageous mothers took were unconditional.
Indeed, what you saw was one mother helping another mother by sheltering her child and these one scenario replicated all over Bangladesh. Just stop and think for a moment! Would we take such risks if we were in their place?
To conclude, with the simple combination of a light hurricane, almost-empty tin and kitchen, and proper execution a brand, like Bashundhara, can convey their sincere tribute to all the brave mothers of 71 who provided food, shelter and inspired the fights for 9 months.
So, what's your thought on this recent victory day campaign of Bashundhara?