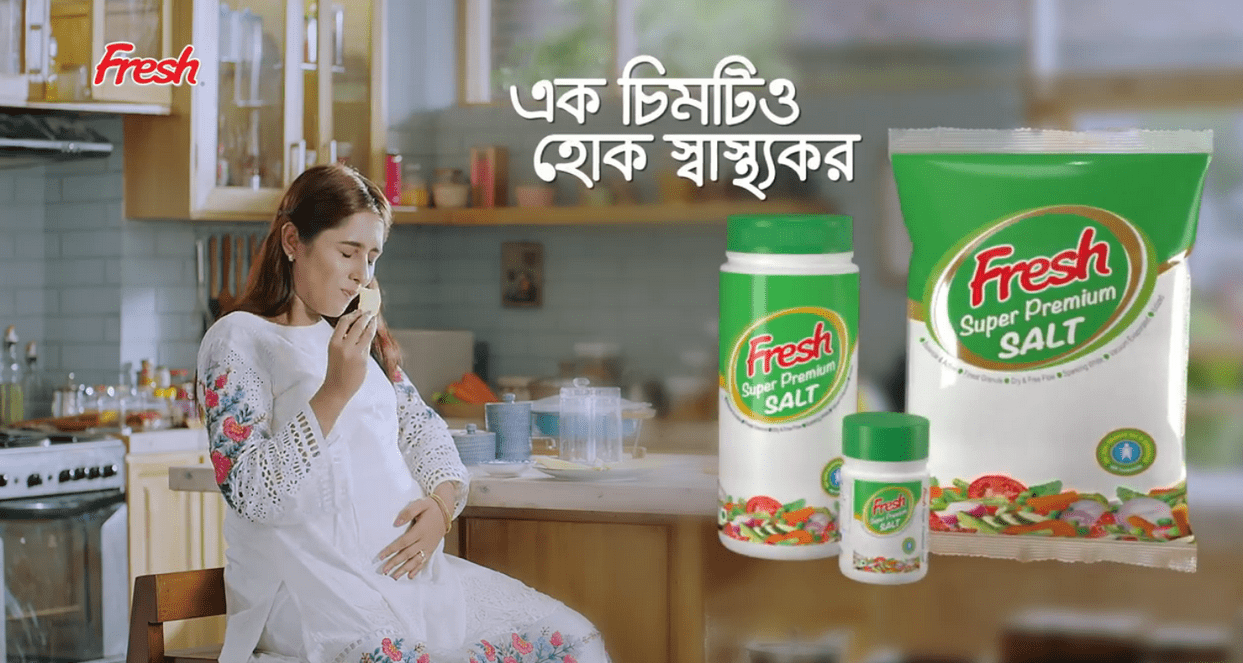 Purity In Every Pinch | A promise From Fresh Super Premium Salt

1

min read
Fresh Super Premium Salt has launched their latest campaign on 6th September with a mission to emphasize on healthiness.
The first OVC portrays a kid taking a break from drawing to have some sliced oranges where he takes a pinch of salt on a slice and seems to enjoy it.
এক চিমটিও হোক স্বাস্থ্যকর….স্বাদ ও স্বাস্থ্যের জন্য আমাদের খাবারে লবণের এক চিমটিও অনেক গুরুত্বপূর্ণ। তাই সব মিনারেল অক্ষুন্ন রেখে সুইজারল্যান্ডের ইউএসডি ও ভ্যাকুয়াম প্রযুক্তিতে ১০০% পরিশোধিত ফ্রেশ সুপার প্রিমিয়াম লবণ।

Geplaatst door Fresh op Donderdag 5 september 2019
On the other hand, the second OVC portrays a pregnant woman chopping a raw mango and finally sprinkling a pinch of salt on all the sliced pieces.
এক চিমটিও হোক স্বাস্থ্যকর….স্বাদ ও স্বাস্থ্যের জন্য আমাদের খাবারে লবণের এক চিমটিও অনেক গুরুত্বপূর্ণ। তাই সব মিনারেল অক্ষুন্ন রেখে সুইজারল্যান্ডের ইউএসডি ও ভ্যাকুয়াম প্রযুক্তিতে ১০০% পরিশোধিত ফ্রেশ সুপার প্রিমিয়াম লবণ।

Geplaatst door Fresh op Donderdag 5 september 2019
What Fresh Tried To Convey
Through the OVCs Fresh attempted to explain how they produce their product with extra care using top-notch technology. The core message was to show purity in every pinch. If we see the story concepts, it gives us a clear picture. Pregnant women and children are most likely to go through a sensitive stage. So, no matter what they're having – it has to be healthy. And what Fresh said? You can trust Fresh in providing healthy nutrition to two of the segments of customers who need it the most. As a result, for us all- the customers it can be considered as one of the best options available in the market.
Morever, mentioning the technologies creates a top of the mind awareness that it's pure. The positioning went perfect with the campaign. We just hope we don't get to hear the salt got banned for any quality issues in the near future!
Let us know about your thought regarding this latest campaign from Fresh Premium Salt. Will it be your first choice for you and your family?
Are you interested in the latest Bangladeshi marketing campaigns? Stay updated through Markedium and Markedium Facebook Page and never miss any update!