Nagad Generated TK4.5 Crore Revenue for The Postal Department in 2021-22 Fiscal Year

2

min read
Nagad, a popular mobile finance service that is a subsidiary of the Postal Department, split revenue with the parent company this year just like it does every year. According to a news statement, the Postal Department has legally received Tk 4.5 crore as revenue from Nagad's earnings in the fiscal year 2021-22. At a program in Dhaka's Agargaon, Nagad officials handed over a check for the stated amount owed to the Postal Department.
According to the agreement between Nagad and the Postal Department, the Postal Department is entitled to 51% of Nagad's earnings. Nagad will receive the remaining 49%. Nagad previously paid over income to the Postal Department totaling Tk 1.12 crore in 2019-20 and Tk 3.31 crore in 2020-21.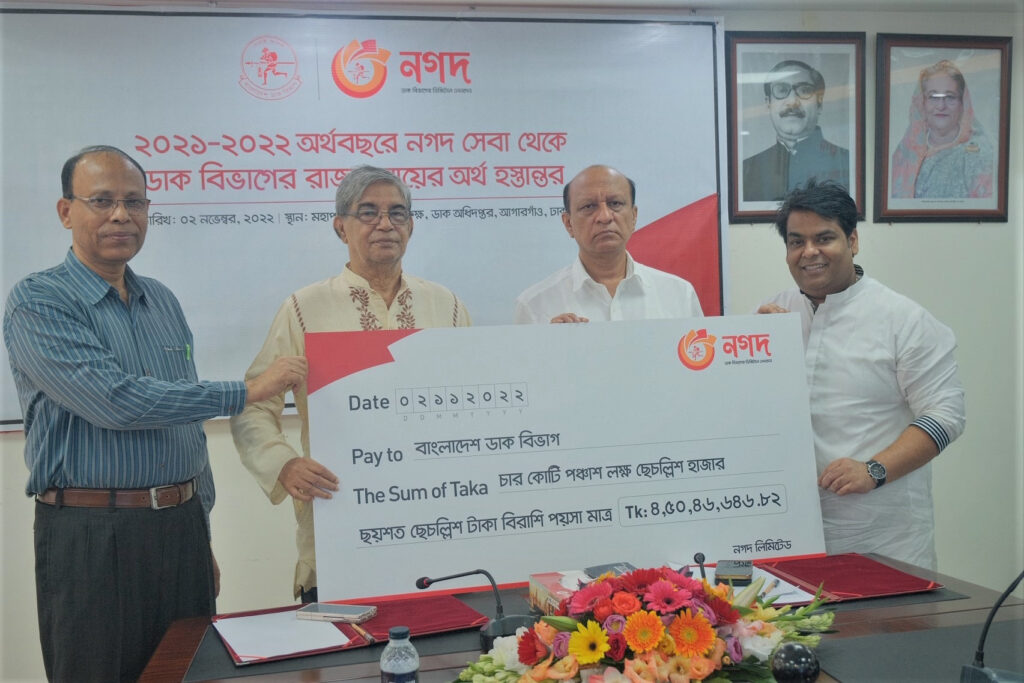 Mustafa Jabbar, Minister of Posts and Telecommunications, stated that Nagad's presence has saved the government a thousand crore taka.
Further he added, in our nation, there is a system in place where individuals would try to grab your leg from behind while you are doing your work. Nagad not only served the country, but he also made enemies. Some people are attempting to attack us to further their own goals. We have been with Nagad since the beginning, and we will continue to remain with them. There are various misconceptions and falsehoods concerning Nagad here. We must be conscious of this. The difference in cash out charges between Nagad and bKash is a thousand crore taka. Nagad deserves our gratitude for this.
Nagad, as a service organization of the Postal Department, has gained the trust of the general public since its beginning in 2019. It has brought about a revolution in digital financial services by including those who are socially disadvantaged. 
Read more: Grameenphone's Revenue Grew For The Sixth Consecutive Quarter
Further, pioneered e-KYC and d-KYC in the account opening procedure, making it the first of its type in the country. It has provided several modern services, such as a low cash out fee and free money transfer. Nagad has developed as the average people's wallet in just three and a half years.
Customers can use Nagad's services from any part of the country at any time. Nagad also directly reaches the recipients of government allocations such as stipends for students and different aid under safety net programs. Nagad has received a number of national and international accolades in honor of its creativity and low-cost services.
For details, please click here. For more updates, be with Markedium.