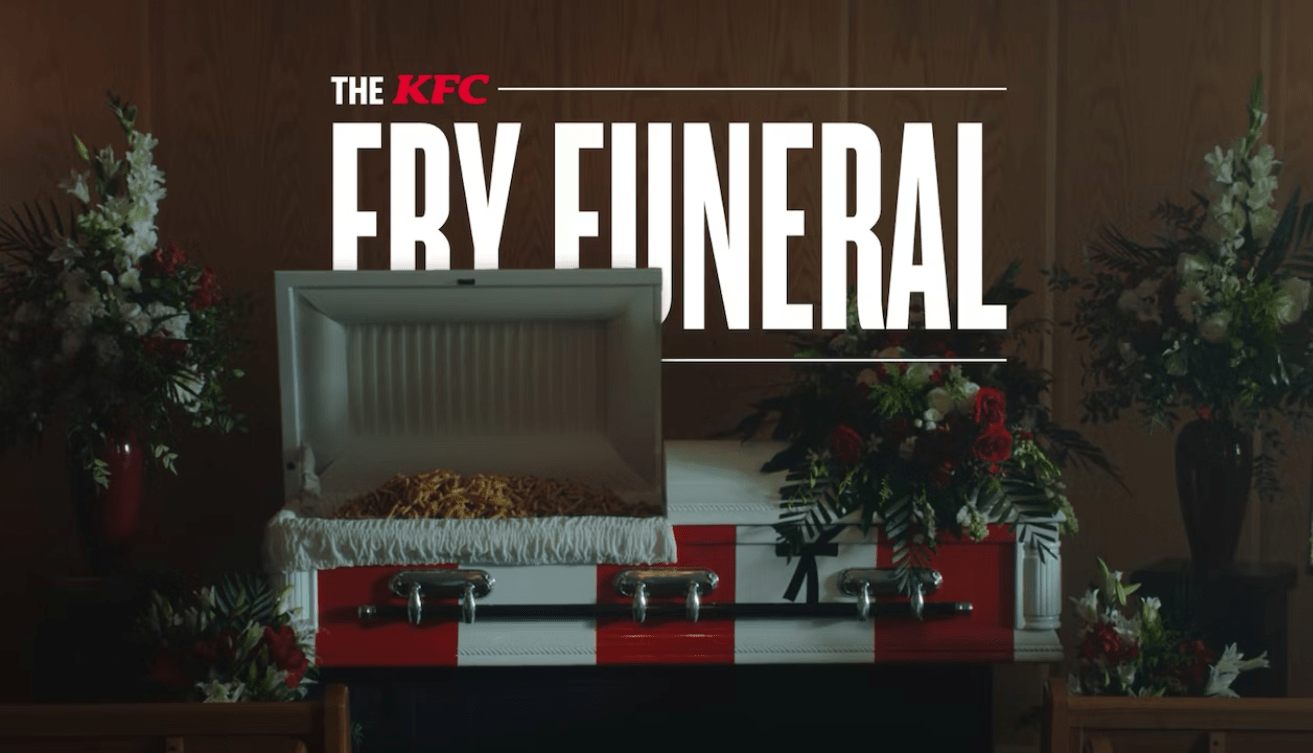 KFC Canada's Bold Farewell: A Tongue-in-Cheek 'Fry Funeral' Unveils Sizzling Successor

2

min read
KFC Canada, in a delightfully satirical twist, laid its lackluster french fries to rest with a quirky 'Fry Funeral,' paving the way for a triumphant entrance of their savory successors: the $1 seasoned fries.
Canadians have never been shy about expressing their disdain for KFC's fries, often deeming them soggy and insipid. The fast-food giant, however, took the criticism in stride and orchestrated a unique 'Fry Funeral' on the vibrant streets of Toronto last Thursday. A branded hearse led the procession, making stops at bustling locations such as Yonge-Dundas Square and the Budweiser Stage, inviting customers to pay their 'fry'-nal respects. Inside the hearse lay a casket brimming with the infamous french fries.
Stepping up to take the place of the fallen fries are KFC's new seasoned fries. Described by the brand as "crispy and seasoned to appease even the most discerning critics," these delectable delights will be available for a limited time at just $1.
The bold and fun spirit of the KFC brand shines through in this satirical campaign, presenting a fantastic opportunity to introduce an exciting new product that Canadians can truly relish while playfully bidding farewell to the less-adored fries.
Read more: Sunfeast Mom's Magic: Unleashing Mom's Superpower to Crush Bias and Ignite Potential!
The campaign has already generated immense buzz, with social media videos teasing the funeral amassing a whopping 8 million organic views.
For those unable to attend the in-person ceremony, KFC Canada has thoughtfully arranged an online funeral complete with a heartfelt eulogy. The old fries will be "put to rest" during a live-streamed funeral on August 1 at 12 p.m. Eastern Time on KFCFryFuneral.com.
The campaign content is omnipresent, splashed across various channels, from KFC Canada's social media platforms and restaurants to the KFC app, KFC.ca, out-of-home placements, and even on TV and online.
With a playful spirit and a dash of creativity, KFC Canada turns farewell into a flavorful festivity, proving that even in saying goodbye, there's always room for fun and laughter. So, here's to the legacy of the old fries, as KFC Canada embraces the future of deliciousness with their $1 seasoned fries. Let the fryvolution begin!
For more updates, be with Markedium.