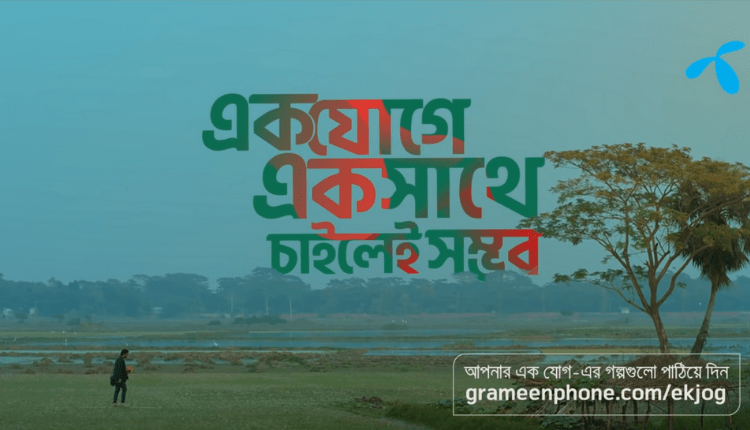 Grameenphone Urges Us All To Do At Least One Thing Individually For Bangladesh

2

min read
Conceptualized by Grey Dhaka, Grameenphone Bangladesh has launched an inspiring campaign titled Ek Joge Ekshathe Chailei Shombhob to encourage everyone to do at least one good deed for Bangladesh.
---
The Campaign
---
Published in March, 2009 the book " Ekattorer Chithi " is a collection of eighty six letters written by freedom fighters to their mothers during the liberation war of 1971. Out of those the ad covers the story of one freedom fighter, Shaheed Jinnat Ali Khan.
Read more: Symphony Hails the Youth Energy to Implicate the True Essence of Victory
As the film starts, Afran Nisho's voice fades in for the first time the ad sets us on a journey where we slowly get to know about the shaheed Jinnat Ali Khan's family. Nisho again and again goes back to reading Shaheed Jinnat Ali Khan's letter from Ekattorer Chithi and as he gets to know more from the family, we see a connection reflecting on Nisho's own emotions as his father was also a freedom fighter.
Surely the scenes where Nisho breaks into tears holds the strongest moments. The making is not like other commercials. On the contrary it feels more real with the emotional and inspiring background music and Afran Nisho's voice over.
Grameenphone has created a simple digital page using which consumers can write a real story of someone who has done or doing something for the country. The brand is communicating this effort as a tribute to the freedom fighters for their great sacrifice and the video carries it beautifully.
---
The Approach
---
The campaign's one most effective side is in the naming of it as "Ek Joge "reminds us that one is not alone when doing something together. All Grameenphone tried to do here is to create an environment where everyone would feel such an urge to do something individually for Bangladesh.
Without a doubt, Grameenphone has pulled off one of the best campaigns dedicated towards this year's victory day. Brilliant concept with spot on execution.
For more updates, be with Markedium.