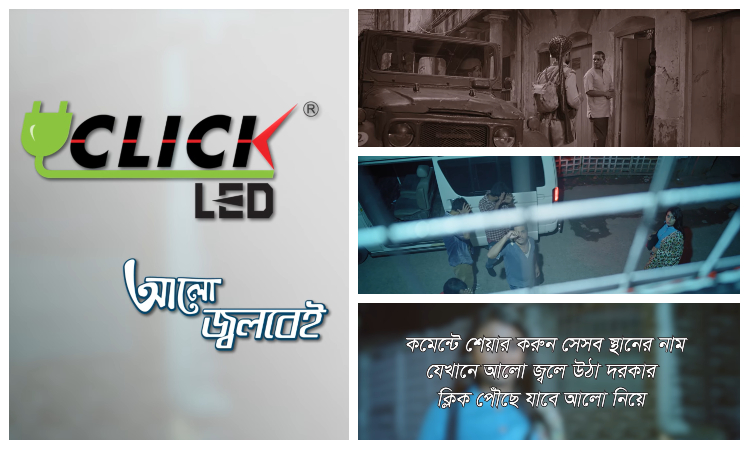 Click LED Urges All Of Us To Ignite Our Fighting Spirits

2

min read
This December, Bangladesh is about to celebrate its 49 years of Freedom. 49 years back, we attained independence from the hands of our oppressors. But it came at a cost. Our victory is painted with the blood, sweat and tears of millions who sacrificed. Millions of freedom fighters sacrificed their lives in the battle, never to see their glorious motherland.
Read More: Olympic Encourages Everyone to Uphold the Pride of Our National Flag
But let us not forget the sacrifices that our women made. Millions of mothers, sisters, wives lost their dignity, faced inhumane sufferings, in hands of our oppressors. Some lived to tell the tale, while others never even came back. In celebration of our 49th victory, Click LED sent a powerful message in their latest campaign. The campaign is dedicated to ignite our fighting spirits against the same wrongdoings occurring today.
---
THE PLOT
---
The campaign initially visualized a black and white screen, depicting the true scenario of the liberation war. In the initial scenes we see a young woman opening her doors to a vehicle full of Pakistani military. On her doorsteps, she encountered a Rajakar asking her about her brother's whereabouts. Finding out that her brother is not at home, they initially left. They came back late at night to abduct her from her own home in the dark.
The campaign aligns the wrongdoings back in '71, with the current society in a splendid manner.
Read More: Robi Recreated 'Nongor Tolo' to Pay Tribute to the Cultural Community During 1971
In the second half of the campaign, we see a similar case of women harassment taking place today. Just like the oppressors back in '71, we see a micro-bus stopping in front a house.
As a young woman starts coming into the view, we see a handful of men waiting for her with ill intentions. The men were planning to do terrible things to the woman. That is until a powerful light ignited from the house they were in front of.
---
THE MESSAGE
---
Click LED did a brilliant job with their product placement in the campaign. The light from the LED bulb served as an ignition in all of our hearts against wrongdoings. The brand portrayed a splendid picture of how women have faced oppression for the last 49 years.
Read More: Pathao Car Brings Something New
Later, they created a strong call-to-action asking viewers to comment names of places in need of enlightenment. Thus, through one campaign the brand successfully established the true essence of fighting spirit in our hearts.
A powerful campaign, with an empowering message for all us to stand against women oppression.
What are your thoughts on the latest campaign by Click LED? For more updates, be with Markedium.