Case Study:  Uber Eats- World's First Anti-aging Ice cream.

5

min read
A simple insight that helped the campaign gain massive media coverage!
We are exposed to different insights and information each and every day, but the way we choose to utilize this- can impact our way of delivering the uniqueness. This is exactly what happened in this Uber Eats campaign.
Campaign Stakeholders
---
Brand: Uber Eats
Brand Owner: Uber
Lead Agency: In house
Country: India
Uber Eats in India's Market
---
As a ride-sharing platform, Uber has been in India since 2014. However, Uber Eats started its operation in India in May 2017. With time, Uber Eats started to expand and reached more than 35+ cities in India. But the food tech space is currently dominated by Swiggy and Zomato which have been ruling the social media by winning the audience's heart and leveraging the popularity of the trends.
On the other hand, it is forecasted that the market of smartphone users in India will have more than 30m users and the food tech space is expected to grow at 47%, from $2.3bn to $3.4bn. This data shows how lucrative the market is and how important it has become to break through the clutter.
With the late entrance of Uber Eats into the market, getting to the top of the minds of people became crucial since the competition was already fierce in the food tech space. Hence, rolling out a campaign that would gain a lot more attention on social media platforms was something that could be considered the need of the hour.
The Big Idea
---
Since Uber Eats operates in the food tech space, its target audience is usually very active on the social media platforms which open up a lot of opportunities to reach out to them through their campaigns in the most innovative ways.
Read more: 'Project Mosblock', AKASH DTH and Grey Dhaka Joined Hands To Save The Slum Dwellers From Mosquito-Borne Illnesses
Introducing something that is very desirable, yet in alignment with the marketing objective of the food delivery platform had the potential of creating a spark in the minds of people. This is where the giant tapped into the minds of millions by making them believe that they could get something they always dreamt of!
Rolling out the Campaign of Uber Eats #AntiAgingIceCream
---
The campaign of Uber Eats #AntiAgingIceCream kicked off on 28th March 2018 where consumers had to pre-book a mouthwatering ice cream which showed that it was effective against 8 signs of aging and it could instantly make people younger.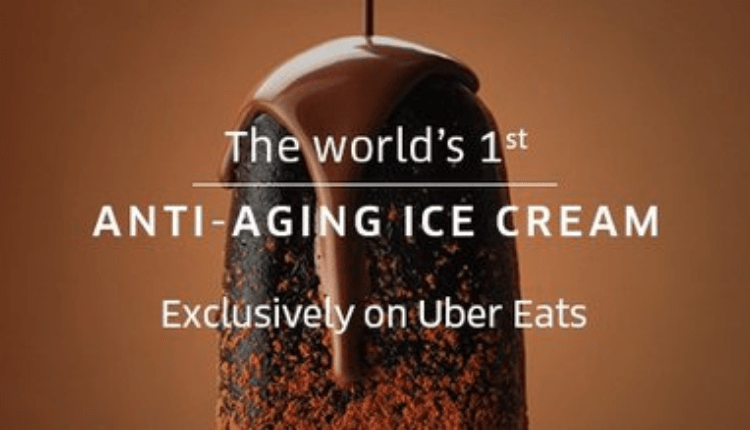 And yes, you guessed it right! It was made on the occasion of April Fool's Day!
Read more: Case Study: Project AgroBanking by UCB & Shwapno | The Campaign That Won Bangladesh Many Global Awards
Within just 4 days; 15,000 Indians pre-booked their anti-aging ice cream from Uber Eats. Reaching such a huge number within just 4 days was an indication that this campaign was successful in creating a buzz on social media with its brilliant execution.
What Happened Next?
---
For people who gave pre-booking of the anti-aging ice cream and signed up earlier, Uber Eats revealed on 1st April that eating ice cream can give people joy at any time and has the power to bring out the inner child in themselves. This is what truly makes the special ice cream an anti-aging one! People who signed up in past days were given INR 100 off the purchase of ice cream from the listed restaurants of Uber Eats.
The Result
---
The anti-aging ice cream campaign reportedly had 13m impressions and 3m video views resulting in 1m+ positive engagements and more than 5,000 shares on Facebook, Instagram, YouTube, and Twitter. From the brand-buzz point of view, the campaign was so successful that it contributed to the growth of the newly-launched Instagram channel by roughly 35% and the Facebook page by 6%+. It also received mentions in 20+ digital media publications like TOI, ET, NDTV, Zee, Scoopwhoop, and India Today.
The insight that brought success to the campaign
---
Aging is a very natural process for everyone. Even though there are tons of beauty products in the market claiming to be anti-aging creams, there is no product that can be eaten to make people look younger. In simpler terms, this is a concept that can be related to all ages and a belief that is universal. Utilizing such a simple idea and integrating it with the campaign was a brilliant move from Uber Eats.
The campaign intrigued the consumers in finding out about the ice cream that would be anti-aging and had them signed up for this. With the window of 4 days, the campaign turned out to be a light-hearted stunt that focused on giving people something they only dreamt of.
Uber Eats broke through the clutter and created a buzz on the occasion of April Fool's Day by using the universal insight and adding a fun twist to their campaign.
The Creative
---
With the idea that consumers will find it hard to resist, the offering (the world's first anti-aging ice cream) in the launch focused on making it look and sound real. Something that would be groundbreaking but at the same time look professional.
With simple yet catchy words as- "Because eating an ice cream gives you joy. Happy April Fool's Day", this campaign generated a lot of PR and created buzz for the brand. Not only that, as per the brand-track data, the awareness level increased by 4 points.
This is how a simple, universal insight that was used in the right way gained a lot of popularity for a brand and helped them to be on the top of the mind.
For more updates, be with Markedium.