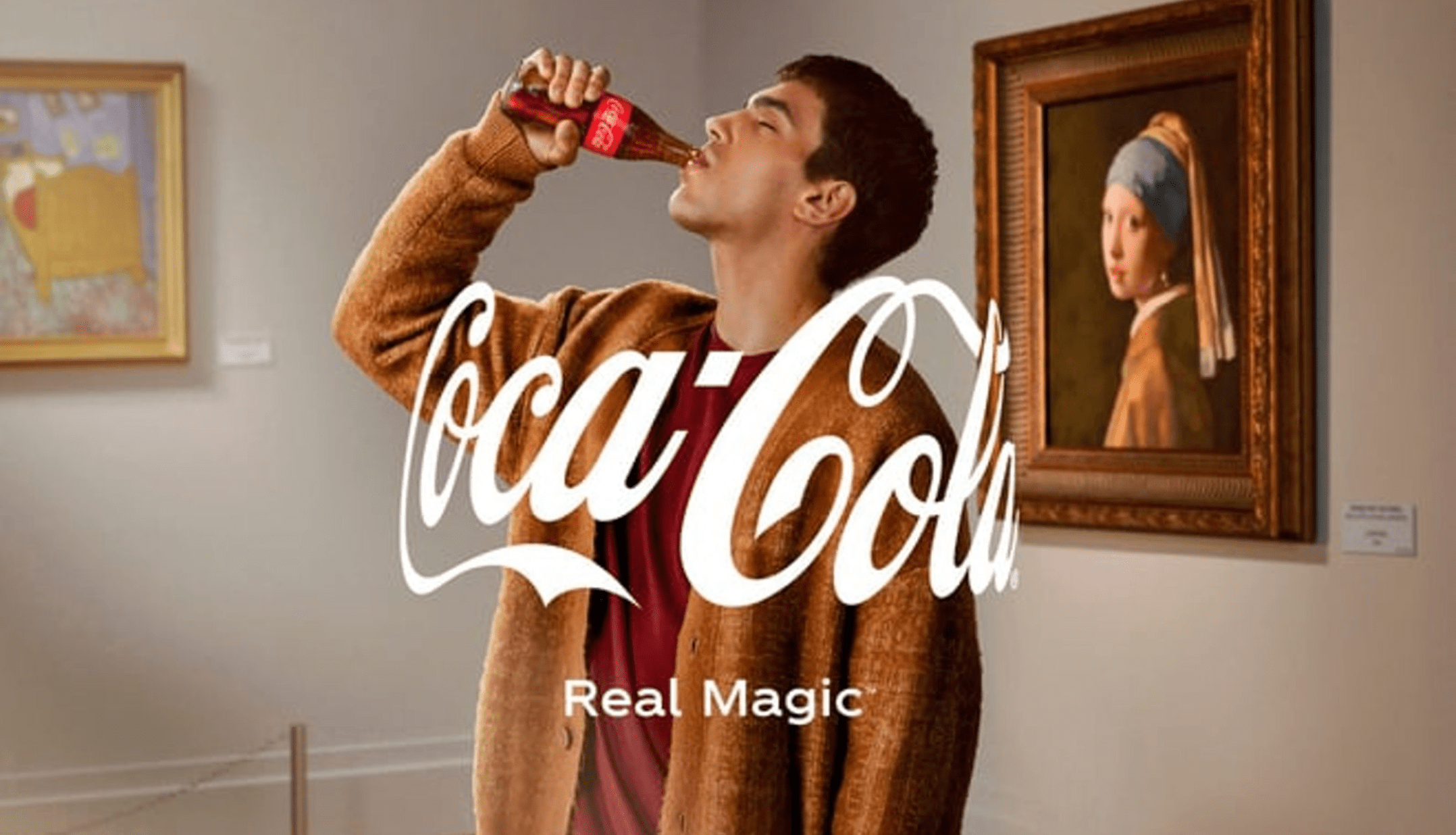 An Artistic Odyssey: Coca-Cola's Time-Traveling Bottle Transcends through Centuries!

2

min read
The "Masterpiece" campaign launched by Coca-Cola is a worldwide initiative that celebrates the brand's ability to provide refreshing and uplifting experiences during significant moments. At the heart of the campaign is a short film that takes place in an art museum and features a diverse collection of both classic and contemporary paintings. These include iconic works like Andy Warhol's 1962 Coca-Cola painting as well as pieces from emerging artists representing Africa, India, the Middle East, and Latin America.
The film tells a story where an ice-cold bottle of Coca-Cola is passed from one painting to another, ultimately reaching the hands of an art student who is seeking creative inspiration. The objective of the campaign is to demonstrate how Coca-Cola can inspire and uplift individuals in their artistic pursuits. By infusing everyday moments with enchantment and fostering human connections, Coca-Cola aims to show its ability to bring joy and encouragement to people's lives.
The corporation has continually tapped into the emotions and ambitions of people through its advertising. Coca-Cola has responded to and impacted cultural changes over its lengthy history, reflecting and influencing the zeitgeist of many eras. Coca-Cola's "Masterpiece" campaign, which strives to spark imagination, forge magical experiences, and bring together individuals from various artistic eras, may be positive and counterproductive.
Read more: The Creative Technologist: Balancing Creativity and Technology for a Marketing Renaissance
The advertisement exhorts viewers to explore their own creative potential and look for inspiration in ordinary circumstances. Develop respect for many cultures and promote intercultural communication. The campaign hopes to evoke strong feelings in viewers and serve as a reminder of the value of shared experiences by depicting the Coca-Cola bottle as a connector. It emphasizes the chance for Coca-Cola to unite people by encouraging a sense of belonging and connection among people.
One criticism might be made against the campaign's narrative, in which a Coca-Cola bottle inspires an art student to create, which may oversimplify the nuances of the creative process. Ascribing creativity merely to the ingestion of a beverage might minimize the effort, talent, and attention that artists put into their profession.
Creativity is frequently a subtle and diverse process. After all, the campaign incorporates a wide variety of pieces of art from all around the world to illustrate the brand's capacity to inspire and rejuvenate during crucial moments, add magic to everyday occasions, and promote relationships between people.
Even while there can be some negatives, they pale in comparison to the campaign's overall effect and significance. As a result, the campaign might be viewed as being quite spectacular and effective.
What's your thought on the campaign? Let us know and for more updates, be with Markedium.