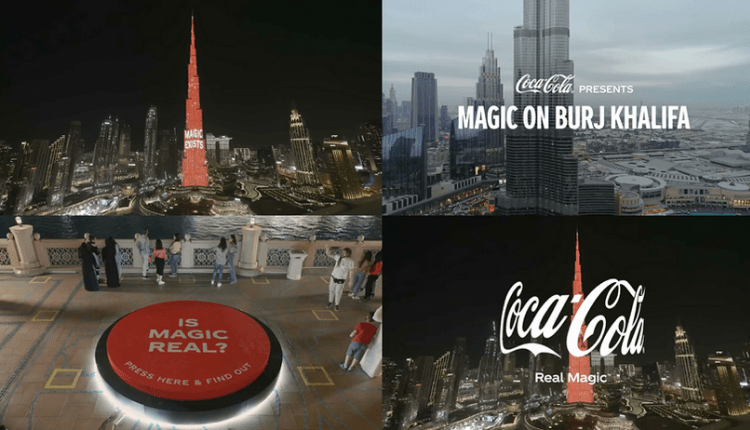 Coca-Cola celebrates "Real Magic" through Stellar Lightshow on Burj Khalifa

2

min read
For all of us, magic happens when we truly believe in it. So how does a global brand like Coca-Cola splendidly integrates this idea in its global philosophy? The answer is very simple yet one of the most beautiful ones. They simply made us believe that TOGETHER we can create magic anywhere, any time!
In one of the recent advertisements, through their new take on the logo called the hug, Coca-Cola embraced and framed their "Real Magic" brand philosophy through the lightshow on Burj Khalifa, the biggest advertising media in Dubai. It all began with a simple question- Is Magic Real? To become a part of this big reveal, they invited people to stand together on a button that would start lighting up Burj Khalifa. As the light reached from earth to sky, magic started to appear in front of people. And the definition of magic became very simple in that very moment! Wondering how?
The tallest building in the world showed the number of smiles that were present at that time. They showed the number of hugs which is known to be one of the powerful languages of feeling. They showed the numbers of people who were on holidays, and those who had their birthdays.
While the large numbers awed the audience, a single number put divine smiles on people's face. Surprisingly, people from 74 nationalities gathered in that one place to celebrate the moments of life. And that is how magic happened around them! All they had to do was pause and look around.
Coca-Cola brilliantly connected the real magic of humanity with creative experience. For them, "Real Magic" is just not a tagline, it has transformed into a brand philosophy which is about finding real magic in unexpected moments. According to Manuel Arroyo, Global Chief Marketing Officer for The Coca-Cola Company: "Real Magic" aims at increasing customer base along with the experience in consumption occasions. Through this platform of "Real Magic", The Coca-Cola Company wants to uplift people by engaging them in an ecosystem and by being in alignment with their purpose to refresh the world!
For more updates, be with Markedium.