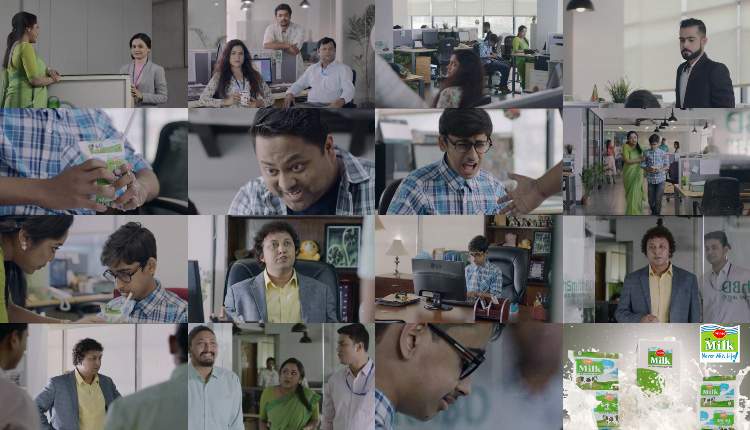 PRAN is one of the largest conglomerate of our country. For this years World Autism Awareness Day, PRAN UHT Milk conveyed a campaign which delivered a venerated message.
The campaign depicts a usual day of a mother in a new office. She was impelled to bring her son who is disabled by autism. Her fellow colleagues and employees despise him by looking hideously and throwing comments. The poor boy feels oppressed under such things. Eventually, he shouts at a worker.
Feeling remorseful, his mother struggles to comfort him. On the other hand, the chief of the company is distressed about an algorithm. Thus, he leaves his desk feeling rigid. Surprising everyone, the special child solves the equation which astonishes everyone around the office.
The insights behind the campaign are noteworthy. The people of our society are ascetic while dealing with special children. They don't allow them an affable place to grow or just be themselves. PRAN took a step against this social prohibition.
Watch for yourself
জীবনকে পরিপূর্ণ করতে আমরা কতো আয়োজনেই না ব্যস্ত থাকি। কিন্তু আমাদের আসেপাশে যেসব স্পেশাল চাইল্ড রয়েছে, তারা হয়তো মিস করছে জীবনের অনেক মুহূর্ত। তাদের জন্য বেশি কিছু নয় প্রয়োজন একটু উৎসাহ। আর সেই উদ্দেশ্যেই প্রাণ ইউএইচটি মিল্ক-এর বিশেষ প্রোগ্রাম "ইন্সপায়ারিং লাইফ"। যাতে থাকছে ওদের ইন্সপায়ার করার জন্য নানা আয়োজন।বিস্তারিত জানতে চোখ রাখুন PRAN UHT Milk এর ফেসবুক পেইজ-এ।#Inspiring_Life #PRAN_UHT_Milk #world_autism_awareness_day_2019

Geplaatst door PRAN UHT Milk for Natural Nutrition op Woensdag 3 april 2019
At the end of the campaign there's an advisory of a program named "Inspiring Life". The arrangement is for the special kids only. For motivating and inspiring them through various activities. Moreover, the program will also work to channel some changes on our society.
Read More: Click Fan's Latest Campaign: The Fan That Guards You
Autism might be a developmental disorder. However, you never know! These special children might be the most talented ones. They can also be the pioneer in many difficult or troublesome subjects. People should be affectionate towards them and build a wholesome ambience where they can shine properly. Campaigns like "Inspiring Life" will work conveniently to make some effective progress.