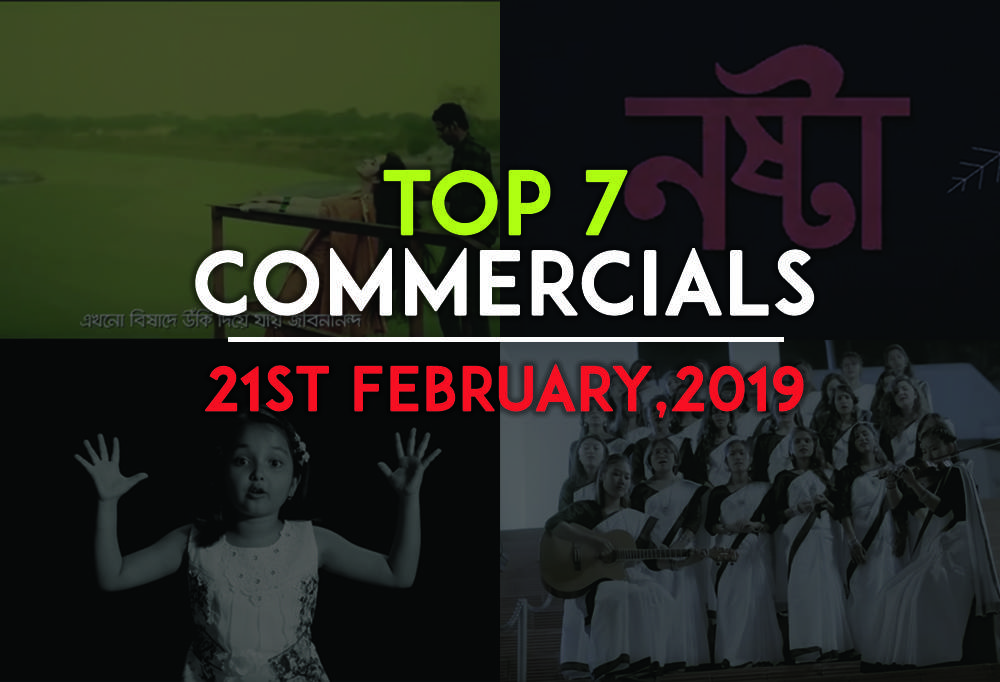 21st February Commercials of 2019 | The Top 7

5

min read
[dropcap]I[/dropcap]ndependence, freedom, language identity are things that are cherished by people all around the world. Among all these, language comes as complementary for all the nations as a birth right. But for Bangladesh, the story was different. The nation had to pay with blood to earn their mother tongue. Hence 21st February poses great significance for all the Bangladeshi people. It was great to experience that the brands were also trying to spread messages right from nostalgia to social causes to recollect the sacrifices done by our language martyrs.
Here are our top 7 picks for this years' 21st February adverts:
The Wake-Up Call- Olympic Industries
Conceptualized by Pink Creative Ltd, Olympic created an outstanding audio visual starring a kid that pointed out the demoralizing and disastrous effects of language abuse on the next generation. Throughout the AV, Olympic portrayed how we use our blood earned language to differentiate between social class, use as a weapon for domestic violence or verbal abuse etc. No need to write extensively about this one, watch it and you will understand.

The campaign appears as an early wake up siren for all of us to make things right for the next generation before it's too late. Kudos to the team!
BRAC calls for Change with their 21st February Campaign
BRAC came up with a brilliant representation of how we use language (Bengali) in a form of slang to degrade the women of our society. Throughout the audio visual (animated) BRAC simply pointed finger to those words which generally get used to make the women uncomfortable and gave it a new meaning using a bullet shot starting with the same letter. Such a simple yet brilliant execution. Using the bullet shot as a symbol tribute to the language martyrs who also took a bullet was sheer shot of genius.

An Urge to Set the Behavior Right- RFL Plastics
To pay homage to our language martyrs for their sacrifices during the language movement in 1952, RFL Plastics came up with a campaign that inspires to respect every language out there. RFL tried to Showcase how we have created a modern replication of the oppression tried by the Pakistan Armed Force against us by mocking all the other existing mother languages in Bangladesh.
RFL Plastics made an effort to put an end to this culture and it urges everyone to respect all the other languages with the hope of securing the pride of every other language through 21st February.
পৃথিবীর সমস্ত মানুষের ভাষাকে বাঁচিয়ে রাখুক একুশে ফেব্রুয়ারি

আমরা মায়ের ভাষাতেই বলি মনের কথা। মায়ের কোলে ,মায়ের বোলের মধ্যেই আছে পরম শান্তি , অনাবিল ভালোবাসা। আমাদের ভাষা বাঁচলে আমরা বাঁচবো। আসুন নিজের মাতৃভাষার পাশাপাশি অন্যের মাতৃভাষাকেও সম্মান করি। পৃথিবীর সমস্ত মানুষের ভাষাকে বাঁচিয়ে রাখুক একুশে ফেব্রুয়ারি। #আরএফএল

Geplaatst door RFL Plastics op Maandag 18 februari 2019
Grameenphone paid tribute to Shaheed Altaf Mahmud
With the help of GREY Advertising Bangladesh, Grameenphone the leading telecom giant in Bangladesh paid tribute to one of the most significant names of our 1952 language movement- Shaheed Altaf Mahmud in an effort to spread the essence and sacrifice of 21st February globally.
GP created a cover of the legendary song "আমার ভাইয়ের রক্তে রাঙানো" written by Shaheed Altaf Mahmud with the participation Asian University for Women and their students from 17 different nations to show their respect for the man responsible for creating such a strong and powerful song to encourage the language movement in 1952.

The presence of Shaon Mahmud-daughter of Shaheed Altaf Mahmud gave the campaign a proper emotional attachment and the efforts given by the students to give the song its proper justice was worthy of an ovation.
The Pursuit to Retain the Originality of Bengali- Speed Energy Drinks
This year on the eve of International Mother Language day, Speed launched a new campaign to promote the use of Bangla words in its original form.  Speed showed a very common phenomenon on how typing Bengali words in English completely changes how it is pronounced. Speed portrayed this mockery of words through the song "ধন ধান্য পুষ্প ভরা"- a song that represent Bangladesh.
Conceptualized by the team "X", the campaign showed how awful it sounds if we pronounce the damaged Bengali that we are using in our chat screens mixing with English. A message that directly contradicts with the sacrifices done by our language martyrs. Have a look:
স্পিড বাংলা লিখি বাংলায় প্রতিযোগিতা

মধুর বাংলা ভাষার অনিন্দ্য সুন্দর বর্ণমালা রেখে ইংরেজি অক্ষরে বিকৃত বাংলা লেখালেখি আর কত? এই অভ্যাসকে বদলে ফেলার উৎসাহ দিতে স্পিড নিয়ে এলো 'বাংলা লিখি বাংলায়'প্রতিযোগিতা। নিচে দেয়া লিংকে গিয়ে দ্রুত বাংলা টাইপ করার এই প্রতিযোগিতায় অংশগ্রহণ করো। প্রতিদিন সেরা ১০ জন প্রতিযোগী পাবে ১ কেস করে স্পিড ক্যান এবং প্রতিযোগিতা শেষে সেরা ৩ জন পাবে ৩টি আকর্ষণীয় স্মার্টফোন।অংশ নিতে ক্লিক করো এখনই: https://speedbangla.akij.net/

Geplaatst door Speed Hebby Energy op Donderdag 14 februari 2019
Coca Cola Continues to Revive the Bengali In Us
As a continuation of last years campaign, Coca Cola continued its mission to rescue Bengali this year as well. Last year during a month-long campaign named "নিখোঁজ শব্দের খোঁজে", Coca Cola Bangladesh was able to bring back 336 words that were actually considered to be forgotten Bengali words. This year, Coca Cola tried to merge the gap between the authentic Bengali words and the Bengali words we use now.
Look, last year Coca Cola tried to rescue the forgotten Old Bengali words, and this year they are trying to breach the gap between authentic Bengali words and the current ones. Basically, letting the youth know about the early used words and their meanings and connecting them with the ones they use currently. Even the campaign execution speaks for itself accordingly with the core of the campaign that directs towards the awareness among the youth of today. Hence, the casting mixture of Shouvik and Kuddus Boyati and the rap in the end makes a perfect blend. Not to mention, the background music is also very catchy that can easily book a spot in the regular playlist of today's youth in Bangladesh.

Banglalink Launches Its Book App to Lift The New Generation Writers
On the eve of this years 21st February, Banglalink took a very unconventional way to celebrate the month of February. In this month of Bengali, Banglalink took a step forward to promote and encourage the new generation Bengali litterateurs or writers by launching its first ever book app named "Banglalink Boi Ghor" where one can find almost all kind of Bengali books and can read them anytime. For the year of 2019, Banglalink will be working with three different talented new generation writers- Kingkor Ahsan, Mehedi Ullah and Mahrin Ferdous.

This was quite unusual but unique digital initiative which will enable the readers of Bangladesh have an opportunity to connect with the roots of Bengali Literature once again. And that's how Banglalink paid tribute to Bengali by an effort to reunite the Bangladeshi people with their own literature once again.
So, this was our take on the 21st February campaigns of 2019. If you think there were any other campaigns that should have made into the list, don't forget to let us know.