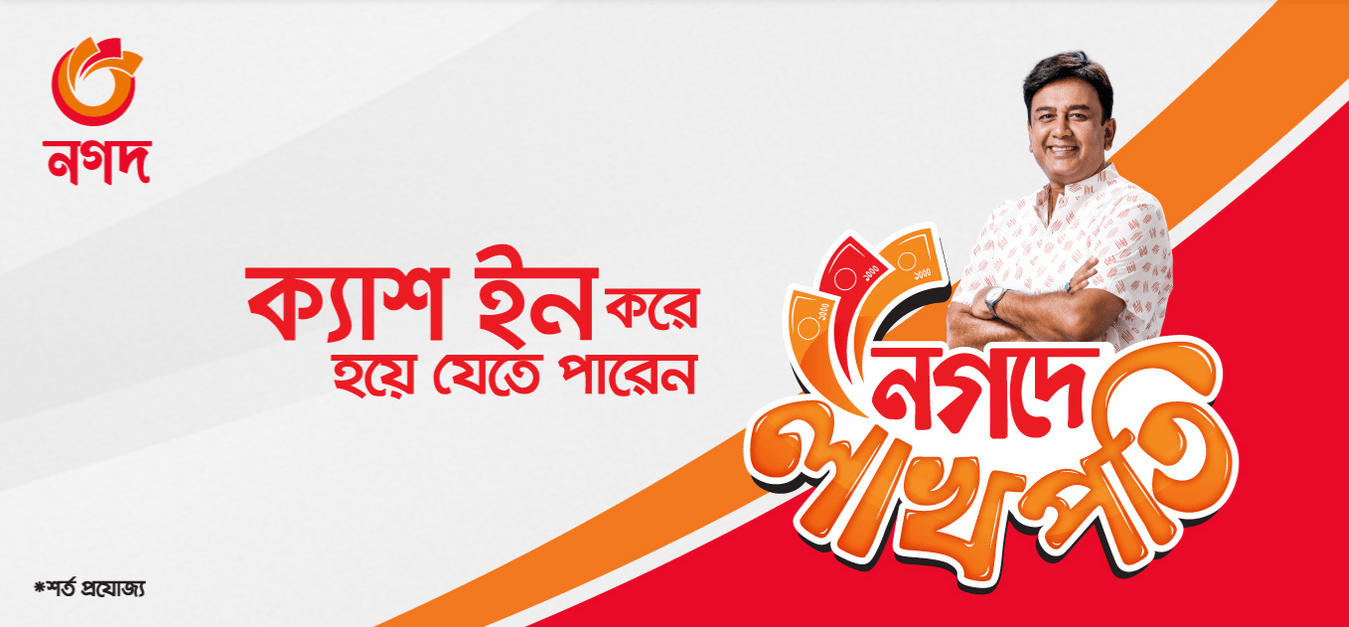 [dropcap]N[/dropcap]agad- the most recent digital financial service has come up with one of the most lucrative offers. "Nagad-E-Lakhpoti"- the latest campaign from the digital financial service provides an opportunity to their users to win up to BDT 1 lakh as the award.
To participate, one needs to cash-in BDT 2500 or more and answer a question correctly to win up to mega prize of BDT 1 lakh each week. Within every 24 Hours, only one pair of Customer and [simple_tooltip content='উদ্যোক্তা: The Entrepreneur']Uddokta[/simple_tooltip] will be eligible for the incentive. If a customer Cashes-in from an Uddokta multiple times, that customer and uddokta will get the incentive for the first Cash-in amount of BDT 2,500 or more.
এবার "নগদে লাখপতি" হয়ে যান!যেকোন নগদ উদ্যোক্তা পয়েন্ট থেকে প্রতি ২,৫০০ বা তার বেশি টাকা ক্যাশ ইন করলে এবং পরবর্তীতে প্রশ্নের সঠিক উত্তর দিয়ে গ্রাহক প্রাপ্য আয় পাবেনএবং এই প্রাপ্য আয় গ্রাহকভেদে ভিন্ন ভিন্ন হবে। এই প্রাপ্য আয় ৭২ ঘন্টা পর প্রদান করা হবে।বিস্তারিত জানতে ভিজিটি করুনঃ http://bit.ly/Nagad-eLakhpotiক্যাম্পেইন শর্তাবলি প্রয়োজন সাপেক্ষে পরিবর্তন, পরিবর্ধন কিংবা বাতিল করা হবে।

Geplaatst door Nagad op Zaterdag 31 augustus 2019
Image and Video Source: Nagad
It's also stated that the incentive amount will be disbursed after 72 hours. But in order to receive the cash award, the customer account must be active. One customer will be eligible once in a day for the Nagad-e-Lakhpoti campaign.
Read More: Walton And Amazon Signs Deal To Export Products To United States
Two very important information to look out
Firstly, Nagad will only contact the selected Customers using only 16167 or 096 096 16167.  As a consumer we must not take any communication from different numbers than these two into consideration.
Secondly, if you have any confusion with regarding any phone call be it from the provided numbers or any other, you can call and call back to 16167 or 096 096 16167 to ascertain the authenticity of the call.
For more details you can keep yourself updated through the Nagad Website and Nagad Facebook Page.
So, what's your thought this latest campaign from Nagad? Are you up for the road to win the mega prize? Let us know and stay updated through Markedium Facebook Page for other exciting branding and advertising news.