Robi: Marching with Passion | A Markedium Take

9

min read
One of the greatest rarities of the 21st century is a man without a phone. Communication is currently an affluent industry, and almost everyone is availing of telecom services. Multiple players are noticeable in this market. However, very few have made the impact and reached the popularity level of Robi. A concern of Axiata Group, almost everyone is familiar with their iconic red and white theme. The journey of Robi becoming a telecom giant is an epic, one that deserves to be celebrated.
A Sudden Transformation
---
Robi did not acquire its popularity or place in the market in one day. In fact, it has been a fantastic journey that has spanned over decades through an admirable transformation process. The journey started in 1997 when the Chittagong-based organization A. K. Khan & Company Ltd. decided to go into a joint venture with Telecom Malaysia. Together, they created a brand called AKTEL. That year, the Bangladesh government permitted Grameenphone, Sheba Group, and Telecom Malaysia to start their activities as mobile operator services via GSM technology. Therefore, it was clear that the race to telecom supremacy had started at full pace.
Read More: Robi Year-end Review 2020.
AKTEL started its journey from Dhaka in 1997. Within a month, the company started providing its services in Chittagong, Cox's Bazaar, and Narayanganj. As 1999 came around, they also began their prepaid and SMS services. The brand perfectly understood the need for aggressive expansion to stay ahead of the curve. Therefore, they started providing perfect connectivity throughout the Chittagong-Dhaka Corridor too in 1999. Aktel realized the value of customer service quickly and consequently had a call center functioning along with BTTB incoming. By 2004, Aktel provided its services to 61 districts other than the three hill-tracts. By now, it was evident that they intended to become the gold standard in convenience and reach. As it began to provide unique services like internet connectivity and cost-efficient plans, its subscriber count hit millions.
Read More: Robi, DNCC sign a deal to build a 'Smart Dhaka'.
As AKTEL's popularity began to grow, the international market started to take notice. Soon enough, NTT Docomo bought out A. K. Khan & Company for USD 350 million. Next year, the brand had more than 10 million subscribers at hand. Meanwhile, the rebranding of Telecom Malaysia led to AKTEL getting rebranded as Robi Axiata Ltd. in 2010.
Gunning for the Top
---
Robi's initial target market was the young generation of Bangladesh. Its message of self-empowerment gained popularity with the youth, and its subscribers exceeded 12 million. Robi's rebranding led to tons of changes in strategies which greatly expanded their service range. They started to provide digital services and enterprise solutions, which led to rapid expansion. This strategy led to them becoming the distribution partner of BRAC's Mobile Financial Service, Bkash, in 2011.
Unique services seem to become the focal point of Robi as it started the Robi BIMA Mobile Insurance. 2013 was a year of milestones for the brand. First of all, it started providing 3G internet services across the nation. Moreover, it also created the world's largest human flag in affiliation with Bangladesh Army. Later down the line, they also gave birth to unique platforms like bdapps.com and bdtickets.com. Heavy investments of BDT 200 crore led them to further expand and strengthen their services nationally. Robi became a household name in 2015 as they became the sponsor for Bangladesh's national cricket team. The brand consistently reached new heights as they introduced free basics internet in collaboration with Facebook.
Mahtab Uddin Ahmed becoming the CEO of Robi brought forth a plethora of possibilities. It launched online a mobile health service, mDaktar, and got affiliated with 10 Minutes School. History was made with 2016 as the biggest telecom merger between Robi and Airtel was witnessed.
This merger led to the brand receiving a 26.8% market share and overtook Banglalink as the 2nd largest telecom service provider. It led to the birth of Robi Cloud to provide cloud computing services to local businesses.
Despite having a rocky journey, Robi consistently continued to grow and thrive. Services like iFlix and VOLTE soon came to be and the market share rose to 29.6%. At the end of 2019, the brand had a jaw-dropping revenue of BDT 7480 crore.
Data Revenue | The Future
---
With super-fast internet speed like 5G is soon to be available, and smartphones are becoming cheaper to ensure their availability to almost every corner of the country, we can assume that the use of voice calls will see a sharp dive in near future.
So, for the telecom companies, the battle is all about who wins the game of data!
On that note, Robi is currently on the right track for the battle. You see, we all can agree to a fact that- in the upcoming future, the voice revenue will no longer be the most exciting revenue stream for the telecom service providers-it's going to be all data.
And the market leader Grameenphone is facing a commendable challenge to keep up with its nearest competitor in terms of Data Revenue. Have a look:
Although Grameen Phone has higher data revenue compared to Robi, Robi's data revenue is growing at a faster rate. About 39% of Robi's total revenue is contributed by the data segment compared to 24% of Grameen Phone. As we mentioned above, due to the usage of OTT platforms like WhatsApp, Messenger, IMO, etc. voice revenue of the industry is gradually decreasing. Hence the focus on increasing data revenue is important for all the companies in the telecommunication industry.
Read More: Robi Q1'2021 Performance Review.
Data revenue of Grameen Phone has declined by 4.4% YoY mainly due to a 6.8% decrease in data ARPU. Internet subscribers have increased by 3.2% YoY from 40.4 million to 41.7 million. Internet consumption per user has increased by 31.3%. MB per subscriber was 2,921 MB in Q1'21 which was 2,225 MB in Q1'20.
Data revenue of Robi grew by 16.6% YoY due to growth in internet subscribers and growth in internet consumption per user. The internet subscribers have increased by 4.4% YoY from 32.2 million to 36.7 million subscribers. Internet consumption per user has increased by 38%. MB per subscriber was 3,439 MB in Q1'21 which was 2,492 MB in Q1'20.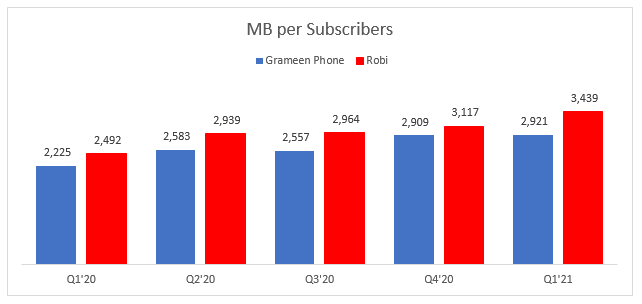 Mobile Subscribers
---
Grameen Phone is still the leading telecommunication company with 80.7 million mobile subscribers. Mobile subscribers of the company have grown by 7.2% YoY from 75.3 million in Q1'20 to 80.7 million in Q1'21. About 51.6% of the total subscribers are internet subscribers. Internet subscribers have grown from 40.4 million in Q1'20 to 41.7 million in Q1'21.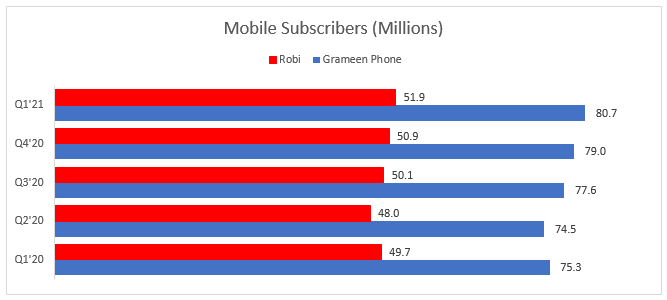 Robi has the second-largest subscriber base with 51.9 million as of Q1'21. Mobile subscribers of the company have grown by 4.4% YoY from 49.7 million in Q1'20 to 51.9 million in Q1'21. About 71% of the total subscribers are internet subscribers. Internet subscribers have grown from 32.2 million in Q1'20 to 36.7 million in Q1'21.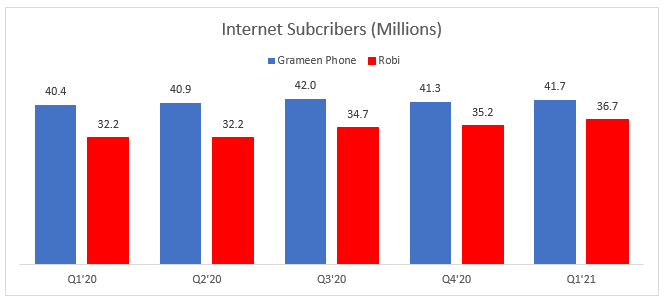 Although Robi has 28.8 million fewer total mobile subscribers than Grameen Phone its internet users aren't that far behind. As of Q1'21 Robi's internet subscribers are only 5 million less than that of Grameen Phone. 71% of the total Robi users are using the internet compared to only 51.6% of Grameen Phone.
Growth through Communal Empowerment
---
By this point, it's obvious that Robi's tactics to remain profitable stems from its multi-dimensional services. It's as if the brand has something for everyone here. Along with the regular telecom services, Robi is also known for its several digital solutions and VAS.
[VAS providers offer various services such as — welcome tunes, voice messages, news alerts, missed call alerts, call block, call forwarding or diverting, music, videos, mobile games, and streaming services — through mobile carriers under a revenue-sharing model and customers are charged by mobile phone operators.]
VAS
Robi's VAS offering captures a long range of categories. Such as -Entertainment, Islamic Services, SMS & Messaging, Calling & Mobile Management, Social & Chat, Music, Finance & Career, Information Services, Robi News Services, Multimedia, Loyalty program & Health.
Some of the notable VAS from Robi are:
DND (Do Not Disturb)
Kids Station
Star Zone
Islamic IVR
My Buddy
Gaanchill Radio
Radio GoonGoon etc.
You can learn more about the VAS services of Robi here.
Digital Solution
As we have already mentioned above that we believe the next phase of competition in this telecom industry is all about data and digital services, just like the other players in the market, Robi also has a vast list of offerings in terms of digital solutions.
Some of the notable digital solutions from Robi are:
Life Plus
Health plus apps
Noor
Splash
My Sports
BPDB bill payments
CWASA bill payments
Noor etc.
You can learn more about the digital solutions of Robi here.
Furthermore, lucrative deals and offers are always available on these services for their telecom users. Thus, loyalty to Robi services is evident and obvious among a huge chunk of Bangladesh's population.
Most recently, RedDot Digital, a wholly-owned ICT-focused subsidiary of Robi Axiata Ltd, has unveiled a private equity fund worth Tk 15 crore named R-Ventures to promote digital entrepreneurship in the country. [Read More]
The company has recently also partnered with DNCC and Chattogram City Corporation to transform both the cities into Smart Cities as proof of its commitment to the development of the country.
So, what will be the future of this exciting telecom industry of Bangladesh? Only time can tell. However, our assumption says, with Grameenphone being the best it is for long now and Robi- a fierce challenger, we can hope to have a delightful future being customers.
What are your thoughts on Robi's journey so far? For more updates, visit
Markedium
!