RAK Ceramic's Profit Increased By 606.6% In 9M'21

1

min read
RAK Ceramics (Bangladesh) Ltd., one of the renowned ceramic brands in Bangladesh has recently posted its third-quarter financial statement for the year 2021. Revenue of the company increased to Tk 4,843.3 Mn in 9M'21 from Tk 3,412.4 Mn in 9M'20. Profit of the company also increased from Tk 89.3 Mn in 9M'20 to Tk 630.7 Mn in 9M'21.
Revenue
---
Revenue increased by 41.9% YoY in 9M'21 as the company is recovering from 2020. The number of working days was more in 9M'21 compared to 9M'20 as the lockdown days were more in 2020. Hence due to the normalcy of business activities and rising demand for housing has helped the company to achieve growth. RAK grew by 6.0% compared to 9M'19 which shows full recovery from the Covid-19 pandemic.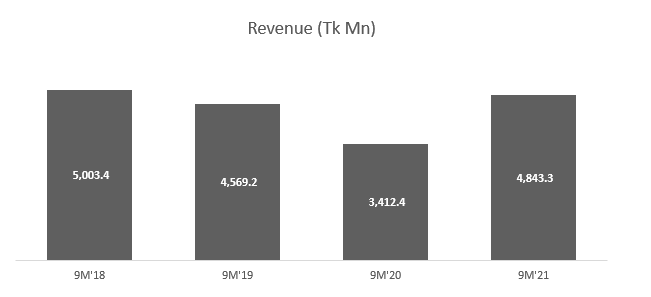 Gross Profit
---
Gross Profit grew by a staggering 119.0% from Tk 662.5 Mn in 9M'20 to Tk 1,451.2 Mn in 9M'21. The gross profit margin increased by 10.5% as the management focused on cost control compared to the same period last year.
Profit
---
Profit after tax increased by 606.6% YoY in 9M'21 mainly due to increased gross profit and low OPEX to sales percentage. Total operating expenses as a % of sales was 13.3% in 9M'21 compared to 15.8% in 9M'20. Marketing and administrative expense increased by 30.6% and 8.2% YoY. The reduction of tax by 2.5% in the recent Finance Bill also was a contributor to the significant growth in profit after tax.
Future Ahead
---
RAK Ceramics has recovered from the impact of the pandemic as the sales and profit after tax grew compared to 9M'20 and 9M'19. The company is expected to post growth in the coming quarters as the mass vaccination program reduced the Covid infection rate significantly. The recent surge in demand in housing & apartments will have a positive impact on the business of RAK.
For more updates, be with Markedium.