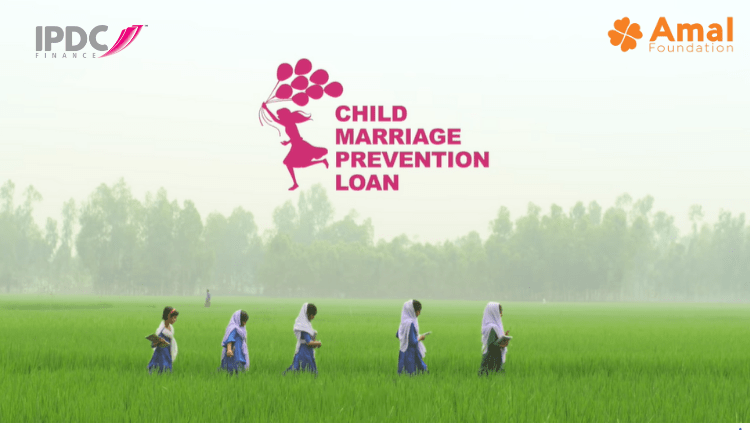 IPDC and Amal Foundation Joined Hands To Solve Bangladesh's One Of The Core Problems

3

min read
In a country run by a female charismatic leader, Bangladesh still faces a hindering issue that still holds the country back from its utmost potential- The Child Marriage! Bangladesh still has one of the highest rates of child marriage. 51% of young women were married before turning 18. The practice of child marriage reflects deep-rooted norms and the unequal status of girls in society as females are often seen as financial burdens. 
Now, Bangladesh's one of the prominent non-banking financial institutions, IPDC Finance, and Amal Foundation joined hands to solve this problem with a very innovative solution.
Introducing IPDC Child Marriage Prevention Loan!
---
With an aim to prevent child marriage, IPDC Finance took a step to eradicate the root cause of the issue. As mentioned earlier, the major reason for child marriage is parents with low income consider a girl child a financial burden (education cost, upbringing cost, etc.).
Powered by Amal Foundation and conceptualized by Grey Bangladesh, IPDC Finance came up with a very simple, yet game-changing big idea.
Transforming the thought of burden into an asset for the parents.

The Child Marriage Prevention Loan By IPDC.
So, what is this loan?
A microfinancing loan with 0% interest, 0 Collateral for the parents with a girl child with only three conditions to fulfill.
Must be a parent of a girl child aged between 12 to 18 years.
The girl child cannot be married before the legal age.
The girl child must be educated until at least the end of High School.
Brilliant, isn't it?
So, here's how it works:
IPDC and Amal Foundation receive and verify loan applications. Then parents take pledges when receiving loans from IPDC and Amal in front of the community. Then Amal Foundation ensures 'Training and Sustainable Business Set Up' for the parents. Finally, Amal collects weekly installments and monitors the business set up by the parents.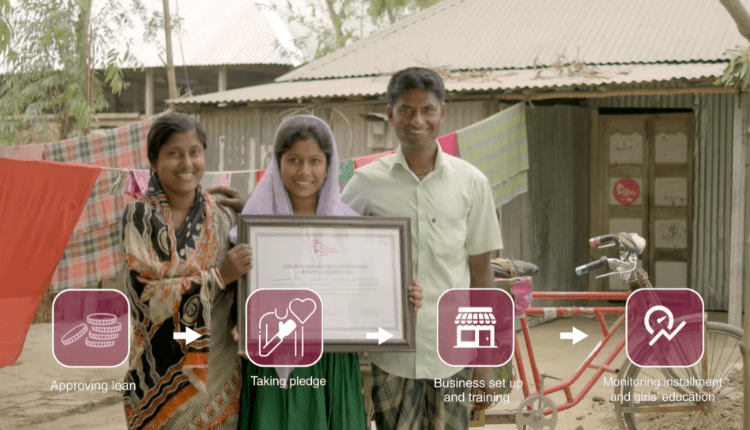 The Impact
---
Now, what's the impact of such an attempt from IPDC and Amal Foundation? Let's have a deep dive:
Solving the main pain point

---
As mentioned earlier, the core reason for Child Marriage here in Bangladesh is the insolvency of parents which led to the thought of considering a girl child as a financial burden. Adding on, for many daily wage earners, lockdowns further limited their incomes, forcing their migration back to rural Bangladesh. Hence, the urgency of such an attempt from a brand link IPDC was a crying need for the country.
And, talking about the solution- it really puts the money where the mouth is while assuring its effectiveness of it with a commitment to improving the standard of life for the ones who need it the most.
On a Macro level, this innovative solution will have a bigger impact than accepted.
Child marriage isn't simply an infringement against human rights, yet is an additional boundary to individual and social development. Young ladies previously going to class are compelled to stop. There is no way for training and empowerment. These young ladies will generally get more continuous and spontaneous pregnancies, as a result of the absence of preventative use. As a result, the economy of the country also takes a sheer unrealized hit because of this practice of child marriage.
We have numerous encouraging motivation-centric approaches to child marriage eradication in Bangladesh. But one must understand that the issue the low-income parents are facing here is directly related to their survival. And usually, motivation takes a south turn when it's about survival.
Hence, this Child Marriage Prevention Loan from IPDC, powered by Amal Foundation realizes the actual need and hopefully will have an instant and absolute outcome that ensures the future of Bangladesh with-
---
'Every Girl Contributing To The Sustainable Future Of Bangladesh As A Self-Empowered Asset To The Society.'
---
What's your thought on this new initiative? Let us know and for more, be with Markedium.