Banglalink's Data And Digital Services Approach Led To A Groundbreaking Year In 2022

2

min read
Banglalink, the third largest telecom operator in the country, is making great strides by growing greater than the industry growth. The company which is focusing on extending the fastest 4G network and delivering superior digital services to its customers has posted its third consecutive quarter of double-digit growth.
Not only that Banglalink has outgrown its two biggest competitors – Grameenphone and Robi in terms of revenue growth for the year.
Read more: Singer's Revenue Grew By 8.1% In 2022 Despite Macro-Economic Challenges
Banglalink posted total revenue of Tk 53,742 million growing 12.1% compared to 2021. In Q4'22, Banglalink posted a growth of 16.9% compared to the same period last year.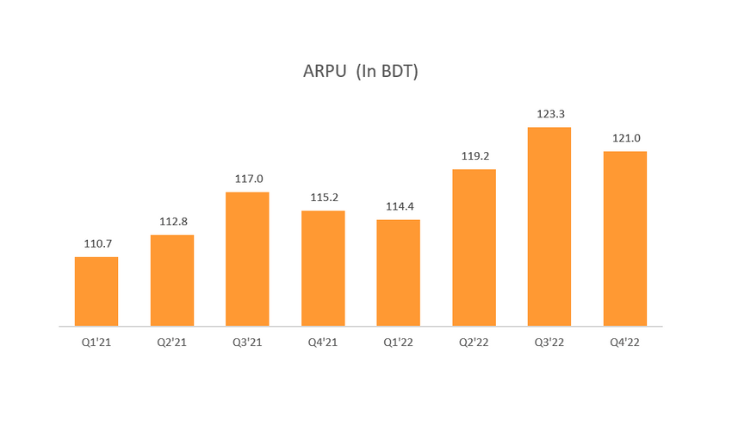 Data revenue growth was the main contributor to the staggering revenue growth posted by the company. Banglalink's focus on providing the fastest 4G network has paid off immensely as the company posted growth of 26.6% to Tk 17,277 million in 2022. Now, data revenue contributes about 32% of the total revenue of Banglalink. The continuous focus on mobile network speed worked out well for the company as its total customer was 37.6 million in 2022 (7.1% growth compared to the same period last year).
The company has also been able to upsell its data products to its customers as 24.4 million customers are now data subscribers and 16.1 million among them are 4G users. Data usage also grew by 33.2% in Q4'22 compared to the same period last year. It is evident that Banglalink's focus on data service is not only growing its customer base but also increasing data usage from its existing customer base.
Banglalink also showed spectacular growth in the digital services department as its Digital Operator Strategy, aiming to deliver digital experiences for every minute of the day powered by high-quality mobile internet connectivity is paying dividends.
Read more: From Bottlenecks to Efficiency: How WhatsApp's New Feature Will Benefit Business Communication
Toffee consolidated its position as the largest mobile entertainment platform in Bangladesh as it reached 21.2 million monthly active users in December 2022. The substantial growth was mainly due to getting the exclusive streaming right of the 2022 FIFA World Cup during that period. Over 25 million unique viewers watched the Round of 16 of the World Cup on Toffee. Daily active users reached 5.2 million in December 2022.
Banglalink's self-care app MyBanglalink, which was revamped in 2022, recorded a 79.9% YoY increase in monthly active users, reaching 5.7 million at the end of the quarter.
For more updates, be with Markedium.