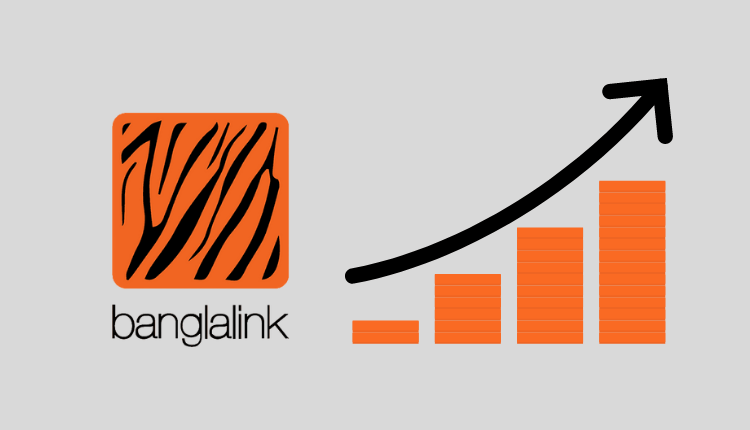 Banglalink's Focus On Digital Services Has Paid Off In Q3'21

3

min read
Banglalink, one of the leading telecom companies in Bangladesh has recently posted its quarterly report for the period Jul'21-Sep'21. Revenue of the company increased by 7.2% YoY from Tk 11,531.0 Mn in Q3'20 to Tk 12,361.0 Mn in Q3'21. The growth in revenue is mainly driven by 32.0% YoY data revenue growth and 78.3% growth in data usage per user.
Revenue
---
Revenue of Banglalink increased by Tk 830.0 Mn mainly due to growth in data revenue. Banglalink's focus on personalized data offers allowed the company to grow by 32.0% YoY. The company also focused on providing digital services to its customers through its in-house apps. Toffee, a video streaming app has added 1.4 Mn new customers in Q3'20. Active users of Toffee are now 6.3 Mn. Watch session also up by 5.1x to 150 Mn. MyBanglalink app also showed strong growth by doubling its user base to 3.1 Mn.
Erik Aas, CEO, Banglalink said, "Banglalink's performance in 3Q21 is yet another reflection of efforts in providing quality digital services in Bangladesh. Thanks to a staggering 32% YoY data revenue growth, we managed to post a 7.2% YoY total revenue growth in this quarter. Our customer focus, combined with targeted network investments and acquisition of additional spectrum, contributed to a 61.4% YoY growth in our 4G customer base. Banglalink is now serving 11.4 million 4G users, 33% of our total customer base. Our entertainment app Toffee continued to lead our progress in the digital service segment with its active user-base reaching 6.3 million. We are satisfied with the way Banglalink is moving forward with improved results in all segments. We will continue our efforts in providing quality digital services to customers across the country.
Average Revenue per User (ARPU) has been relatively consistent in the eleven quarters. ARPU increased by 0.9% YoY. Average Minute per User (AMPU) decreased by -4.3% YoY.

Mobile Subscribers
---
Mobile subscribers increased by 6.1% YoY despite the nationwide lockdown in July and the first week of August. Banglalink focused more on digital channels which helped the company to acquire more users. In terms of total mobile subscribers, Banglalink is the third-largest telecom company followed by Grameenphone and Robi.
Data Revenue
---

Data revenue increased by Tk 903.0 Mn in Q3'21 mainly due to higher data consumption and increased data subscribers. Data subscribers increased by 8.3% YoY from 20.5 Mn in Q3'20 to 22.2 Mn in Q3'21. Around 11.4 Mn are 4G users which is an increase of 61.4% from 7.0 Mn in Q3'20. Banglalink's focus on personalized data offering has paid off massively as data consumption per user increased by 78.4% YoY. Data consumption increased from 2,300 MB/user in Q3'21 to 4,100 MB/user in Q3'20.


Future Ahead
---
It is evident that the company's focus on the 4G network and data business is paying off. 4G users rose by 61.4% to 11.4 Mn in Q3'21. It is now accounting about 33.0% of the total customer base of Banglalink. The company now covers about 69.0% of the population of Bangladesh with 4G coverage. Banglalink's strategy of focusing on existing data users to use more data is proving to be successful. It is expected that data revenue which now contributes to 30.2% of total revenue will be the main driver of revenue growth.
For more updates, be with Markedium.