bKash app has recently gone through a massive makeover.
The ever-familiar 'thumbnail' options are no longer available in the latest upgrade of the mobile application based financial transaction service. Instead, we have a much more compact and 'user-based' interface. Currently, the mobile app has created a 'scroll through' interface for users to interact on a higher level.
The upgraded homepage still includes options such as Send Money, Mobile Recharge, Cash Out, Make Payment, Add Money, Pay Bill. New additions in the latest upgrade include options for buying movie tickets through the bKash App.
This is just the first column of the homepage.
The second column consists of the recent most numbers which were used for the transaction. bKash has broken down the interface with detailed service information.
Let's look at the latest additions; Suggestions and Offers.
In the Suggestions section, bKash has introduced various engaging options including gaming, DTH cable services, BTCL payment system, and updates from bdnews24.com, to name a few. This is a unique addition to the app, as this gives users a more significant scope to use the app for multifunctional usage. We believe this section keeps changing based on customer interests.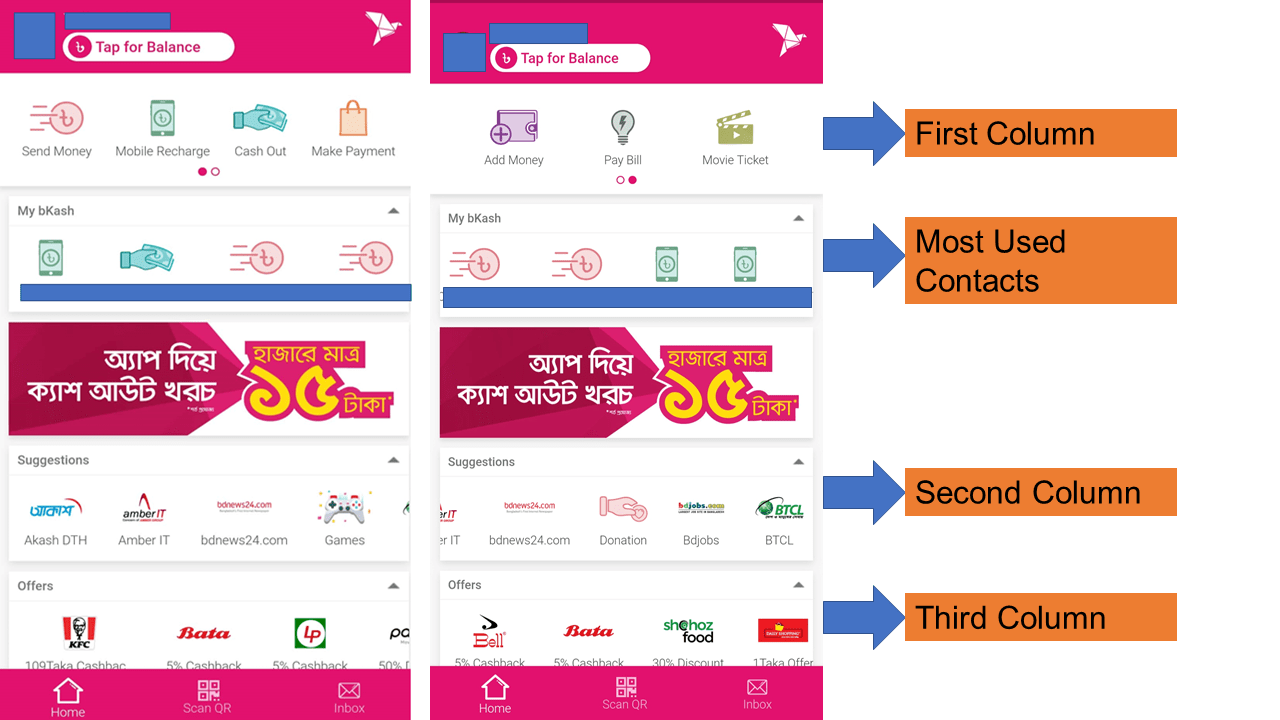 Moreover, through the bKash app, you can avail special discount offers from various well-reputed retail stores and relevant services. For instance, offers like 5% cashback from Bata if you pay through bKash.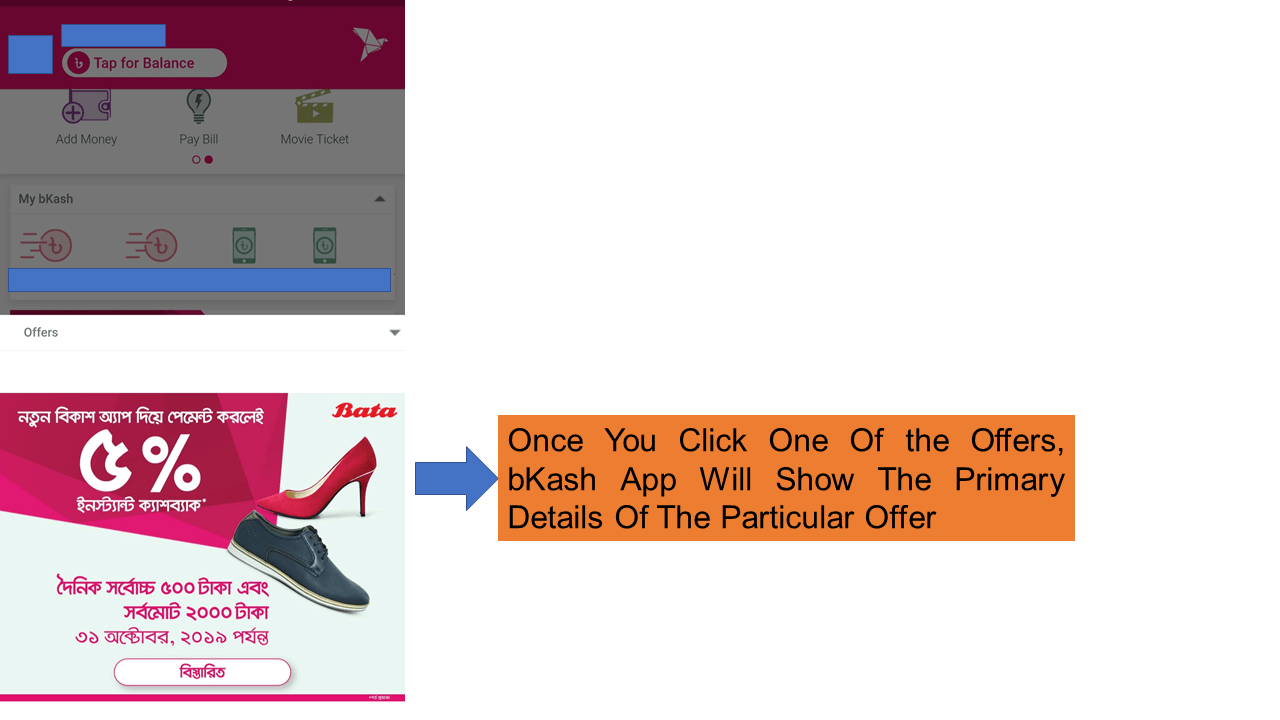 Adding on, discount offers from Pickaboo, Shohoz, Sheba.xyz  might make Bkash the go-to app for users who seek value for their money.
The Downsides
The upgraded version of the app has its downsides, of course. Although the app presents with an array of services and offers to clinch on to, the interface is way too clustered. Many might prefer the previous interface as it was relatively more accessible and user-friendly.
Read More: Snapchat's Ex Bangladeshi CSO Takes On Amazon By Launching Verishop.
Having said that, the current interface of the app also includes an improvised welcome page, which differentiates itself significantly from its previous counterpart. It is safe to say that bKash has kept privacy issues as a top priority for the new upgrade, as the homepage does not allow the balance bar to be exposed more than 3 seconds.
The new bKash app has also come up with a new facility. Now, one can easily open an account from home using just the National ID card. You will also receive BDT 100 as the opening bonus.
Regardless of the polar opinions of the users, bKash has taken considerable strides to transition from just a financial transaction service app to a hub of online manoeuvring.
What are your takes on the new bKash app? Let us know and if are you interested in the latest Bangladeshi marketing and branding trends and news, then stay updated through Markedium and Markedium Facebook Page and never miss any update!