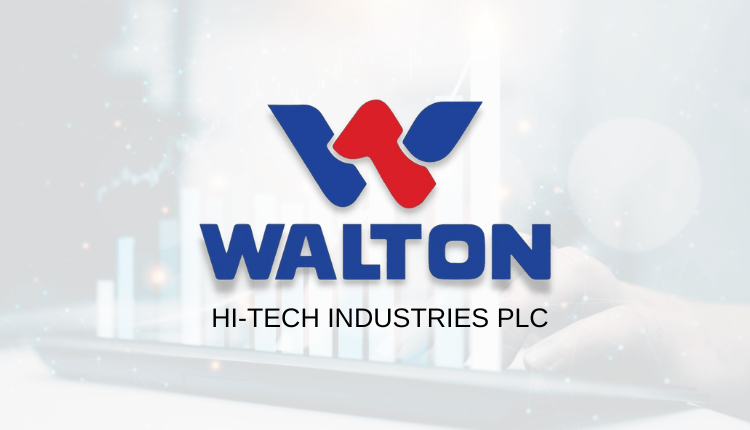 Walton Continues To Thrive In FY 21-22 Despite External Challenges

4

min read
Walton Hi-Tech Industries PLC, the leading electrical and electronics manufacturer in Bangladesh has recently published its annual report for FY 2021-22. Walton's revenue increased by 16.8% YoY from Tk 69,949.9 Mn in FY 2020-21 to Tk 81,691.7 Mn in FY 2021-22. However, profit of the Walton decreased by 25.8% YoY from Tk 16,392.0 Mn in FY 2020-21 to Tk 12,166.2 Mn in FY 2021-22.
Strong revenue growth is driven by both local and export sales
Walton's revenue growth of 16.8% was driven by 15.3% and 101.3% YoY growth in domestic and export sales respectively. Despite the 2nd pandemic wave, the company's revenue grew from Tk 68,754.4 Mn in FY 2020-21 to Tk 79,275.2 Mn in FY 2021-22. Export sales grew from Tk 1,195.5 Mn in FY 2020-21 to Tk 2,406.5 Mn in FY 2021-22. The company's focus on expanding in the export business is visible in the revenue contribution. Revenue contribution of export business has risen to 2.9% in FY 2021-22 from 1.7% in FY 2020-21.
The expansion of the export business is expected to continue with Walton's acquisition of three European brands ACC, Zanussi Elettromeccanica (ZEM), and Verdichter (VOE) in April 2022. In January 2022, Walton also signed a partnership agreement with Danby Appliances, a compact appliance brand in North America. The partnership agreement will allow the company to enter the lucrative North American market.
Freezer & Refrigerator was the main segment behind revenue growth
In terms of segment, Freezer & Refrigerator segment contributed the most to the revenue growth. Revenue of the freezer & refrigerator segment increased by 11.5% YoY from Tk 52,165.0 Mn in FY 2020-21 to Tk 58,145.9 Mn in FY 2021-22. The segment continues to contribute more than 70% of its total sales of Walton. However, the contribution declined by 3.4% from 74.6% in FY 2020-21 to 71.2% in FY 2021-22. The electrical Appliances segment was the second biggest contributor the revenue growth. The segment grew by 63.2% YoY from Tk 4,072.7 Mn in FY 2020-21 to Tk 6,645.6 Mn in FY 2021-22.
Gross profit increased slightly due to a decline in margin
The gross profit of Walton increased by 0.4% YoY from Tk 26,434.4 Mn in FY 2020-21 to Tk 26,534.9 Mn in FY 2021-22. Gross margin declined by 5.3% from 37.8% in FY 2020-21 to 32.5% in FY 2021-22. The decline in gross profit is mainly due to the vulnerable global market situation, price hikes in raw material & freight costs as well as the currency devaluation of the Taka against the USD and other currencies.
According to the company's statement in the Annual Report, it was increasingly challenging to protect product margins in the competitive market conditions that the company faced in FY 2021-22. Walton was intent on retaining and expanding market share with the aim of reaping benefits in the long term.
The profit decline was driven by higher operating and finance expenses
Operating expense as a percentage of sales increased in FY 2021-22 to 11.24% which was 10.13% in the same period last year. Operating expenses rose from Tk 7,089.1 Mn in FY 2020-21 to Tk 9,184.5 Mn in FY 2021-22. Operating expenses grew by 29.6% mainly due to 28.1% and 29.8% YoY growth in Administrative and Selling & Distribution expenses respectively. Sales promotional expenses grew mainly due to aggressive marketing plans for above-the-line (ATL) and below-the-line (BTL) advertising and promotional campaigns.
Net financing costs also increased significantly from 1.66% of sales in FY 2020-21 to 5.70% of sales in FY 2021-22. Currency devaluation of the Taka against foreign currencies mainly against USD and Euros was the main driver of the higher financing costs. Walton suffered currency translation losses in making repayment to foreign suppliers against imports. Net financing cost increased by Tk 3,497.2 Mn in FY 2021-22.
Macroeconomic challenges will create challenges for companies like Walton
The present macroeconomic scenario of Bangladesh is not favorable for any consumer durable company. Inflation is rising due to high commodities imports and currency devaluation. Both factors are putting pressure on the economy as it is getting harder for middle-class people to maintain their standard of living due to the rising prices of daily necessities. Usually in this scenario, people start cutting expenses on unnecessary or luxury consumption. Hence, the consumer durable companies might suffer further if the macroeconomic situation does not get better in the coming months. Given, the pandemic and the uncertain global and local economy it is admirable that Walton is still growing in terms of revenue. The decline in operating and net profitability was expected due to the challenges beyond the control of the company.
For more updates, be with Markedium.