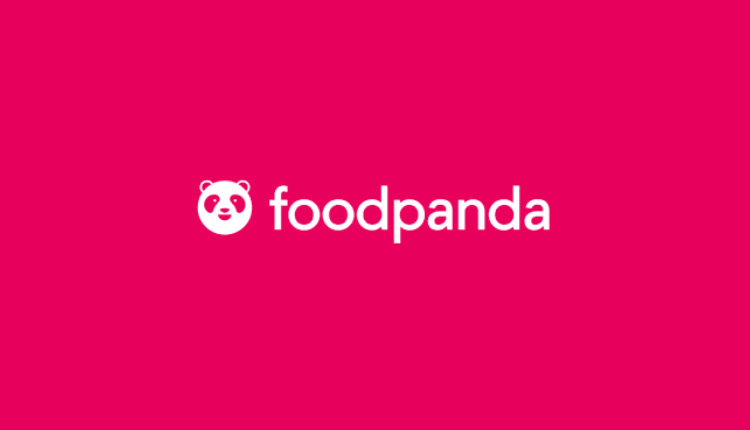 Since the emergence of the Covid-19 virus many traditional businesses have been impacted financially. Lockdowns and strict social distancing rules were introduced in almost all parts of the world which became an impediment for businesses like retail, restaurant, etc. But all industries were negatively impacted by the Covid-19 impact. Rather for some industries the lockdowns and strict social distancing rules became tailwinds for exponential growth in demand.
Food and Grocery delivery is one of those industries which has been able to take advantage of this surge of demand. Foodpanda, a subsidiary of Delivery Hero grew exponentially since the start of 2020 and is looking forward to continuing the momentum in the future. In this article, we will take a deep dive into the success of Foodpanda.
---
Presence
---
Foodpanda Asia is among the four geographic business segments of Delivery Hero. Foodpanda brand comprises high-growth countries such as Bangladesh, Cambodia, Hong Kong, Laos, Malaysia, Myanmar, Pakistan, The Philippines, Singapore, Taiwan & Thailand. The company has also a strong presence in South Korea which is operated under the brand Yogiyo. The group also started operations in Japan in September 2020. Other than Asia the company also operates in Europe, the Americas & MENA (The Middle East and North Africa).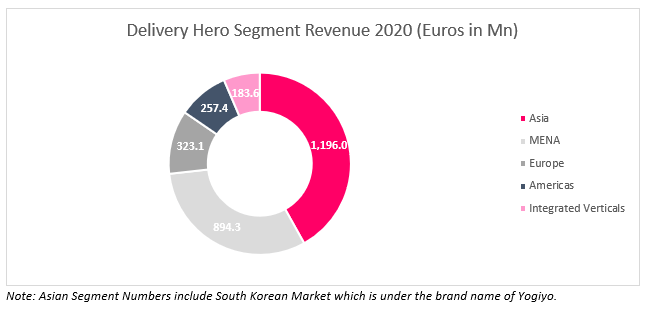 In terms of the number of orders & revenue, the Asian segment is the largest market of the company. The Asian segment of the business contributed to 41.9% of the total revenue earned by the company. It is not only the biggest but also one of the rapidly growing markets as orders grew by 194.1% & revenue increased by 162.6% in 2020.
---
Strong Growth
---
Since 2016 the Asian segment is growing exponentially. The total number of orders grew by 118.1% CAGR in the last four years. The total number of orders was 29.5 Mn in 2016 which was 667.7 Mn in 2020. GMV and Revenue grew by 83.7% and 121.9% CAGR respectively in the last four years. The huge growth is mainly attributable to strong organic growth through improved service offerings along with the rollout of new vertical concepts.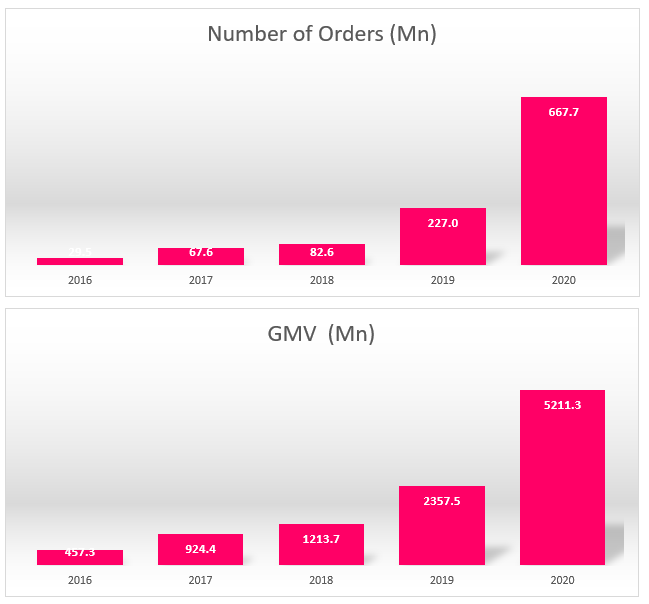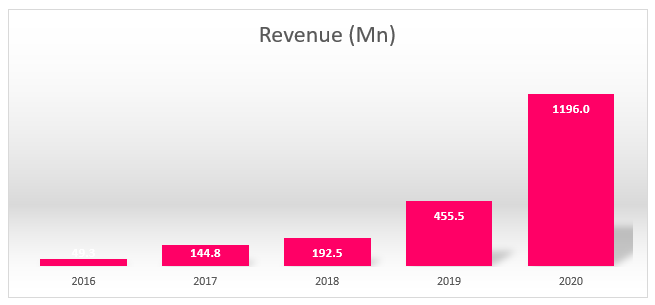 The company also showed good strong in Q1'21. Orders grew from 223.3 Mn in Q1'20 to 430.6 Mn in Q1'21. GMV increased from 2,800.6 Mn Euros in Q1'20 to 5,129.4 Mn Euros in Q1'21. Revenue has more than doubled from the same period last year to 629.5 Mn Euros in Q1'21 from 290.8 Mn Euros in Q1'20.
---
Conclusion
---
Foodpanda has been growing exponentially and since Covid-19 is a tailwind for this industry for growth it is expected the company will grow in the future. The company has exposure in markets with the right economic and population profile. Hence, we will be expecting to see the continued growth story of Foodpanda.
---
Source:
---
For more updates, be with Markedium.