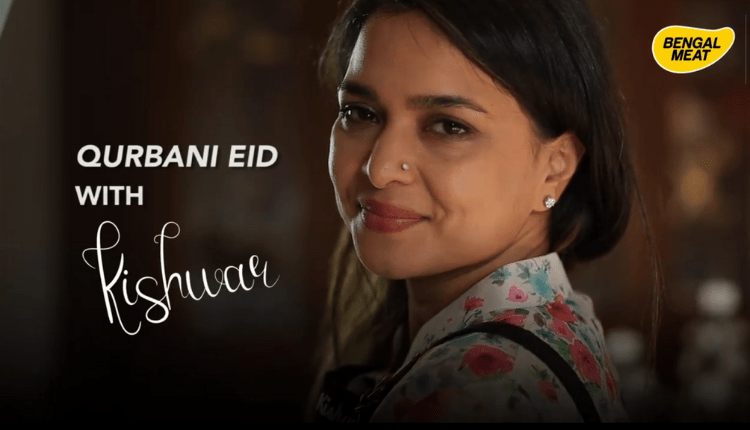 Bengal Meat Hits All The Right Notes Through Collaborating With Kishwar

2

min read
If there is one special name that is buzzing around the Bangladeshi social media currently, it's Kishwar- the woman who put the Bangladeshi Cusine on the World Map through Masterchef Australia Season 13. It was Kishwar who had the journey in Masterchef Australia, we all were with her all the way. Not surprisingly so, it's Kishwar who is the most recent trusted celebrity of Bangladesh.
And Bengal Meat just make an absolutely stunning step to cash out on this opportunity and came up with a campaign that hits all the right notes. Introducing-
Qurbani Eid with Kishwar
Now, it's just a match made in heaven. Starting with the context to the timing and definitely the person herself- everything seems perfect.
Now, the best part of the campaign is that it's not complex or focused on any major call to action. It's just a simple, elegant, and timely step from Bengal Meat. Many would argue that what's the connection between Kishwar and Bengal Meat or why there was no direct mention of Bengal Meat during the conversation. However, we don't believe that's the case here at all for this campaign. Here are our arguments-
Timely Approach:
This was indeed an example of perfect timing. Considering the context of Kishwar's popularity and the time of launch of this campaign (Eid-ul-Adha), full marks to Bengal Meat for such a step.
Indirect Endorsement:
We don't believe that it's an absolute necessity to endorse a brand in every influencer campaign. Sometimes leveraging association with the right person can put the money where the mouth is. This is exactly what happened here. Kishwar herself is a brand for the countrymen and the job for Bengal Meat was to win the race of collaborating with her with the right context, and it was done brilliantly.
It was one of the most meaningful and timely endorsements from a Bangladeshi Brand that we have noticed lately. Kudos to the team!
For more updates, be with Markedium.